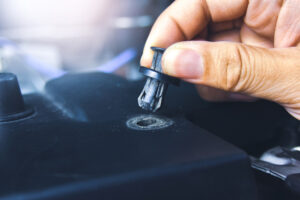 Single-use parts can be a critical element to identify in the repair planning process, often necessitated by OEM instructions to replace rather than reinstall once removed for repairs.
In an ALLDATA article released this month, it said repairers should always check to see whether parts are reusable before beginning work on a vehicle.
"Following OEM procedures, including the identification and use of one-time-use parts, is crucial to ensure a complete, safe, and quality repair," ALLDATA said. "Right down to every last nut and bolt."
It cited several examples of non-reusable parts, including bolts, rivets, grommets, fasteners and trim.
"Some manufacturers denote these parts by using symbols within their repair manuals, while other manufacturers may simply state parts that are non-reusable in the OEM's repair procedures," it said.
"For instance, Toyota CRIB #188 (Non-Reusable Parts) states that their body repair manuals have illustrations that will aid in identifying non-reusable parts."
Toyota's manual denotes non-reusable parts with a solid black circle, and notes that non-reusable parts are designed to be installed just once.
ALLDATA added that torque-to-yield bolts cannot be reused during repairs because they're designed to stretch during the torquing process.
"These fasteners cannot be reused because of the excess amount of stress that was caused during installation," it said. "Some fasteners may have to be replaced, due to a factory-applied coating that prevents corrosion. In other cases, a part or fastener, such as a rivet, is simply impossible to remove without damaging it."
It shared some examples of one-time use only parts from Ford, which includes F-150 pickup bed bolts, and F-150 lower control arm nuts and bolts.
ALLDATA Collision subscribers can find information on single-use parts by searching in the upper blue bar, under the site's technician's reference collision link
Earlier this year, I-CAR released the first in a series of articles about how to determine if a fastener, clip, or part can be reused.
I-CAR noted that when collision repairers research service information all that is available should be read over.
"The one-time-use parts can be called out under Tightening Torques, Installation Notes and in Parts For Repair Procedure," it said. "Following OEM procedures, including the identification and use of one-time-use fasteners/parts is essential for a proper repair."
Other OEMs I-CAR has compiled one-time use information for include:
Nissan/INFINITI Position Statement: Single-Use Parts Replacement
One-Time-Use Parts And Fasteners: Audi
One-Time-Use Parts And Fasteners: FCA/Stellantis
One-Time-Use Parts And Fasteners: Ford/Lincoln
One-Time-Use Parts And Fasteners: General Motors
One-Time-Use Parts And Fasteners: Honda/Acura
One-Time-Use Parts And Fasteners: Hyundai
One-Time-Use Parts And Fasteners: Jaguar Land Rover
One-Time-Use Parts And Fasteners: Kia
One-Time-Use Parts And Fasteners: Mazda
One-Time-Use Parts And Fasteners: Subaru
One-Time-Use Parts And Fasteners: Tesla
One-Time-Use Parts And Fasteners: Toyota/Lexus
One-Time-Use Parts And Fasteners: Volkswagen
Images:
Featured image: (Birdlkportfolio/iStock)
Share This: