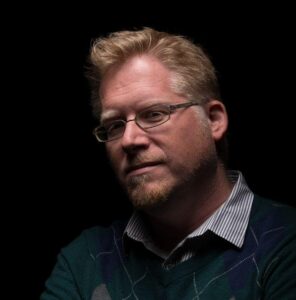 Friends, colleagues mourn passing of I-CAR designer
By on
Announcements
An I-CAR graphic media designer who recently celebrated his 29th anniversary with the company has passed away.
Gary Meulemans, 52, is being remembered as a "talented artist and photographer" whose work has appeared in numerous I-CAR and industry publications.
Jason Bartanan had known Meulemans since 1996, having worked with him on numerous courses when he started writing for I-CAR.
"As part of the course development process, I'd often spend several hours each day working with Gary," said Bartanan, who now works for Collision Hub. "Although we came from different backgrounds and experiences, Gary and I quickly became friends outside of the office; we'd spend time together at parties, events, concerts, and weekend road trips. Gary was one of my best friends; I wasn't alone, he was 'one of my best friends' to a lot of people."
Bartanan said anyone who has ever taken an I-CAR class or read an industry publication throughout the past three decades has likely seen Meulemans' work.
Meulemans was purposeful with his work, creating course layouts based on user experience and design, Bartanan said.
"When a reader sees a 'Courtesy of I-CAR' next to an illustration or photo in a publication, there is a strong likelihood that Gary was involved in its creation," Baratan said. "In more recent years, Gary took on a leadership role within I-CAR, working with the next generation of I-CAR graphic design talent."
A few of Meulemans teammates took to social media to mourn his passing, saying he was the "best boss" they'd ever worked with.
He wasn't just admired among his colleagues. Bartanan said he amassed friendships with numerous industry professionals throughout the years, forming bonds with several of them.
"His friendly smile, welcoming disposition, and thoughtfulness made it easy to befriend Gary — even over the course of just a weekend at an industry event," said one colleague. "He was an incredible friend to many and one of the most selfless people I've ever met. He was a gifted artist and photographer and loved sharing his talents with others; he was always on a quest to put a smile people's faces through his art."
Bartanan added that Meulemans was a believer in the importance of paying things forward with random acts of kindness, and said his friends are now honoring him by doing the same.
Another former colleague, Brandon Eckenrode, remembered Meulemans as "incredibly thoughtful, giving, and kind."
"He always thought of others before himself," he said. "I feel lucky to have been able to call him a co-worker, industry colleague, and a friend."
A funeral for Meulemans was held June 8 in Freedom, Wisconsin.
Images
Featured and secondary image credit: Gary Meulemans/Courtesy of  Jason Bartanan 
Share This: