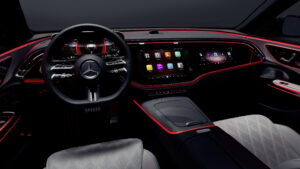 Mercedes-Benz says it's integrating ChatGPT into the voice control of its systems, with its optional beta program now available to more than 900,000 vehicles throughout the U.S.
It said ChatGPT will help make its MBUX Voice Assistant more intuitive by leveraging "a large language model to greatly improve natural language understanding and expand the topics to which it can respond."
Since ChatGPT was released in late 2022, its use cases have exploded and those in the collision repair field have discovered ways to make it relevant within the industry.
For instance, in late February Nylund's Collision Center tested the technology by asking it to come up with five topics that would be relevant and helpful to customers.
It said in a blog post that within a second of think time, the algorithm model came up with a list of tips.
The topics it produced included:
Understanding the collision repair process;
Working with insurance companies;
Choosing a reputable collision center;
Keeping a record of repairs; and
Understanding the importance of original parts.
A separate Inspekt Lab article explored other consumer-facing possible uses for ChatGPT, including repair assessments and damage detection.
In the case of Mercedes, it said it is integrating ChatGPT through Azure OpenAI Service, leveraging the enterprise-grade capabilities of Microsoft's cloud and AI platform.
"Mercedes-Benz combines the best of both worlds, enhancing the validated data of the MBUX Voice Assistant with the more natural dialogue format of ChatGPT," the OEM said in a press release. "Users will experience a voice assistant that not only accepts natural voice commands but can also conduct conversations.
"Soon, participants who ask the Voice Assistant for details about their destination, to suggest a new dinner recipe, or to answer a complex question, will receive a more comprehensive answer – while keeping their hands on the wheel and eyes on the road."
Mercedes also addressed possible concerns about data privacy, calling it a top priority and adding it retains complete control over IT processes and will store voice command data in its "intelligent cloud."
"The integration of ChatGPT with Microsoft in our controlled cloud environment is a milestone on our way to making our cars the center of our customers' digital lives," said Markus Schäfer, Mercedes' chief technology officer. "Our beta program boosts the existing Hey Mercedes functions such as navigation queries, weather requests and others with the capabilities of ChatGPT. This way, we aim to support conversations with natural dialogues and follow-up questions.
"Our customers can always rely on us to ensure the best possible protection of their data privacy. Everything is under one big goal: Redefining the relationship with your Mercedes."
The automaker said its beta program will last three months, and that its developers will use the trial to gain insights on specific driver requests, "enabling them to set precise priorities in the further development of voice control."
"Findings from the beta program will be used to further improve the intuitive voice assistant and to define the rollout strategy for large language models in more markets and languages," it said.
Earlier this year, a GM executive told Reuters that it was exploring using ChatGPT through a partnership with Microsoft as well.
"ChatGPT is going to be in everything," Scott Miller, GM Vice President Scott Miller, told the outlet.
Miller said the technology could help drivers easily access information normally contained in an owner's manual, such as how to program a garage door code.
Images
Featured image: 2023 Mercedes-Benz E-class interior (Credit: Mercedes)
Share This: