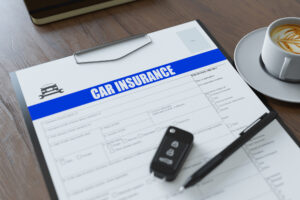 Report: Florida premiums have risen 88% in past decade
By on
Insurance
Florida's car insurance premiums have risen by an average of 88% in the past decade, representing the most significant spike in the nation, according to a new analysis.
Findings from FINN, a car subscription service, indicate that Florida's average annual car premium increased from $1,364 in 2013 to $2,560 this year. The study also showed that the situation could continue to worsen throughout the next decade.
"The Sunshine State will see the highest average premiums in 2033, with an estimated annual cost of $4,813, more than $2,500 than the predicted national average if current trends continue," the report said. "Car insurance costs in the state will increase as climate change causes increasingly severe weather events, increasing the risk of damage to vehicles and pushing up premiums."
Colorado, Nevada, New York, and South Carolina rounded out the top five states with the most significant increases.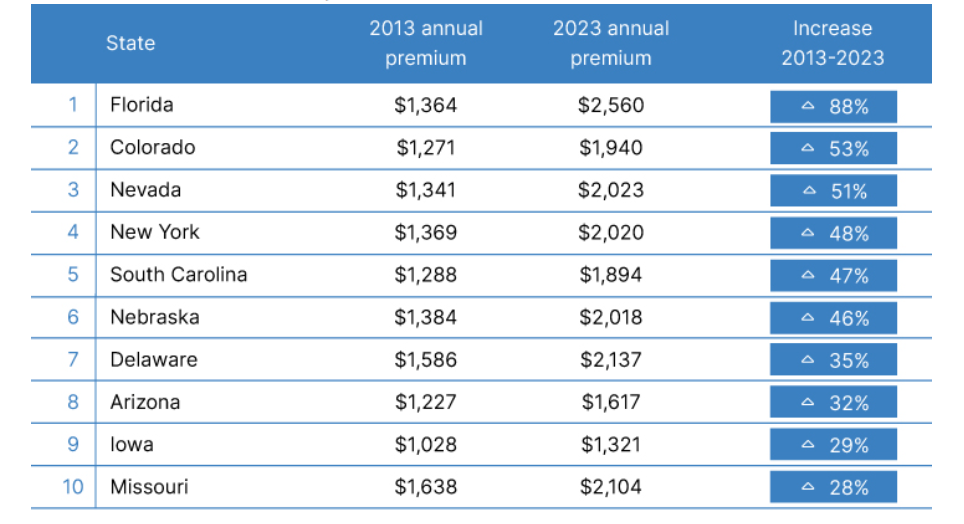 The Florida Office of Insurance Regulation did not respond to a Repairer Driven News request for comment on why the state's premium increases have led the nation. However, Samantha Bequer, its communications director, told RDN earlier this month that while Florida has enacted "unprecedented reforms designed to promote market stability, the impact of these reforms will take time."
"Most of the primary cost drivers in the Florida property insurance market, including catastrophic claims, adverse loss reserve development, and higher reinsurance costs, are notably exacerbated by excessive and costly litigation," Bequer said.
FINN's report attributed Colorado's 53% rise throughout the past decade to extreme weather conditions including blizzards, tornadoes, floods and hailstorms.
"These disasters have increased the number of claims dramatically, pushing up premiums," it said.
As for Nevada, FINN said it took the third spot due to its high rate of vehicle thefts in larger cities, and the increasing number of people buying luxury vehicles that come with higher premiums.
FINN also shared a list of states where premiums have decreased since 2013.
Georgia observed the most significant premium drop with its 23% decrease, which FINN struggled to rationalize.
"This is surprising as lawmakers in the state recently proposed legislation to prevent insurance companies from hiking prices without state approval after rates leapt up by 40% since 2023," it said.
Other states to observe rate drops included Hawaii, where FINN noted insurance companies are no longer allowed to write policies that take non-driving factors into consideration. It attributed Michigan's 10% drop to a law that took effect in 2020 limiting drivers' ability to sue each other for damages.
"This lack of litigation dropped premium prices, contributing to the 15% decrease over the last 10 years," Finn said.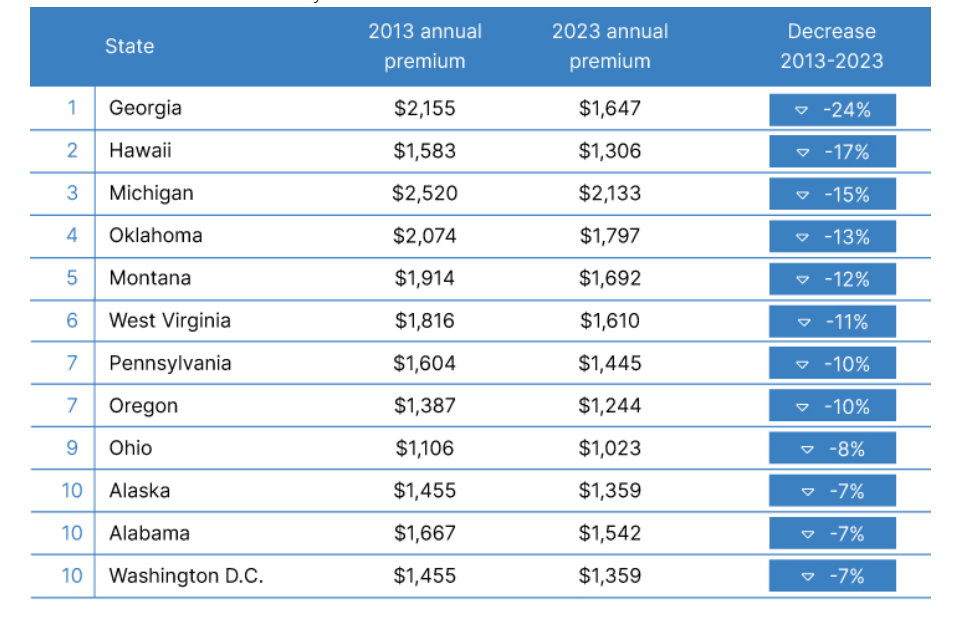 Meantime, in announcing its June and Q2 results this month, Allstate said it expects to raise premiums by nearly $2 billion this year.
"Allstate continued to implement significant auto and homeowners insurance rate actions as part of our comprehensive plan to improve profitability," Jess Merten, Allstate's chief financial officer, said in a press release.
Merten added: "Since the beginning of the year, rate increases for Allstate brand auto insurance have resulted in a premium impact of 7.5%, which are expected to raise annualized written premiums by approximately $1.95 billion and rate increases for Allstate brand homeowners insurance have resulted in a premium impact of 7.4%, which are expected to raise annualized written premiums by approximately $754 million."
Images
Main image: iStock/asbe
Graphs courtesy of FINN
Share This: