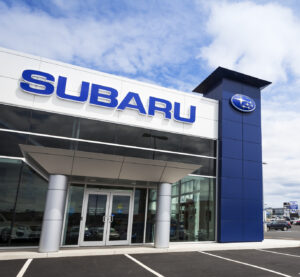 Subaru has released a service bulletin to alert repairers that single-use mounting clips and spacer clippers for certain air bag curtain modules are now available.
"Previously, these clips were not available separately requiring the curtain module assembly to be replaced if the clips were removed," the bulletin says.
The clips are available for use on:
Model year (MY) 2015 to 2022 Outbacks and Legacys;
MY 2018-22 Crosstreks;
MY 2019-2022 Foresters; and
MY 2019-2022 Ascents.
"On the models affected by the [bulletin], the airbag curtain module is held in place using one-time use clips," Todd Hill, a Subaru spokesman, told Repairer Driven News. "There was a higher consumer cost to replace otherwise undamaged airbag modules in the cases where they needed to be removed for repairs in the general area or for inspection."
Hill added: "By making the clips available separately, the cost of completing those activities can be lowered substantially to the customer or insurer. Airbag modules should still be inspected and installed in accordance with the procedures defined in the vehicle's service manual."
Instructions on how to replace the retainers are available in the Subaru STIS.
A number of repairers have previously noted in DEG submissions that retainers could not be reinstalled and should be replaced as dictated in the OEM removal procedure.
"The reason for the Subaru update is because the models identified in the Subaru service bulletin required you to replace the entire head curtain airbag [module]," said Danny Gredinberg, DEG Administrator. "[This is even true] for 'remove and install' purposes as the retainers were not available separately.
"Now that Subaru has confirmed availability for replacement of the retainers, the repairer can now reuse the module and only have to replace the retainers that are non-reusable."
Gredinberg also confirmed that there are differences between the ALLDATA procedure verbiage and the OEM document.
Subaru also updated its labor time guide information for the affected models and said clip failures or replacements will be covered under applicable warranties. Labor time examples are listed below.

The OEM said it discourages shops from printing or storing the bulletin as guidance could change at any time and added that repairers should always refer to STIS for the latest information before performing any work.
Images
Main image: iStock/tomeng
Graphic and chart courtesy of National Highway Transportation Safety Administration
Share This: