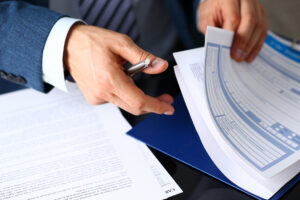 Drivers with bad credit are being charged up to 263% more for insurance, report finds
By on
Insurance
Drivers with fair or poor credit scores are, in some cases, paying more than twice as much as those with excellent credit and the same driving record, a newly-released report says.
Consumer Federation of America's (CFA's) report found that compared to drivers with excellent credit, those with poor credit are paying 143% more in Florida, 172% more in Minnesota, and 263% more in Michigan.
"On average, a consumer with poor credit has to pay twice as much for auto insurance as a driver with excellent credit, even if everything else, including their driving safety history, are the same," said Douglas Heller, CFA's director of insurance and the report's co-author."
He added: "Not only is this unfair to safe drivers, because of longstanding and institutional biases, the use of credit history for insurance pricing leads to disproportionately higher premiums for lower-income drivers and people of color."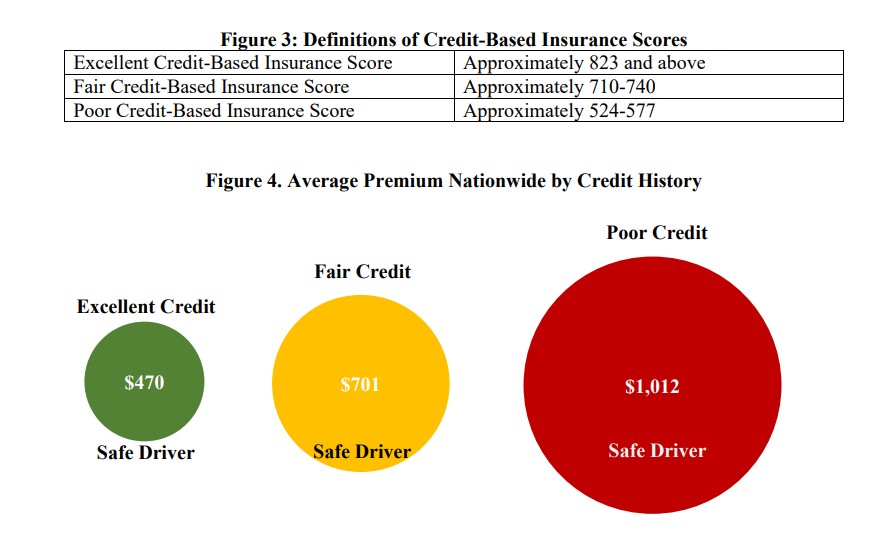 Inflated premiums are incentivizing drivers to go without insurance at all, said report co-author Michael DeLong, CFA's research and advocacy associate.
"The high costs of auto insurance definitely cause many drivers to go without insurance because they can't afford it," DeLong told Repairer Driven News. "This puts themselves and others at risk and drives up costs for everyone. States have a responsibility to make sure that auto insurance is affordable for good drivers but most of them aren't doing a very good job."
He added that among drivers who are carrying insurance, despite paying more due to their poor credit, they might be more reluctant to file a claim.
"It's hard to say exactly how consumers respond — it varies a lot depending on circumstances — but almost certainly yes, a bunch of drivers are paying expensive premiums and don't want to pay even more expensive premiums, so they may not file claims," DeLong said.
CFA's report also found that insurers consider credit to be a more important rating factor than a bad driving record when setting prices.
"In most states, consumers with perfect driving records and poor credit pay more for auto insurance than drivers with a conviction of driving under the influence of alcohol," it said.
According to CFA's findings, U.S. consumers with clean driving records and excellent credit pay an average annual premium of $470 for state-mandated insurance. Conversely, those with clean driving records and fair credit pay $701.
Drivers with poor credit and clean driving records pay an average of $1,014, or 115% more than those with the same driving history but excellent credit.
"Your auto insurance premium should be based on your driving record, not your credit score," DeLong said. "You shouldn't have to pay more in premiums because of a factor unrelated to your driving, and as long as companies are allowed to use credit this way, millions of safe drivers in America are being overcharged for their auto insurance."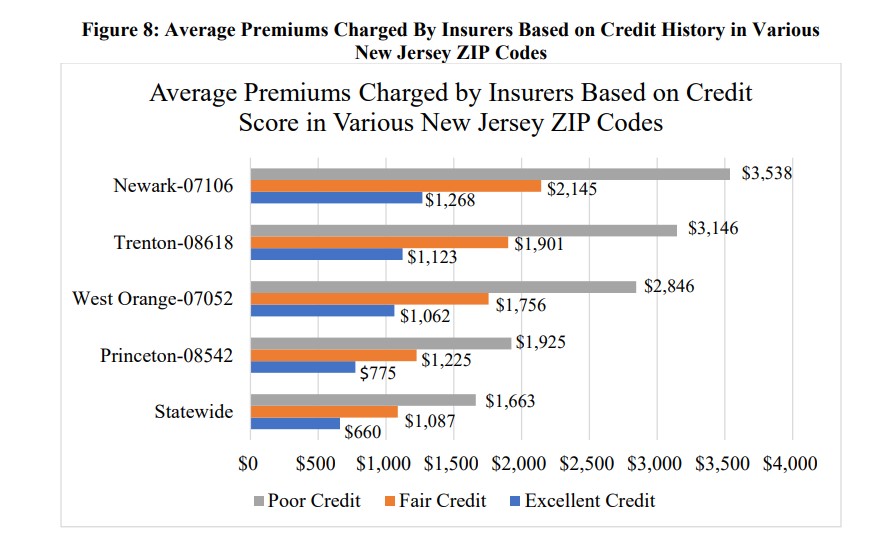 The report said most U.S. auto insurers "practice this discrimination." The exceptions are carriers in California, Hawaii, and Massachusetts because state laws prohibit them from taking credit information into account when price setting.
Illinois lawmakers are looking to join those automakers with the Motor Vehicle Insurance Fairness Act, HB 2203, which would ban insurance companies from using non-driving factors when setting rates.
Right now, Illinois policyholders with clean records and excellent credit pay $424 for state-mandated auto insurance. That's compared to the $607 a person with the same clean driving record but a fair credit score pays; for those with poor credit, the average premium is $915.
Rep. Will Guzzardi, who introduced Illinois' proposed HB 2203, responded to the report by saying states must regulate "this kind of unfair pricing practice."
"Once again, the data bears out that excellent drivers are being charged staggering premiums only because their credit scores are low," Guzzardi said. "This is discrimination, plain and simple, and it means that low-income drivers of color are paying more than their wealthy white counterparts."
CFA's report was released shortly after Allstate filed its third Illinois car insurance rate increase this year, said the Illinois Public Interest Research Group. The state's latest increase of 11.2% takes effect Aug. 17.
"Illinois requires car owners to purchase insurance, but is not doing enough to protect consumers from excessive or unfair rates," said Illinois PIRG director Abe Scarr. "Your insurance rates should be based on how you drive — not who you are."
Images
Main image: iStock/Ivan-balvan
Graphs courtesy of Consumer Federation of America
Share This: