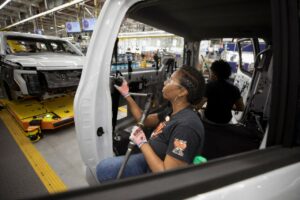 Ford Motor Co. shared Tuesday that it has resumed production of the F-150 Lightning following a six-week shutdown to expand and retool its Rouge Electric Vehicle Center in Dearborn, Michigan.
Beginning this fall, capacity at the plant will be tripled to 150,000 pickup trucks a year. More than 70,000 are slated to be built this calendar year. Recent adjusted pricing of the Lightning has increased web traffic threefold and customer orders sixfold. However, Ford says customers have said they want more trim options, which the new plant's new capacity will make possible.
The capacity increase at the Rouge Electric Vehicle Center supports shorter order-to-delivery times for customers with a focus on building high-demand trim levels like XLT, which accounts for over 50% of new orders, Ford said.
The news comes after Ford's electric vehicle (EV) losses have continued to climb as the company has seen consumers take healthy interest in hybrid F-150 pickup trucks.
In March, Ford said it expected to lose $3 billion this year on EVs and said its Ford+ Plan will produce "solid growth and sustained, healthy profitability and returns by deploying new technologies, achieving higher quality, lowering costs and complexity."
At that time, profit losses were expected to increase this year because of the money being spent to build manufacturing complexes BlueOval City and BlueOval SK Battery Park, a $5.8 billion, 1,500-acre EV battery manufacturing complex, in central Kentucky, according to CFO John Lawler. He also said Ford is working on and investing in alternative battery chemistries.
Now, Ford is forecasting that its EV division will lose $4.5 billion this year, according to Q2 earnings details. The division called Ford Model e has already shed about $1.8 billion in 2023 so far, according to Fortune.
Overall revenue increased 12% year over year to $45 billion during Q2 while Model e revenue grew by 39%.
While the temporary shutdown of the EV plant has limited customer Lightning deliveries this summer, the facility is now ready to accelerate the ramp-up process to unlock supply and help meet demand for the truck, Ford said.
"We are all looking forward to getting these F-150 Lightning trucks into the hands of our customers — from the U.S. to Norway," said Debbie Manzano, Ford director of manufacturing. "This milestone is the result of a lot of hard work and collaboration."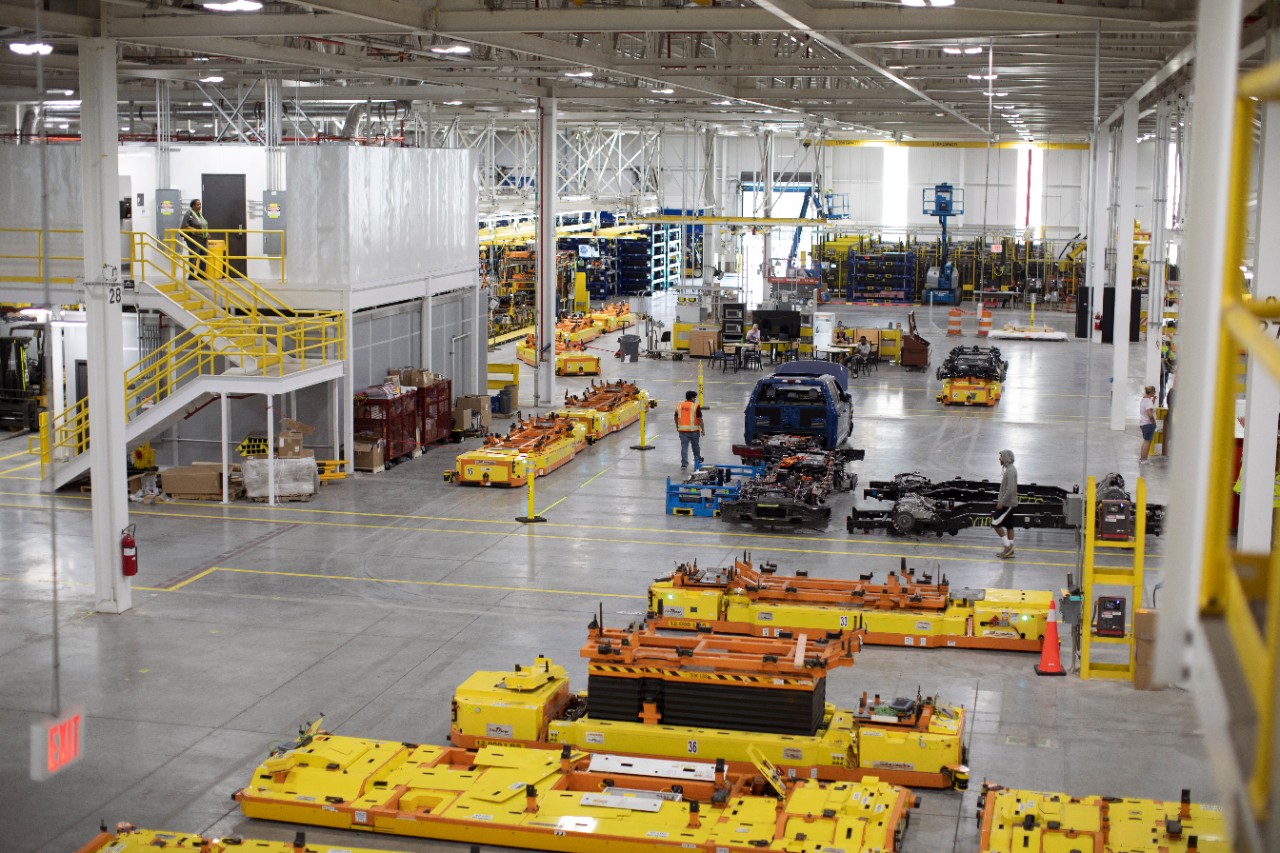 Ford says the new tooling supports its drive for high quality, including equipment that automatically measures and validates exterior body fit for margin and flushness precision. The Michigan plant of Ford's North American locations to use the equipment. The EVs will also go through another station to validate wheel alignment and headlamp aim for advanced driver assistance systems (ADAS). This drives home a reminder often given by the collision repair industry: correct calibrations are essential for correct functioning and safety of ADAS-equipped vehicles.
Training for 1,200 additional manufacturing employees will continue for three weeks. Incoming operators are shadowing experienced employees in a buddy system for rapid onboarding, Ford said.
Ford's battery pack production is also ramping up at the Rawsonville Components Plant and the Van Dyke Electric Powertrain Center (both in Michigan) to match the scale of F-150 Lightning assembly at the Rouge Electric Vehicle Center.
"We have learned a lot from our first-ever EV truck customers, including a preference for technology and visual differentiation," said Ford Model e Chief Customer Officer Marin Gjaja. "We continue to refine the F-150 Lightning lineup to make the jump to an EV truck an easy choice for customers."
Ford says the Lightning is its most innovative F-150 ever built with an available 9.6-kilowatt Pro Power Onboard, as well as three other power options, which provide generator power and hands-free driving Ford BlueCruise with purchase of a connected service plan for use within Hands-Free Blue Zones.
The company is currently engineering its second generation EVs "building on the success of its first generation," which includes the Lightning, Mustang Mach-E and E-Transit.
Beginning in spring 2024, Ford EVs will have access to more than 12,000 Tesla superchargers across the U.S. and Canada under an agreement between the two automakers. The Lightning, Mach-E, and E-Transit will be able to connect with the chargers through an adapter and software integration.
Beginning in 2025, Ford said its next-generation EVs will eliminate the need for an adapter.
EV education and training
While EV sales steadily increase from most automakers, the National Institute for Automotive Service Excellence (ASE) has made vouchers available to collision and auto repair technicians for EV certification testing.
There are two tests in the series: "xEV Electrical Safety Awareness Certification (Level One)," which is designed for anyone who may encounter an EV in the workplace, and "xEV Technician Electrical Safety Certification (Level Two)." Level Two is for service professionals, technicians or specialists who have received high-voltage electrical training; demonstrated skills and knowledge related to the construction, operation and repair of electrically powered high-voltage vehicles; maintain an electrically safe working area, and use required personal protective equipment (PPE).
In conjunction with automakers, aftermarket personnel, and electric industry pundits, ASE recently created and released EV technician/shop personnel electrical safety standards to provide guidance, document, and establish electrical safety requirements, standards, procedures and safe work practices for an electrically safe working area.
Automotive service professionals and shop owners who want to purchase ASE EV test vouchers for their employees can visit the myASE portal and take the following steps:
Step 1: Login into your account or create an account at the ASE Log in.
Step 2: In the myASE portal, go to the "Store."
Step 3: Using the menu on the left, go to the "xEV Test Vouchers" section then click on "xEV Test Vouchers."
Step 4: Click "Add To Cart" on the test(s) you want to buy vouchers for. Quantities can be adjusted in the cart.
Step 5: Proceed to Checkout and an email with the voucher code(s) will be sent to the purchaser.
Step 6: The purchaser can distribute vouchers to individuals that need to take the tests. Individuals that receive a voucher should create an account at https://ase.netexam.com/ to begin testing.
"We have had a very positive response to the recent introduction of our new EV standards and testing program," said Tim Zilke, ASE president. "These tests were developed in conjunction with industry experts so they will be challenging, but more importantly, they will ensure that automotive service professionals who earn the credentials are well prepared to service and repair hybrid and electric vehicles."
Repairers can always check for OEM repair procedures and position statements at oem1stop.com.
I-CAR also offers a five-day hands-on course at its Chicago Technical Center for those looking to learn more about EV safety and repair.
Images
Featured and secondary images: Ford Motor Co. has resumed production of its F-150 Lightning following a six-week shutdown to expand and retool its Rouge Electric Vehicle Center in Dearborn, Michigan. (Credit: Ford)
More information
CIC: EV safety systems handling & necessity for pre- and post-repair scans
Share This: