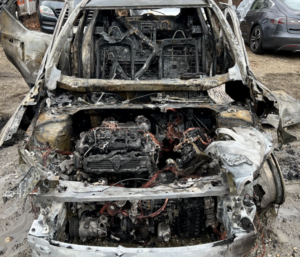 There's a lot to know about electric vehicle (EV) handling from safety systems and diagnostics, to low and high-voltage disconnects, and pre- and post-scanning to battery cooling and enclosure testing; much of which was covered during a presentation at the Collision Industry Conference (CIC)'s April 12 meeting.
When an EV is first brought to a shop, thermal imaging tests should be conducted to check for leaking carbon monoxide, carbon dioxide, and hydrogen fluoride. Thermal imaging is more than what some collision repairers may be used to because more needs to be evaluated than just temperature of the battery cells, according to Energy Security Agency Chief Operations Officer Dalan Zartman.
"You could take a thermal camera and shoot it at the floor pan of the vehicle from the undercarriage or through the internal upholstery all day long," he said. "And you could be in an active thermal runaway and we see no temperatures anywhere near 200 degrees F… because you're looking at the outer layer of the enclosure protections… there's too many intermediaries between the actual battery cells and what you're visualizing with the thermal imaging camera, which just looks at the surface mass temperatures."
The solution is to use a thermal imaging camera with a scope on it to take photos of the undercarriage to document the state of the vehicle when it's brought in because the cameras can detect lithium-ion battery off-gassing that cannot be seen with the naked eye. Next, take a thermal scan for hot spots.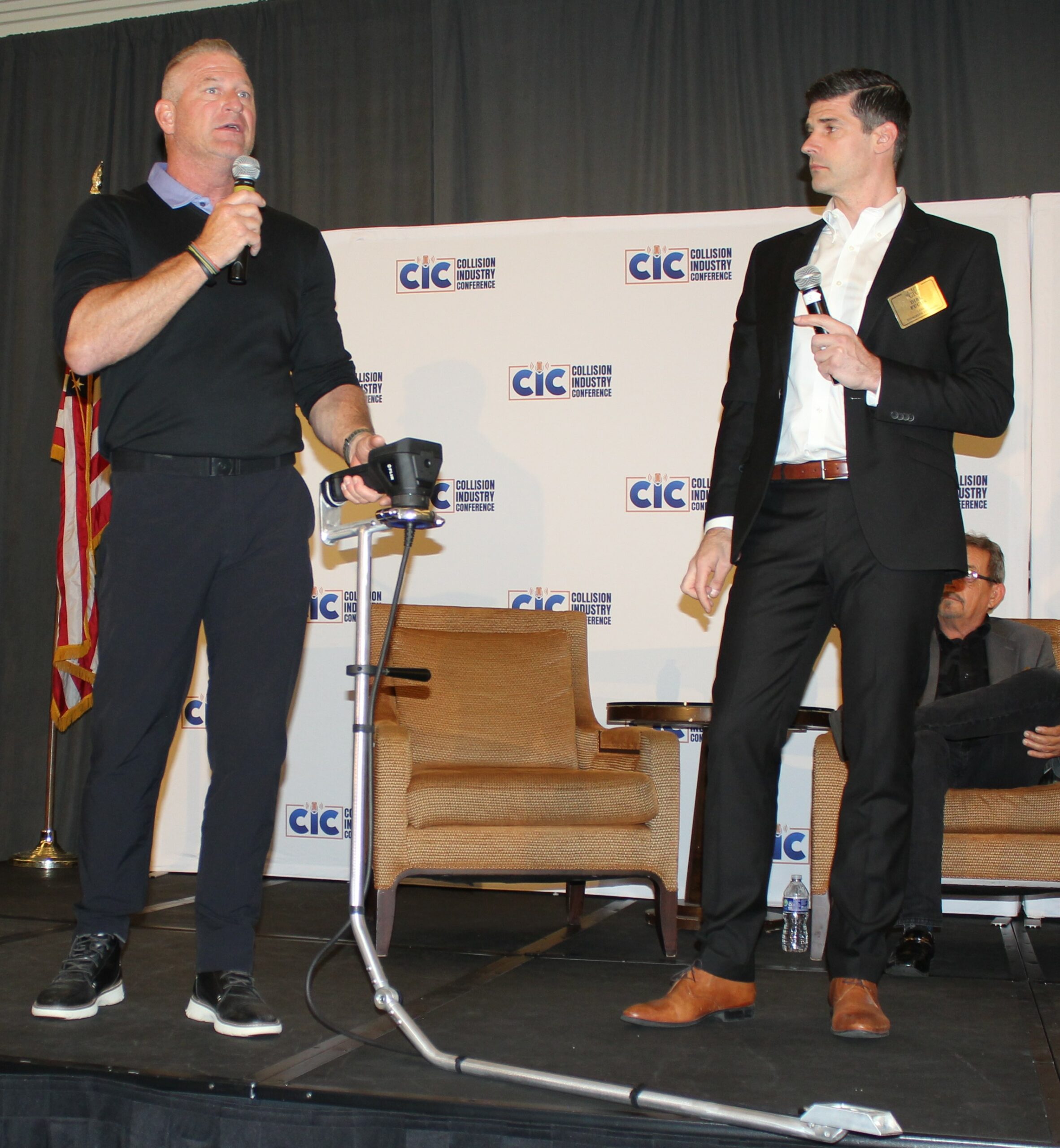 "If you see hot spots and, then from a temperature perspective, it's trending up or trending down then that's going to help [determine if it's] progressing towards thermal runway or… walking away from the traditional thermal runway… It's not about the temperature point, it's not temperature trending, it's about a hot spot."
Finally, follow that up with using a 4-gas meter to detect both carbon monoxide (CO) and hydrogen.
"For your services [collision repair], they're both bad," Zartman said of carbon and hydrogen gases. "If one of those two things are there, then you walk down a protocol response which assumes that you're entering into a thermal event."
Zartman recommends technicians have a 4-gas meter directly over the battery pack or within four feet of the EV or hybrid vehicle to continuously take atmospheric measurements to detect gases, if present. It's also important to pay attention to the lower explosive limit on the meter, he said. A 10% lower explosive reading means it's time to evacuate personnel, isolate the vehicle, and call the fire department for help.
If your shop has EV bays and internal combustion engine (ICE) bays separated, or your shop solely works on EVs, there shouldn't be any gases present above 10 parts per million. Conversely, mixed application shops with ICE vehicles and EVs then CO readings are likely coming from ICE vehicle exhaust. If that's the case, look for readings of 15-25 parts per million or 15-30 parts per million depending on how long the vehicles are running, Zartman said.
Safe systems handling 
Audi of America Collision, Equipment and EV After Sales Service Manager Mark Allen said releasing OEM repair procedures to independent repairers is ongoing.
Through being proactive with the release of the 2017 Audi A3 e-tron, 317 Audi dealers were provided OEM repair procedures, tools, and equipment as well as training to "be ahead of the curve" with safety, he said.
"We've had no issues with our folks having trouble or shock and any of that so we've really managed to minimize the problems," Allen said. "Now comes a second wave of, 'OK, how do you logistically prepare more people? …How do you share that knowledge out with our trusted independent repairers that we have here?' …because realistically, moving that car back and forth to the dealer and everything is a pain so now we have to go to the next step looking at that over the next year."
I-CAR Technical Programs and Services Director Dirk Fuchs presented data from CCC Intelligent Systems that pre- and post-repair diagnostic scans are only being done on 64% of 2022 model year or newer vehicles. "When we talk about electric vehicles—scanning a vehicle—this is not enough anymore," he said.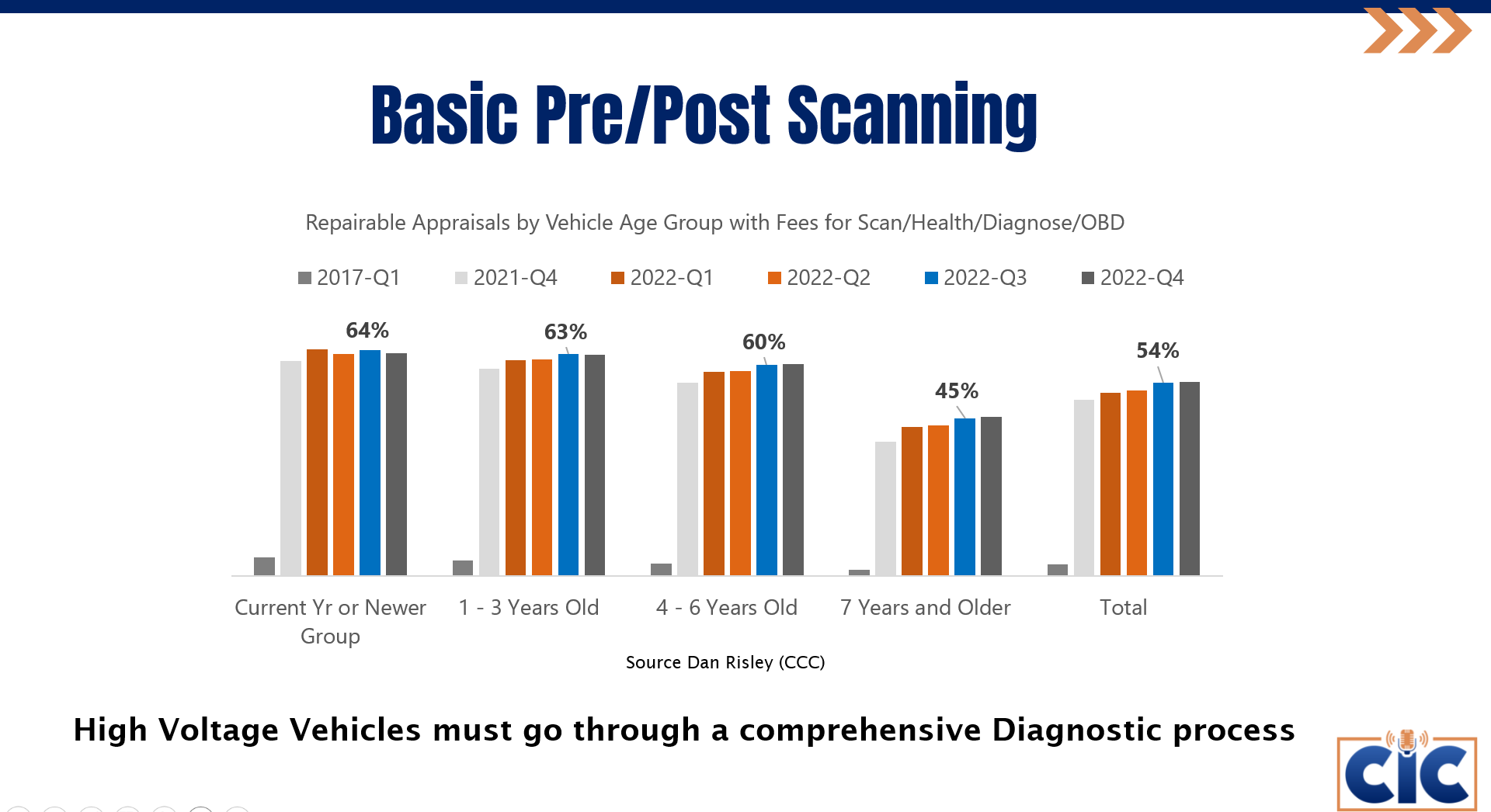 Opus IVS ADAS Solutions Vice President and CIC Chairman Frank Terlep started out the meeting by making a similar point about pre- and post-repair scans on advanced driver assistance systems (ADAS) to ensure they're repaired and calibrated correctly. That's only currently being done 50% of the time, he said. Terlep underscored the data point by saying the collision repair industry "collectively sucks."
Fuchs agreed when it comes to EVs. "An electric vehicle has to go through an intensive or deep diagnostic process. So one line you put in the scanner and read a fault code, this is not where you have to be. …We can't suck when it comes to electric vehicles. It's too dangerous. …Your technicians have to perform the right thing and have to make an intensively deep diagnostic. That is the only thing that prevents us from a disaster."
Vehicle Electrification Systems Founder Mark Quarto said he hopes some of what he and others during the presentation outlined can be put into shop processes and procedures for handling EVs from dropoff to wrapping up repairs.
Quarto likened the four safety systems on EVS to the four legs of a stool and described them as:
Main of service disconnect: One way to disable the system, which includes discharging fairly large capacitors. EVs typically do this automatically but not always; there can be failures that prevent that from happening. The capacitors still hold a significant level of energy even when the battery pack is disconnected from the system and, if touched, would lead to electric shock or worse.
Bus discharging: To discharge the capacitors.
Interlock circuits: Allows for manual main service disconnect. Traditionally, the interlock circuit is part of a connector that connects to the high-voltage component. If the vehicle is powered on and the connector is disconnected leaving the interlock circuit is open, the high-voltage system would be shut down.
Isolation fault: When the high voltage system leaks too much energy into the chassis making it conductive enough to shock anyone that touches a section of the high voltage system.
Quarto said SAE International's Standard J2990 outlines the main service disconnect procedure but some OEMs have moved away from manual main service disconnection. Instead, some OEMs use what's known as a low-voltage contact connector or low-voltage control connector. It serves to tell either the battery or vehicle controller that there is an attempt being made to shut the high-voltage system down. While that saves OEMs money by eliminating the need to pay for main service disconnections, it poses problems for collision repairers.
"The downside is that if your contactors are welded closed, which can happen in a battery pack, there's no way to terminate the power going out of the vehicle so your technicians would need to know something about the vehicle that they're working with before they actually do something with it to know how the vehicle could be disconnected," Quarto said.
One OEM that doesn't use manual main service disconnect on its vehicles is Tesla so the only way to confirm the system is de-energized is to remove the rear seat, get into the penthouse, and remove an orange cover to check two female adapters with a volt meter. And in the case of collision repair, that may be impossible due to damage or shops not having the right tools to complete the check, Quarto said.
"Your technicians are gonna need to know the if, and, and buts about disconnect systems, or if it doesn't have a disconnect, how to confirm that the system is actually disabled," he said. "Every one of the systems that I've talked about, including isolation fault, is going to… result in a light coming on on the dash to warn someone that there is a fault and then it would be up to the technician to find out where that fault is. There are several techniques on how to find the fault."
Battery management systems (BMS)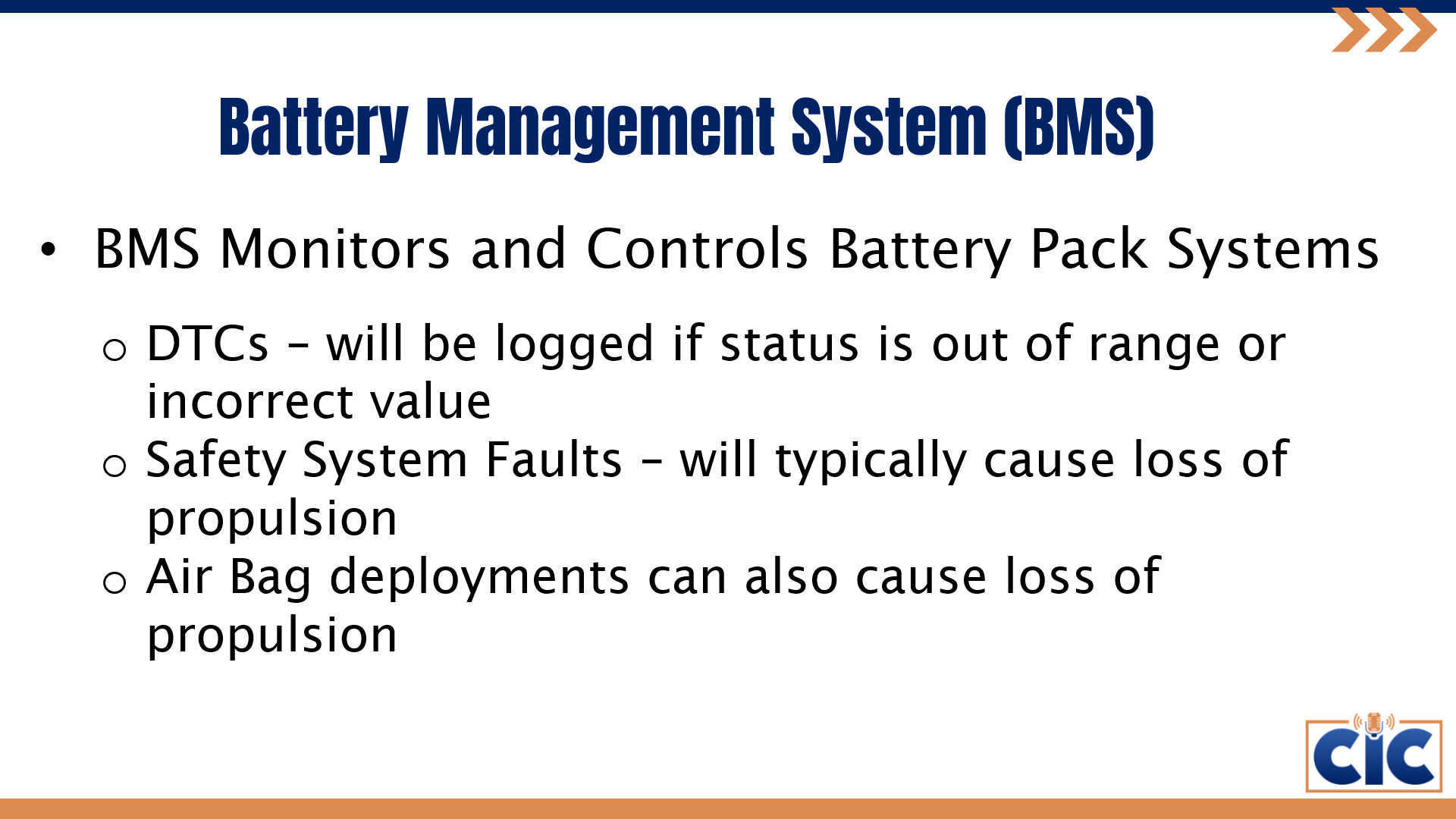 BMS monitors contactor status (open, closed or welded closed), battery sensing circuits scan tool PIDs, such as module/cell temperatures, coolant level, gas sensing, and moisture as well as isolation resistance and more, Quarto said. A scan tool can also be used to look at voltages to help determine the condition of the battery cells and the state of the battery pack post-collision.
"If they're [scan tools] not there yet, there will be in the future, there's going to be things like state of power, state of safety, state of function, state of health and state of charge is already there," Quarto said. "But a lot of OEMs are not going to transmit that data so it's easily seen on a scan tool. There would probably have to be some enhanced data."
When it comes to battery cooling, it's important to note that a collision can cause hoses to break off or leak inside the battery pack, and because the battery packs are sealed up, liquid can fill up the inside of the battery pack, which can't be seen from the outside, Quarto said. Some OEMs use sensors to monitor for any sign of moisture in the battery pack as well as liquid level and temperature.
EVs and hybrids also have to stay at a certain temperature inside paint booths. For Audis, that's 150 degrees maximum. Allen said when repairers mask off vehicles to prep them for painting they should make sure the system is shut down so that there's no communication with the car. Otherwise, the systems will turn on to cool down inside the paint booth. Also, make sure air is flowing through the coolers strictly following OEM repair procedures for the proper way to do so, he said.
For more EV handling information, check out RDN's first article from this presentation.
Images
Featured image: An electric vehicle (EV) is shown burnt after the fire it was involved in was extinguished. (Credit: CIC)
(From left) Energy Security Agency Chief Operations Officer Dalan Zartman and I-CAR Technical Programs and Services Director Dirk Fuchs hold a thermal imaging camera with a scope while talking on stage during the Collision Industry Conference (CIC)'s April 12, 2023 meeting. (Lurah Lowery/Repairer Driven News)
More information
I-CAR says 'mountain of work' ahead for repairers, recyclers in proper EV battery handling
Share This: