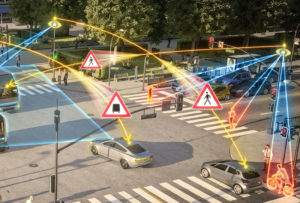 FCC approves application to develop crash prevention technology
By on
Technology
The Federal Communications Commission (FCC) has approved a joint application that will allow for the use of cellular vehicle-to-everything (C-V2X) technology to reduce collisions.
It allows applicants — including Ford, Jaguar Land Rover, and Audi — to use the technology in a spectrum of the 5.9 GHz band, which allows automobiles to communicate with each other, pedestrians, and nearby infrastructure. None of the automakers replied to Repairer Driven News' queries seeking insight on when they plan to begin deploying the technology.
"The Commission expressly determined that the public interest dictates a transition to C-V2X technology as soon as possible, and stated its intent to permit early deployment through the waiver process, subject to specified conditions and limited to transportation and vehicle safety-related communications," says the FCC's notice of approval.
"We therefore agree with the C-V2X Joint Waiver Parties that permitting C-V2X technologies to deploy now, prior to adoption of final C-V2X rules, will serve the public interest by advancing vehicular safety and promoting interoperability."
The application was brought forward by about a dozen parties, including the OEMs, Utah and Virginia transportation departments, and Panasonic.
It was approved under the condition applicants comply with "C-V2X operational, technical, and transition rules ultimately adopted by the Commission," the FCC said.
The waiver allows automakers to deploy C-V2X-based onboard units in cars sold in the U.S.; the transportation departments will be permitted to deploy the technology within their borders. Manufacturers included in the waiver will now be able to obtain the necessary certifications for their equipment.
It was granted more than two months after a group of senators called on the FCC to approve the "game changing safety technology."
In their joint letter, Sen. Gary Peters (D-Michigan) and Cynthia Lummis (R-Wyoming) urged the FCC to approve pending waiver requests so that C-V2X could be brought to market.
"C-V2X technology is poised to save lives, will pave the way for the future of automobile and transportation infrastructure, and is supported by public and private transportation stakeholders from local and state governments to industry, academia, and public safety groups," the letter says. "C-V2X is an intelligent transportation system (ITS) technology that allows data sharing between vehicles, roadside infrastructure, and nearby road users to enable various safety and efficiency applications."
The National Highway Transportation Safety Administration (NHTSA) has estimated that safety applications enabled by connected vehicle technologies could eliminate or mitigate the severity of up to 80% of non-impaired crashes.
The Intelligent Transportation Society of America (ITS) said the waiver's approval was a "crucial first step towards deploying lifesaving communications technology."
"As deaths on our nation's roadways continue to soar, it is critical that we maximize use of connected vehicle technology to keep all road users safe," Laura Chace, ITS' chief executive, said in a statement. "[This] decision is a win for investing in the digital layer of transportation that enhances safety for all who travel on our nation's roads."
Smart infrastructure, part of V2X connectivity, is being researched and developed in the U.S. and abroad for the safety of motorists and pedestrians.
The U.S. Department of Transportation (USDOT) said last September it would make $160 million in grants available annually over the next five years for smart infrastructure technology to improve the nation's transportation infrastructure and make communities safer, including funding for vehicle automation and connectivity technologies.
The Alliance for Automotive Innovation (AAI) was among the other V2X proponents to laud the FCC's decision.
"This a big deal," Hilary Cain, AAI's vice president of technology, innovation, and mobility policy, told Politico. "These waivers were a missing piece of the regulatory puzzle needed for automakers to deploy V2X."
The National Transportation Safety Board (NTSB) said the granted waiver will empower OEMs and others to "get this lifesaving technology on the roads sooner."
"The best way to reduce the incomprehensible and unacceptable death toll on U.S. roads — nearly 43,000 lives lost last year alone — is to prevent crashes before they occur," said Jennifer Homendy, board chair. "That's why, for nearly three decades, the NTSB has advocated for collision-avoidance and connected-vehicle technologies that rely on radio spectrum made available by the FCC."
Michael Graham, an NTSB member, called on federal agencies to further support the deployment of V2X technology.
"This is a significant step forward. V2X is one of the most promising lifesaving technologies available today, and these waivers allow state DOTs and automakers to continue development, begin deployment and, finally, begin achieving that safety promise," Graham said.
Images:
Featured image provided by Continental
Share This: