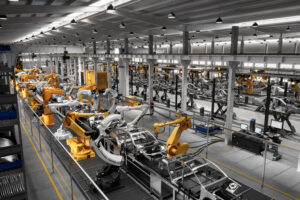 Ducker has released its "2023 North American Light Vehicle Aluminum Content and Outlook" study, which provides detail on what aluminum vehicle components collision repairers are likely seeing, or will, see more of in their shops.
"The beauty of the industry that we're in is that OEM consumers and regulations play an important role, and material selection often falls in the crosshair at the OEM selections side as well," said Ducker Carlisle Principal Abey Abraham. "The recent announcement by the EPA in terms of looking at how EVs, BEVs particularly, impact the CAFE goals of CO2 and the way that's going to be calculated may also prove more beneficial for the utilization of increased aluminum in non-BEVs as well so the efficiency of those vehicles also has to improve."
Components more commonly becoming made out of aluminum in EVs, similar to non-EV counterparts and ICE vehicles in general, include structural castings in the body-in-white (BIW), crash management systems, chassis, doors, and sills and rockers but in addition — battery housings and e-motor and e-drive housings. Specifically, Ducker found that more aluminum sheet and extrusions are used in closures and BIW.
The study, conducted in conjunction with The Aluminum Association, was released earlier this month.
Key findings include:
The 2022 BEV share of the vehicle production mix was around 6%, nearly doubling compared to 2020.
By 2030, BEVs are expected to exceed 36% share of the vehicle production mix.
The average BEV in 2022 had an overall aluminum content of 885 pounds per vehicle (PPV) average on total production net weight, which was 85% more than its non-BEV counterpart. The average 2020 BEV contained 643 PPV.
Car parc remains mostly made up of larger vehicles, driving aluminum content per vehicle (CPV) up. In 2020, cars made up 25% of the car parc while the other 75% was light trucks. In 2022, that shifted to 19% cars and 81% light trucks.
The average light truck in 2022 contained over 30% more aluminum per vehicle than a passenger vehicle.
Aluminum extrusion use grew by 13 PPV between 2020 and 2022, while sheet aluminum grew by 26 PPV. ABS and sheet for thermal management account for most all of the 26 PPV growth.
Extrusions have demonstrated significant growth within the body-in-white, accounting for 11 PPV of growth.
The average BEV in 2022 contained 492 PPV of castings, compared to 290 PPV in its non-BEV counterpart.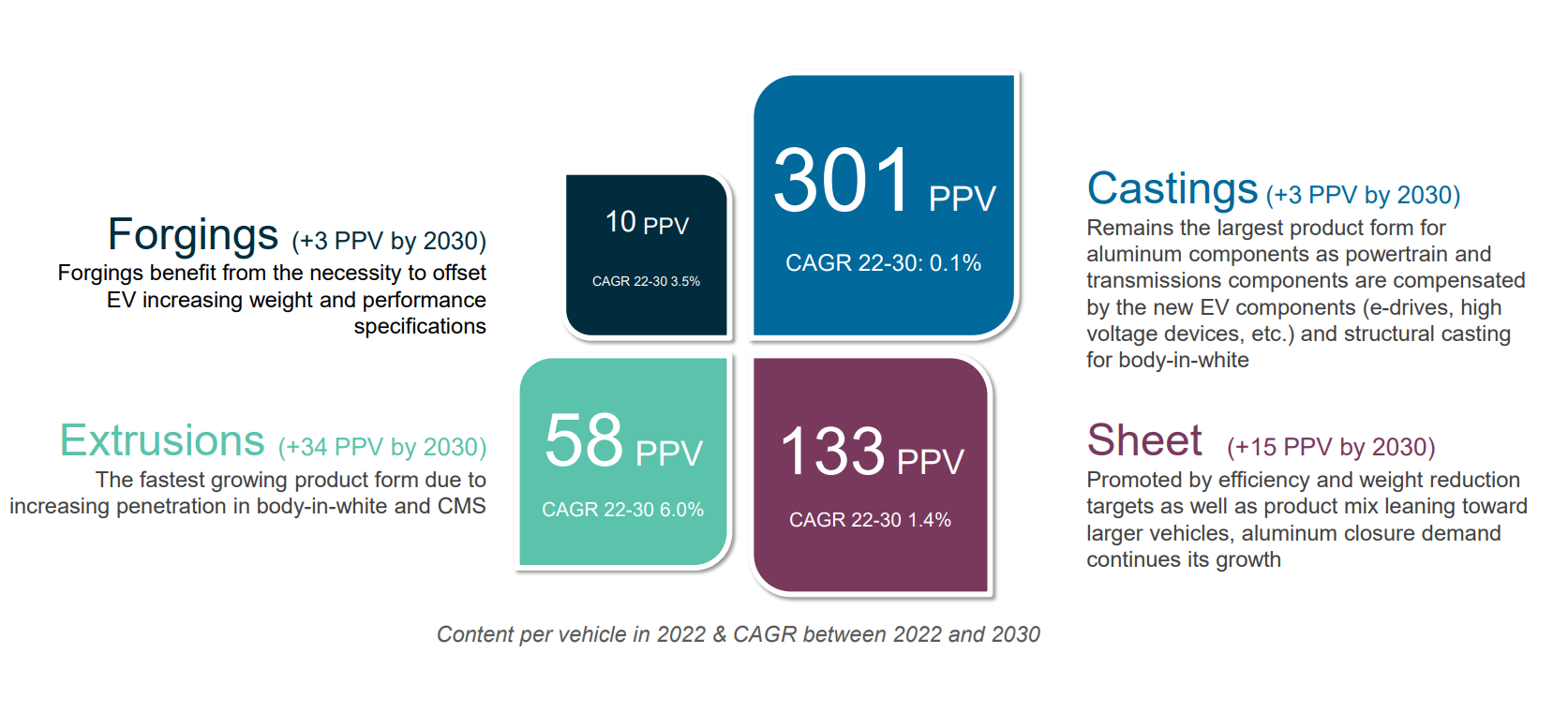 Blake Zuidema, chair of The Aluminum Association's Transportation Group (ATG) Technology Committee and Novelis technical development director, said the continued uptick in vehicle aluminum use, both in EVs and internal combustion engine (ICE) vehicles, remains driven by lightweighting. Even more so in EVs to offset the added weight from battery packs of 300-400 kilograms (661 to about 882 pounds), he said.
"With the weight coming down, it [lightweighting] improves the overall performance, acceleration, and things like that but perhaps most importantly, it adds to the range because the lighter the vehicle, the less energy it takes to accelerate it and move it over the ground, especially with larger vehicles. It can actually be cheaper to get the vehicle to a certain range and level of performance by lightweighting than just by adding batteries. So, ultimately, it's a cost-driven but the property at play is really the lightweighting benefit of aluminum."
The move to lessening tailpipe emissions has been strategically shifting toward vehicles with smaller carbon footprints, in other words, vehicles that release less carbon dioxide (CO2), Abraham noted.
"It was an intelligent choice by the government to make sure there's footprint requirements because what they wanted to prevent is the market shifting really quickly to really small vehicles," Abraham said. "If you've got a market that's been made up of a lot of big cars and pickup trucks and all of a sudden, in order to meet the requirements, you'd have to shift to really small cars, that may not be the right outcome either."
Ducker predicts that aluminum content will continue growing to reach a compound annual growth rate (CAGR) of 1.9% by the end of the decade compared to 3% CAGR between 2010 and 2020. The additional growth will come from new applications and innovation. Overall aluminum content per vehicle is expected to reach 556 pounds per vehicle by 2030.
"What I have seen is Americans, because we drive more per year and because we don't have the access to public transportation like they do in Europe and in many areas within Asia… the comfort of the larger vehicles is to be greatly preferred," Zuidema said.
Abraham added that OEMs build the vehicles that consumers will buy and what's considered "light trucks" in the U.S. automotive industry — compact or crossover utility vehicles (CUVs), sport utility vehicles (SUVs), multipurpose vans, and pickup trucks — are what's currently preferred. That bleeds over into the up-and-coming EV market as well as most EVs coming out are CUVs and SUVs.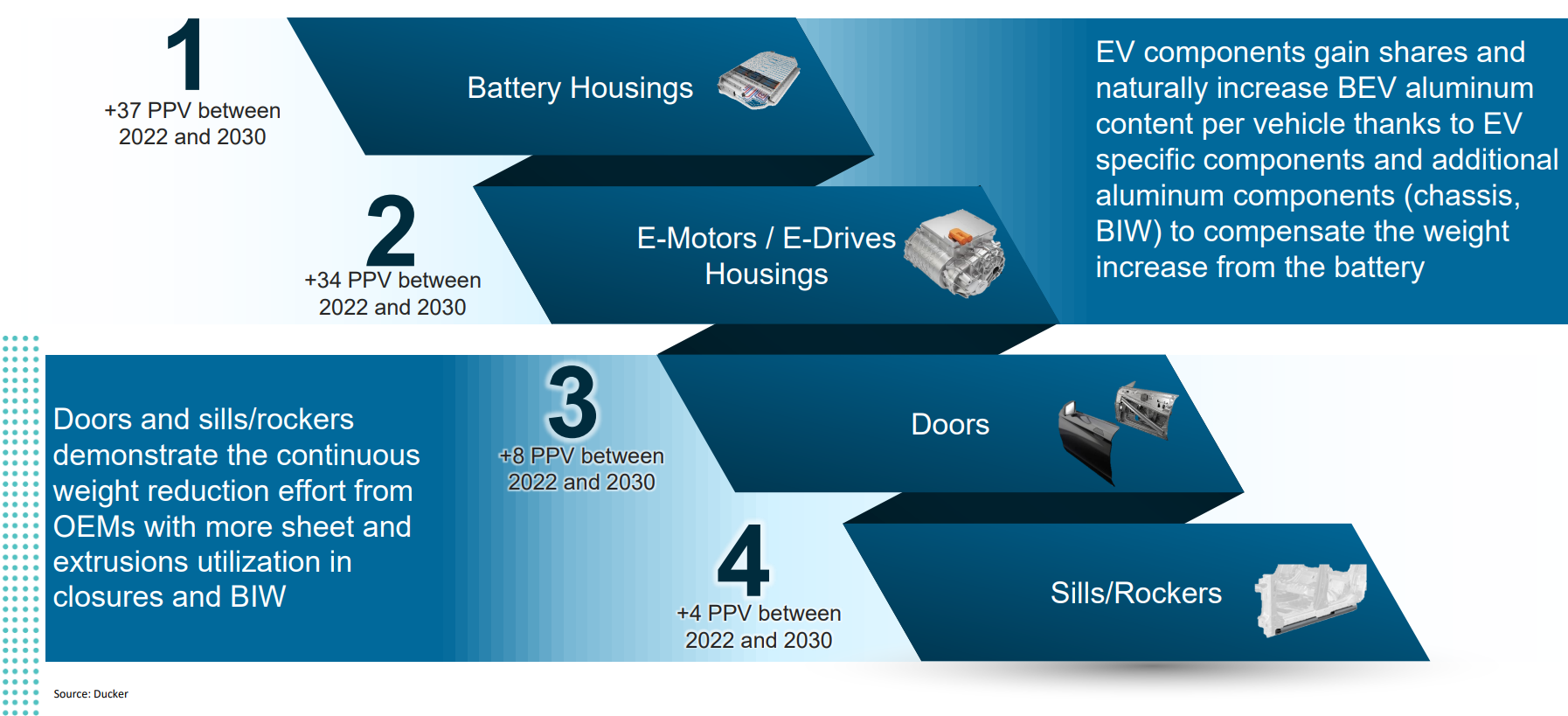 "The other dynamic that we had seen during the 2020 pandemic timeframe and going forward with the chip shortages and the supply chain shortages was that the OEs wanted to build the most profitable vehicles to sell to the market," Abraham said. "If you've got a finite number of chips and you could put it into any vehicle that you want, you're likely to put them into those larger vehicles. That also led to the consumers and the market shifting towards larger vehicles as well."
Zuidema is confident the aluminum industry will reach the capacity to meet the demand for the new aluminum applications based on substantial investments already being made.
"We're always looking many years ahead to try to anticipate the future demand," he said
Abraham noted that the aluminum industry is also interested in increasing its use of recycled materials to move toward manufacturing greener and more sustainable aluminum products.
For collision repairers, a shift toward more aluminum components means there likely won't be large investments in equipment to perform safe and proper repairs, Abraham said. It will, however, be another way OEM repair procedures will continue to evolve making it even more important to always check them with every vehicle and every repair.
Abraham used the aluminum Ford F-150 as an example, which he said provided a good lesson in the repair community on what it takes to learn to work with different materials. While he said the equipment repairers already have should be "more than adequate," repairing EVs means repair shops will need to buy vehicle lifts that can handle added EV weight and equipment to safely handle batteries.
"Two things I think we should think about: number one, the volume is going to grow — we're going to see more and more aluminum-intensive vehicles being repaired," Abraham said. "Number two, even in traditional steel vehicles, I think you're going to see a lot more aluminum closures, like doors and fenders and maybe lift gates.
"The repair industry is going to have to be a little bit more cautious. Just like they've experienced in the steel vehicles, many of these new aluminum materials are heat treated and are sensitive to overheating. Some of the structural components are going to be made of aluminum, which is specifically heat treated to a relatively high strength and could be compromised if heat is applied."
"Good visibility" and "more open lines of communication" between OEMs and repairers on which parts are heat-sensitive and proper OEM repair procedures will be necessary, Abraham added.
"There's a lot more education and that falls on both the repair industry as well as the OEMs that are leading that effort to make sure that there's facilities that are certified and have the right tools in place to service the vehicles better," he said.
Shops should consider as well if they need to invest in on-site Level 2 AC and/or Level 3 DC fast chargers to keep EVs charged that are waiting to be repaired, especially as more EVs are on the road leading to, eventually, a higher number of EVs that need repairs at a time.
Images
Featured image credit: alvarez/iStock
Infographics provided by Ducker and The Aluminum Association
More information
Ducker: Aluminum extrusions double, industry working to meet demand; BEVs predicted to push use further
Aluminum Value in Battery Electric Vehicles (BEVs) study
Share This: