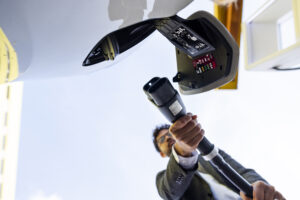 While Ducker predicts internal combustion engine (ICE) vehicles will continue to be relevant through the next decade, the overall use of aluminum extrusion content on vehicles has already doubled, especially as more battery electric vehicles (BEVs) go into production. The rise will likely continue a trickle-down effect on collision repairer business practices, equipment, tooling, and training.
Ducker has been tracking aluminum content from sheets and castings to extrusions and forgings that go into vehicles since 1996. They've found that aluminum use in the automotive industry has grown on a year-over-year basis.
Ducker released a report in September on behalf of the Aluminum Extruders Council (AEC), which Ducker Carlisle Principal and Society of Automotive Analysts President Abey Abraham recently discussed in an AEC "Shapemakers" podcast. The podcast focused on aluminum trends in the automotive industry and the challenges that presents to the aluminum industry with meeting demand.
"The future of aluminum extrusions is undoubtedly bright," Abraham said. "Extrusions, quite literally, form the backbone of the BEV housing. Innovation is happening all around us and, just as I had mentioned in the last podcast, Tesla pushed the boundaries with the body-in-white by moving into a structural casting.
"We have to also be aware of and understand that the market's moving towards further mixed material designs and mixed product form designs where there might be some changes in the market in the future."
Tesla has also integrated its battery pack into the body structure making the top cover the floor group in its Model Y vehicles, Abraham noted. Aluminum sheet is still used along the bottom to serve as some composite protection, he said.
As of September, Ducker's forecast showed that 70% of the automotive OEM production mix will be ICE, hybrid, or plug-in hybrid vehicles. The production mix is now predicted to be above 35% BEV by 2030 and beyond, Abraham told Repairer Driven News.
However, according to Ducker's research for AEC, electrification could plateau due to raw material supply chain instability. The instability is driving up battery costs and solid-state batteries still weigh too much to improve range. Solid-state batteries aren't expected to become industrialized before 2030, according to Ducker.
Aluminum extrusion use for all vehicle applications, both ICE and EV, was about 41 pounds per vehicle in 2016, 58 pounds per vehicle in 2022, and by 2030, Ducker predicts will reach nearly 92 pounds per vehicle, according to a separate Ducker study. EVs alone are predicted to reach 71 pounds per vehicle by 2030, partially due to lightweighting to account for heavy batteries and battery packs.
"There's efficiencies there in terms of saving mass," Abraham said. "When you take a look at the manufacturability of aluminum extrusions, particularly as it relates to vehicles that have lower vehicle production volumes, the initial investment required to extrude aluminum tends to be more favorable for lower volume type vehicles.
"So it's the mass savings but it's also the industry is able to produce the extrusions at a lower cost from a manufacturing perspective. Now, as volumes change, obviously, there's different methodologies that have a lower manufacturing cost. But given right now, you've got a lot of new electric vehicles that are launching that have lower combined volumes, compared to other vehicle types that are not EVs, the extrusion solution makes pretty good sense."
Aluminum also does well on BEVs because its thermal properties consistently keep the batteries at the correct temperature, he added. However, it's a one size fits all situation.
"In our research, what we also found is that there's a lot of mixed material designs for the batteries," Abraham said. "You've got a lot that have aluminum extrusions and aluminum sheet, but you also have designs that utilize aluminum for the housing, for the frame, and the cross members. But then we use a steel top cover or could use a steel or a composite top cover or we find situations where there's an aluminum top cover and a steel bottom cover. It really depends on the OEM."
Abraham noted in the podcast that one challenge the aluminum industry is facing is getting presses to make the larger diameter extrusions that automotive OEMs want, and the capacity to produce the amount they need, which could end up causing a bottleneck of supply if aluminum manufacturer equipment isn't up to par.
Most automotive presses are in the six-to-nine-inch range but the industry is moving toward 10-14 inches.
Joining the conversation was Mark Butterfield, AEC automotive team chairman. He said between 2015 and 2021, the aluminum production industry brought on 21 automotive presses with nearly 500 million pounds of capacity in the U.S.
"Between 2022 and 2024, we have visibility already of eight to 10 new presses, or approximately 250 million pounds of capacity slated specifically for automotive and primarily in that 10-inch range," he said. "I think, as an industry, we're going to start seeing larger presses. I think there is a gap with larger presses. That, in addition to non-automotive presses, equates to about 28 new press lines coming to this region, or about 770 million pounds."
The demand for automotive and non-automotive industry aluminum demand is nearly 1 billion pounds of capacity, Butterfield added.
"When we think about the toolbox that we have — the type of press and all the auxiliary systems that support it — making sure that we have the right size press, the right size tonnage; all that comes into play as we analyze the capacity that's being brought on relative to the demand that we're seeing," he said.
What all this means for the collision repair industry is that EVs aren't going away and now is the time to research and invest in EV equipment, tooling, and training. That includes everything from proper shop setup and PPE to and lifts that can hold the weight of EVs (often twice as heavy as a regular sedan), battery tables, and OEM-specific safety and repair procedure training.
"It's everything from installing charging solutions that could service the vehicles that are brought into a repair facility, having lifts that have the capacity to handle the average heavier weights of the vehicles, being able to remove a battery while the vehicle body-in-white is being repaired and safely stored," Abraham told RDN. "Even though a repair facility may not be repairing a battery pack, they still need to put it away safely and store it in an environment where it could breathe and have room around it.
"The industry is evolving and changing based on the types of vehicles that are being sold in the market. Obviously, as the vehicles increase in volume of the car parc, that's just going to trickle down into a lot more facilities being able to handle those right now. If it's a Rivian or a Tesla or a Lucid, their facilities have to go through specific certification from the OEM. I think that's also something to keep track of is facilities getting certified by the specific EV OEMs and manufacturers to be able to follow the right procedures and service the vehicles."
Images
Featured image credit: SolStock/iStock
More information
Share This: