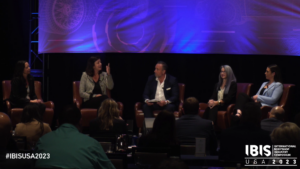 Two back-to-back panels at this year's International Bodyshop Industry Symposium (IBIS) USA conference held last week in Nashville gave the nonprofit, technical school, and employer perspectives on the nationwide technician shortage as well as what they're doing to attract young talent to the collision industry. The common theme was what's been said for a while: collaborative and actionable steps need to be taken, not just talked about.
So what are some of those actionable steps shops, and anyone in the industry, can take? Panelists said good first steps are to work with nonprofits and schools to offer curriculum guidance and apprenticeships. But it's also about building an encouraging and inclusive classroom and workplace culture.
The first panel, called "Industry in Action," included Collision Engineering Program National Marketing and Engagement Director Molly Mahoney, I-CAR Planning and Industry Talent Programming Vice President Dara Goroff, Collision Repair Education Foundation (CREF) Director of Marketing and Project Management Amber Ritter, and TechForce Foundation CEO Jennifer Maher.
"The Collision Engineering model in itself is a natural solution for retention issues," Mahoney said. "The model was actually created because our national program director at the time was a division chair for a collision program in Saint Louis and he noticed that even some of his top students, his graduates, were not actually in the industry a year or two years after graduation. He hunted them down and he's like, 'What did I do wrong? What am I missing? What's not working for you?' The biggest problem was they felt they lacked the workplace experience that made entering a shop or surviving in a shop a really daunting task."
Goroff added that increasing the diverse population in any field, including female technicians, is achieved by employers meeting the people they want to work for them where they are.
"If they don't know about collision repair, it may be starting with the parent of a young lady who just doesn't know what she wants to do with her life but knows she loves to do things with her hands whether that is painting artistic work; maybe she's in Lego competitions or doing robotics at her school and she's feeling like when she graduates, she's going to be adrift," she said.
Goroff added that the negative stigma that a body shop is a dirty and greasy, unsafe workplace needs to be changed.
"The first thing you might see is an IT department to be able to address all of the technologies that are coming at us every day," she said. "You have rooms that are so clean you could literally eat off the floor because the technology that they're working on is that temperamental that it needs to be in clean and dust-free environments."
The answer, according to Maher, is "a collective vision."
"I think we're all rowing differently," she said. We know everybody has different pieces that they do well. To be able to put those together, we need you; we need industry rowing the same way… This industry I have found is so siloed. …Where I think sometimes we fall down is that even collision has to tell its story. Why is collision more attractive than the other sectors?"
Mahoney agreed, calling it "a solidified vision for the wider industry."
"I think the best way to start is to get involved with one of these [nonprofit] organizations because just talking about it isn't getting somewhere," she said.
Mahoney told Repairer Driven News that in addition to working with state and national industry associations, shops could form local coalitions to host activities, such as open houses, to bring communities into their facilities and show them what a career in collision repair looks like.
"A lot of them [shops] had, at one point, been involved with the high schools or maybe the technical colleges in their area," she said. "But especially during COVID, they kind of let that relationship go, which resulted in a lot of these programs closing because when they are no longer participating on the advisory board or telling these schools that they want collision education in them, they stop trying to bring students in."
It's also OK for shop owners and/or managers to let new techs and apprentices know if they're not fitting into the shop's particular culture, Mahoney added.
"I think part of it is really making sure that these employers have created a good culture but also being able to identify who you employ and how they're going to best fit with your culture; not just picking whoever walks through your door but taking a minute to realize this student will probably fit better somewhere else, or this person is going to operate perfectly within our facility."
The struggle for young people to find an education and a career that fits them, according to Maher, is "the cancer eating away at the bottom line of this industry."
"It's important for you to recognize that this is not just an HR problem," she said. "This is corporate social responsibility. …If you care about your customers then invest in technicians and support and respect them because they're the ones keeping that family safe."
Ritter explained that many employers CREF works with want to offer new technologies to schools and volunteer their time working with them evaluating curriculum to ensure it matches what techs need to know when they get their first job.
"We've seen an increase in the number of volunteers," she said. "We've seen an increase in the number of new technologies being provided to the schools and we've also seen an increase in involvement from, not just the instructors, but from the administration to be able to take a look at their programs holistically [to determine] how many students could you enroll and what is the impact that we could make if we… partner together?"
Many shops are hiring techs straight out of collision programs that are already entry-level rather than needing additional training, according to Goroff.
"One of the most encouraging things that I've seen at I-CAR is that we have high schools that are standing up brand new collision repair and automotive programs and coming to us and saying, 'What curriculum do you have that would be appropriate for someone aged 13 to 18? Because we are so excited about reinvigorating our program and all we need is the right stuff from an equipment and a curriculum standpoint to teach.' …We want to give them immediately digestible things to do that are easier to learn but still keep them turning into an entry-level technician, not somebody who just has a job in a shop."
The panels also discussed the youngest generation entering the workforce — Gen Z. While many employers are of the opinion that Gen Z doesn't want to work, panelists said they do; they're just wired differently in how they learn and approach their job tasks.
"They say to me, 'Look, I'm an information generation kid,'" Maher said. "'I want to go to my phone and understand what the career path is and if I do this then do I level up?' They're gamers. 'If I learn this skill, can I level up and make more money and what's it take?' But we don't articulate that very well. It's really blurry to them and we need to kind of give them a little bit more of a road map as to the ladder and the lattice of where you can go."
Hand in hand with that is empowering women to enter the collision, automotive, and diesel repair industries, she added.
"Less than 2% of all technicians are women so at TechForce, we've been rolling our Women Techs Rock initiative, which is telling stories, interviewing them, what was their journey? But we also then would turn off the camera and listen. Then last year, we released the 'Women Techs Talk,' which is their perspective of what they need and want from employers to be able to be into this industry and retain."
During IBIS' Recognizing Talent panel, Collision Hub Director of Industry Relations Jason B. Bartanen, 3M Collision Advanced Application Engineer Erin Suchara, and Caliber Collision Senior Vice President of Operations Max Sorensen touched on how the industry workplace is transforming to meet the needs of the younger generation and recruit them as well as what can be done moving forward.
"As a younger employee, and especially starting at the time that I did, I tried to be more vulnerable," Suchara said, who started in the industry in 2020 during the beginning of the COVID-19 pandemic. "Sometimes I have to play the new card and say, 'I don't know' and say, 'I have to ask questions and get answers.' I think I feel the most heard and respected too when the leader that I'm speaking to shows vulnerability as well.
"Maybe they didn't know how to approach me on a certain thing and they didn't know the way to go about it or what I needed out of the conversation or out of my career. It's not always easy to do and it doesn't always come naturally. It's not your first thought a lot of the time. I've just been hearing a lot of vulnerable conversations today which has made me feel heard sitting here just taking it all in."
Bartanen said he thinks part of the industry culture shouldn't be comparing generations and assuming the younger generation doesn't want to work.
"We need to improve our behavior —the way we act in the shop, the way we act in the industry," he said. "I think that we really need to if we want people to be attracted to our industry. If we're fighting with other industries, technical or otherwise… we need to differentiate ourselves with that human element and being a good place to work."
"We need to plan better… to really feel like we are going to make a change; we are going to listen to our staff and be empathetic and give that direction, that sense of purpose."
Tips some of the panelists gave on workplace and school diversity and inclusion include:
Using inclusive language in training materials and on websites;
Avoid generalized comments about age and gender in person and online; and
Show new techs the ropes without rushing their learning process by focusing on production timelines.
Sorensen noted that in the next five years, the collision repair industry will need 110,000 technicians. According to TechForce, the tech shortage reached 232,000 in 2021. In collision alone, the demand was 35,000 techs while only 4,500 graduated. That makes programs like TAP and others more important than ever to recruit young talent.
"That's just fact based on the average age of the technician being 47 years old and older," he said. "We're going to be aging out technicians and without bringing technicians into the industry, we're going to be in a bad place very, very quickly, especially with the technologies coming. I think — for me, for Caliber — the one thing we've had some success with over the last 18 to 24 months is an apprenticeship program with some structure behind it. …at the end of the day, we all need to have a driving force in this."
Currently, as a result of its Technician Apprentice Program, Sorensen said Caliber has more than one apprentice at each of its collision centers. And program participants aren't just entry-level young people coming out of tech school or high school — they're also adults that want to start a career in the collision repair industry.
Panelists said, in addition to collaboration among different sectors of the collision space and apprenticeships, education financial assistance is a plus and also listening to current employees on their recruitment and retention thoughts.
"As you look at what your organizations can do, going back to your teams and taking a look at your teams and your people and finding out what their ideas are; looking at what your time, talents, and treasures are amongst your team," Ritter said. "If we can have more ideas, more thoughts, more experience at the table in measurable and strategic ways, we can make a bigger difference."
Mahoney said those interested in starting an apprenticeship program can contact Collision Engineering to get the conversation started with local colleges.
Images
Featured image credit: kadmy/iStock
All other images are screenshots taken from IBIS USA 2023 conference live streams (Credit: IBIS)
More information
Young collision tech shares industry coming up story, TechForce shares how to link shops with students
Ford's $1 million scholarship program to help aspiring auto techs
Caliber, national nonprofits & AAG working to recruit, train new generation of technicians
Gerber parent Boyd obtains more rate increases from carriers, doubles size of technician training program
Share This: