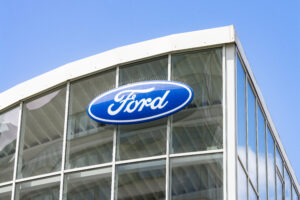 Ford is donating $1 million toward scholarship programs to help meet the demand for auto technicians throughout the industry.
Its newly-announced scholarship program, which "aims to foster diversity and reduce barriers for students pursuing careers in automotive service and technology," will be rolled out through dealerships in four cities: Atlanta, Chicago, Dallas, and Phoenix. This round of funding will focus on STEM (Science Technology Engineering and Mathematics) skills as the industry shifts away from internal combustion engine (ICE) vehicles and toward electric vehicles (EVs).
According to the automaker, the program supports:
"A focus on STEM-based curriculum in combination with hands-on learning;
"Reaching students early and reinforcing the opportunities available for upward professional and economic advancement; and
"Collaboration with dealers through their involvement in participating schools, career fairs, shadowing days, mentoring, and internships."
"As we move toward an electrified future, these career opportunities are exciting and require skilled technicians who are proficient in STEM-related study," said Elena Ford, Chief Customer Experience Officer. "Working together with the Ford Fund and our dealers to offer this scholarship program means we will welcome a new generation of diverse students to the industry, and hopefully into our Ford family, to help us better serve our customers."
The automotive industry has grappled for decades with how to attract and retain skilled workers. A recent Techforce Foundation study found that 232,000 techs were needed in 2021 across automotive, diesel, and collision but schools were graduating only 42,000. In collision alone, the demand was 35,000 techs while only 4,500 graduated.
Ford said the gap is likely to worsen throughout the next decade, particularly in Arizona, Texas, Georgia, and Illinois. It hopes its scholarships help move the needle in the right direction by inspiring more students to enter the field.
The scholarship is open to students enrolled in post-secondary auto and diesel technician training programs in the four selected cities. Applications for the needs-based scholarships, which will be put toward tuition and related expenses, are being accepted through June 30. Scholarships will be administered by TechForce, a nonprofit that helps students pursue careers in the auto tech field.
"These scholarships will go a long way in engaging students, particularly those from under-resourced communities, to consider careers in automotive technology and service," said Jennifer Maher, CEO, TechForce Foundation. "We're excited about working with the Ford Fund and Ford Dealer partners to help create a path to careers students may not have considered before."
The scholarships are the latest in several steps Ford has taken to help close the skilled workers gap.
In January, it partnered with Enterprise Holdings, through the Enterprise Holdings Foundation, to add a seventh college to the Collision Engineering Program (CEP).
CEP is a national workforce development program founded by Enterprise Holdings and Ranken Technical College that offers a two-year apprenticeship to attract and develop entry-level talent to fill essential roles in the collision repair industry.
In that case, the Ford Fund will offer scholarships to CEP students and will also pay for program startup costs, instructor training, and school equipment including lab materials, and provide students access to tool kits, uniforms, PPE, certifications, tuition assistance, assessments, and other student-centered resources at the new school.
CEP students learn in both classrooms and modern collision engineering facilities where industry experts provide real-world education as students work toward earning their associate degree.
"We are just pulling partners together to try to solve this skilled technician shortage," said Mary Mahoney, Enterprise Holdings vice president. "We have a long way to go. I've talked to shops that go, 'That's all great but I need 2,000 techs today.' …We're working on the educational side trying to build curriculum alongside our I-CAR partners and trying to move forward.
"Widespread industry support is vital to addressing the worker shortage and skills gap, and to ensuring the success of the Collision Engineering Program. As a leader in the automotive industry, we're committed to addressing these challenges with our partners. We could not be more thrilled to expand our longtime partnership with Ford Motor Company, through its philanthropic arm, the Ford Fund, to increase access to the Program and help address this ongoing industry challenge."
Visit TechForce's website for more information on how to apply for its current scholarship program.
Images
Featured image credit: gopixa/iStock
Share This: