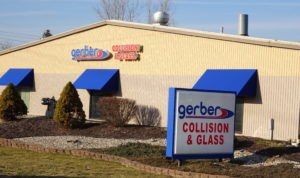 Gerber & NHRA partner to pull in new generation of collision, automotive techs
By on
Education
Gerber Collision & Glass says the key to addressing the industry's technician shortage is getting the word out to younger people about what careers they could have, which they're working on with two educational programs.
"Creating awareness, especially with younger people, is key to finding the technicians of the future," Executive VP and COO Brian Kaner told Repairer Driven News. "Collision repair provides a fulfilling and lucrative career and we believe that our organization will continue to grow and provide viable opportunities moving forward."
Gerber recently launched its own Technician Development Program (TDP), which is a paid 18-month program through which the company matches each entry-level trainee with a skilled mentor to gain hands-on experience toward becoming a successful stand-alone body technician.
In November, Tim O'Day, CEO of Gerber's parent company Boyd Group said they had reached their goal of doubling the size of the program to 400 technician apprentices since the start of 2022 and were evaluating whether a further increase would be a good idea. He described the program as a highly structured, three-phase program that is "fairly expensive" but is "creating repair capacity for us." Gerber told RDN last week that TDP continues to grow.
"We look forward to introducing our TDP program to these students and generating awareness about the benefits of long-term careers in collision repair," Kaner said. "The Gerber mentors in our program are passionate about teaching younger people who are interested in learning and growing into high-level techs while getting hands-on, real-world experience in our shop environment."
Gerber has also partnered with the National Hot Rod Association and its free Youth and Education Services (YES) Program for the 2023 NHRA Camping World Drag Racing Series season. The partnership is aimed at showing students what "exciting and relevant career opportunities" there are in the industry.
"This strategic partnership with NHRA's YES program will allow Gerber Collision & Glass to feature the collision repair industry and the endless opportunities it offers to thousands of students, their parents, and school instructors," Kaner said. "We are excited about this sponsorship because it allows us to reach this important demographic and target audience that only the NHRA can deliver."
NHRA says the YES Program is the only full-time education program in motorsports that provides relevant educational content and activities for schools and youth organizations nationwide.  In 2023, the YES Program will take place at 15 races, along with six virtual events.
As for business practices to bring in more techs, Kaner said Gerber has "committed as an organization to expanding where we look for candidates and concentrated on becoming a more diverse company in all of the roles that we offer with promising career paths."
Images
Featured image: A Gerber location in Grand Rapids, Michigan is shown. (Credit: John Huetter)
Share This: