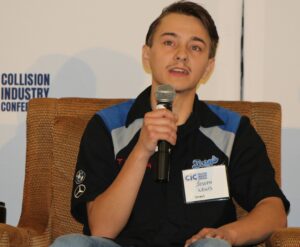 Young collision tech shares industry coming up story, TechForce shares how to link shops with students
By on
Business Practices | Education
Dorn's Body & Paint technician Joseph "Raven" Lewis got his start in the collision repair industry in high school where he took tech classes and now leads a successful career but he wishes he and his parents had been given more information about the industry and help to find a reputable and future-oriented shop to work at.
Lewis was brought onto the Collision Industry Conference (CIC) stage by TechForce Foundation CEO Jennifer Maher during the second day of their spring meeting held on April 13 in Richmond, Virginia.
TechForce Foundation is a nonprofit organization that conducts research on the nationwide automotive and collision technician shortage that has been contributing to shop understaffing and job backlogs for years. The foundation links students and employers through education, apprenticeship, and job opportunities, including grant and/or scholarship-funded tuition. TechForce also offers grant and scholarship money to schools and collaborates with businesses, schools, associations, and nonprofits on workforce development solutions.
The automotive industry has grappled for decades with how to attract and retain skilled workers. A recent Techforce Foundation study found that 232,000 techs were needed in 2021 across automotive, diesel, and collision but schools were graduating only 42,000. In collision alone, the demand was 35,000 techs while only 4,500 graduated.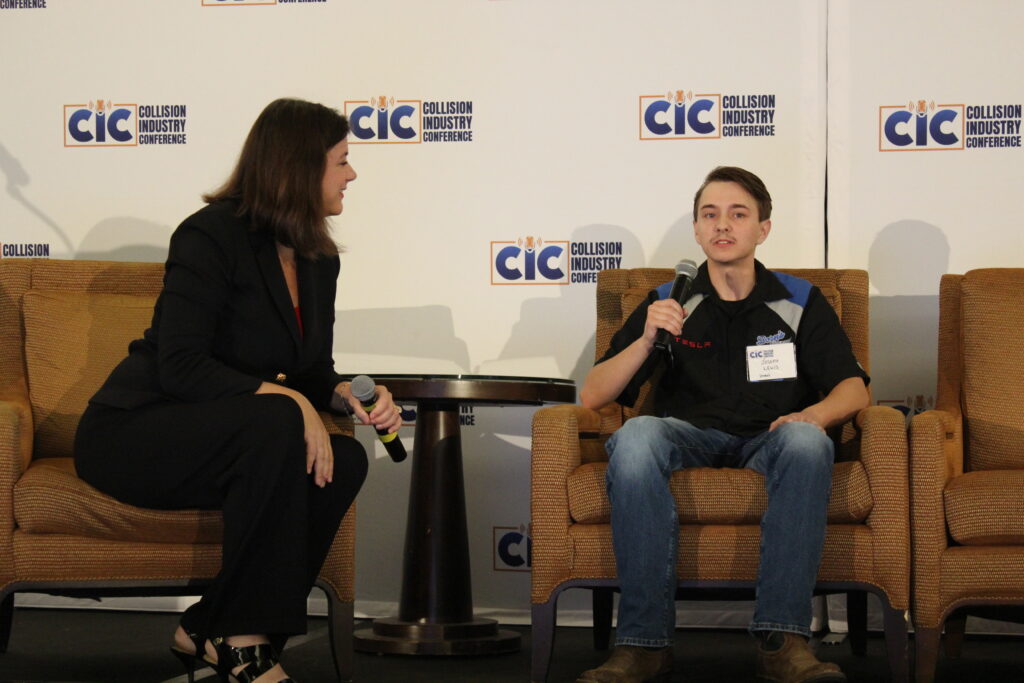 "I went to a tech school for two years in 11th and 12th," Lewis said. "They told me that I was either going to be a mechanic or in auto body and I chose auto body. My second year of class I started my first tech job. I worked there for about four to five years and I really felt like there wasn't much movement. I wanted to kind of go up. I heard about this shop my aunts and uncles were telling me about and I went there, which was Dorn's Body and Paint with Barry Dorn. They hired me and it was definitely a whole different animal than the last shop I had worked at.
"It's definitely a move up. I wish I would have had someone there that helped me other than my parents because they're not too big into the industry. I did not know anything about TechForce. I kind of wish I had. It probably would have helped a little bit more, but I had to do it by word of mouth, which doesn't always help."
Lewis added that he also didn't go through a post-secondary technical education program because he didn't think he could afford it. He wasn't sure if it would help him get a job either so he went straight into the industry after high school at a job his friend told him about. His dream is to continue gaining certifications and moving up in the industry as much as he can throughout his career, Lewis said.
"These are the young people who are trying to find their way to you," Maher said. "When I go to the CIC conference and I hear people say, 'We're not doing anything, nothing is happening. We've got a technician shortage, we need to start doing something.' I say, 'We're started, we're good and we're doing a lot of stuff that you don't know and you're not looking into solutions. So only if we work together are we going to create a movement.'
"It's the young people who don't even know what they don't know; they don't know what the different offerings are. They don't know, technician jobs are available and you're all poaching each other's people anyway. And it's the same type of kid that you're going after. So for TechForce to introduce this career path to young people and get them excited about the rising staff, the future of mobility. What is ADAS? What is calibration? It's exciting. And usually when I talk to students, they say, 'You get me excited to go get my parents and my counselors out of the way.'"
Maher said parents and school guidance counselors can often stand in the way of young students choosing the automotive and collision industry because they have misconceptions about the career options — that they would work in dirty and greasy shops for subpar pay. In reality, automotive and collision technician jobs are now very high-tech and, for the sake of calibrations on ADAS-equipped vehicles, require an exceptionally clean and organized work area. Plus, pay can start out as high as $40,000 and reach more than $100,000 depending on the career path chosen.
Right now, TechForce has found that students are forced to, as Maher put it, "follow the breadcrumbs of a career" through word of mouth about job opportunities and think that they can't get more than high school tech classes under their belt before starting in the industry.
"We tell young people they can be anything they want in life, 'Good luck' and then this country throws them into the wind and says, 'Figure it out,'" Maher said. "They spin and they waste time and they waste a lot of money and debt trying to figure it out. If we need them as an industry, help connect the dots and that's the TechForce promise."
TechForce Head of School Partnerships, Scholarships, and Grants Ivy Pressendo told the audience it's her job to make sure future techs are shown what a collision, diesel, and automotive technician job could look like. TechForce is currently assisting 694 students through post-secondary technician programs.
"I want to make sure that all of those future techs have a great experience in middle school and high school," she said. "They get to see their shops, they get to see what they can do. They get to see themselves in this industry. …I'm going to introduce them to a program. I'm going to take them to a program and then I'm going to give them a scholarship or later so that they stay in that program. And when they come out of that program, I'm going to introduce them to every single person who's in this room because you all need them and I know who they are so I'm the person you want to know."
To do that, TechForce created a cloud-based IT platform that stays with each student through their schooling to job placement with information about schools, jobs, and other resources along the way beginning as early as middle school.
"While they're trying to figure out what they want to do with their life, they go home and Mom or Dad go, 'What do you want to do that for?' We need to change that," Maher said of the negative stigmas that surround the automotive and collision industries. "We need to blow up those stigmas and really tell the story and then somebody needs to stay with them."
Aside from hiring young technicians to carry the industry into the future, repairers can work with TechForce to share career success stories and show the value of being a collision technician by nominating techs and voting in the foundation's Techs Rock Awards, Women Techs Rock, and FutureTechs Rock Awards. And Access to the foundation's Career Hub is free, it just requires setting up a user account. In the hub shop owners and repairers can reach out to current students about job opportunities, see what programs schools are offering, and more.
To become a TechForce Ambassador and volunteer as little as 30 minutes at a time to be a mentor or host students at local events or even just to make connections, visit techforce.org/get-involved. Monetary donations and/or gifts in-kind can also be made at the link. TechForce's mobile app is available for download in the Google Play and Apple App Store today.
Images
Featured image: Dorn's Body & Paint technician Joseph "Raven" Lewis speaks during the April 13, 2023 Collision Industry Conference (CIC) meeting in Richmond, Virginia. (Lurah Lowery/Repairer Driven News)
TechForce Foundation CEO Jennifer Maher interviews Dorn's Body & Paint technician Joseph "Raven" Lewis during CIC's April 13, 2023 meeting. (Lurah Lowery/Repairer Driven News)
More information
Ford's $1 million scholarship program to help aspiring auto techs
Some colleges are struggling to find instructors to teach collision repair courses
Share This: