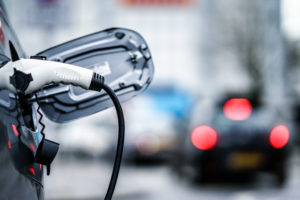 The Environmental Protection Agency (EPA) is calling for new, "more stringent" emissions to accelerate production of battery electric vehicles (BEVs).
It proposed in a 758-page notice released last week that its latest multi-pollutant emission standard rules would be phased in for models manufactured between 2027 through 2032. If enacted, the limits on tailpipe emissions could result in BEVs accounting for up to 67% of passenger vehicles by 2032, according to one estimate in the report.
EPA administrator Michael Regan told reporters that the measures contained in the proposal reflect "the strongest ever federal pollution standards for cars and trucks."
The proposal, if enacted, was made public after a number of automakers announced plans to go all-electric in the near term.
Last August, California became the first state to mandate that by 2035 all new cars and light trucks sold in the state must be zero-emission vehicles. Oregon and Washington have since adopted the same rules.
The EPA's proposal would require model year 2032 light-duty vehicles to have average fleet emissions of 82 grams of carbon dioxide per year. It would represent a 56% reduction in project fleet average greenhouse gas emissions target levels from the existing model year 2026 standard, the agency said.
"It's a pretty big deal," Thomas Boylan, EV trade group Zero Emission Transportation Association regulatory director, told CNN. "This is really going to set the tone for the rest of the decade and into the 2030s in terms of what this administration is looking for the auto industry to do when it comes to decarbonizing and ultimately electrifying."
It's the most aggressive goal yet for the EPA, which has for years worked to incentivize vehicle emissions reductions through increasingly rigid standards.
"Despite the significant emissions reductions achieved by these and other rulemakings, air pollution from motor vehicles continues to impact public health, welfare, and the environment," the EPA said in its proposal.
It cited an executive order from August 2021 that directed EPA's administrator to consider beginning work to establish new multi-pollutant emissions standards.
"The administrator determined that there was a need to begin work on such a rulemaking and accordingly is issuing this proposal," the EPA said. "Motor vehicle emissions contribute to ozone, particulate matter (PM), and air toxics, which are linked with premature death and other serious health impacts, including respiratory illness, cardiovascular problems, and cancer. This air pollution affects people nationwide, as well as those who live or work near transportation corridors."
However, some studies have indicated that not everyone is on board with the switch to electric vehicles, with a recent KMPG survey finding that enthusiasm for near-term EV growth is waning among global auto executives.
KMPG surveyed more than 900 leaders for its Global Automotive Executive Survey and found the majority to be less optimistic about EVs than they were a year earlier.
In 2021, executives predicted that emission-free vehicles would capture between 20 and 70% of the market by 2030. Last year, the forecast dropped with auto leaders saying it's now likely that EVs will comprise just 10 to 40% of the market share by the end of the decade.
The survey found leaders were particularly bearish about EV sales growth in India due to poor infrastructure, and in Japan because of a focus on hybrid vehicles.
Interestingly, the number of executives who believe EVs can achieve widespread adoption by 2030 increased, growing from 77% in 2021 to 82% last year.
"Auto executives are extraordinarily optimistic about the future, but at the same time their confidence is tempered by the need to turn automotive dreams into reality," Gary Silberg, KPMG's global head of automotive, said in the report.
Russell Hensley, McKinsey Center for Future Mobility co-chair, said the complexity of producing EVs at scale, coupled with driver reluctance to make the switch, have slowed the electric transition.
"It's quite complex to actually design, develop, and produce electric vehicles at scale when you have a vehicle fleet so dominated by the internal-combustion engine, and all the systems in the world for mobility have been indexed toward the internal-combustion engine," Hensley said during an interview.
"Adoption has not gone faster because there is a hesitation in pivoting from something that is so trustworthy in the internal-combustion engine to something that is a relatively new technology. And, with vehicles being the second-largest investment that a household makes, it's obviously a decision that takes much consideration."
A separate survey by Dynata and Hill+Knowlton, released Monday, found some consumers are still concerned about making an EV purchase.
The survey of 525 U.S. adults found that 54% of adults are interested in owning an electric vehicle in the future,  but others have concerns about the reliability of EV charging infrastructure, cost, and reliability. It found:
49% of non-owners have range anxiety or the fear of running out of battery while driving; 51% of EV owners also have range anxiety
46% of non-owners do not know where charging stations are located, while 42% do not know the number of times it takes to charge an EV, contrasted with 44% and 40% of EV owners with the same fears
40% of non-owners are afraid of charging stations not working and are concerned that weather would affect stations up time
"One of the primary takeaways from the survey is the understanding from both EV owners and non-owners that an improved charging process and network would significantly enhance the electric vehicle experience, more so than affordable EV pricing," said John Thomas, chief operating officer of Autel Energy. "The survey concluded that 46% of non-EV owners and 54% of owners would be heavily motivated to make an EV purchase in the future if there was more knowledge about and significant improvement in the charging framework over the next few years."
Images:
Main image: nrqemi/iStock
Share This: