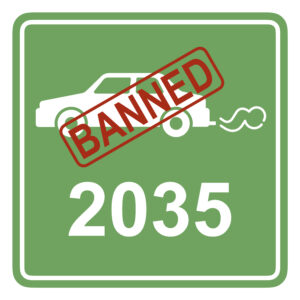 17 states mull California's EV 2035 mandate
By on
Legal
Only five of the 17 states that previously adopted some or all of California's tailpipe emission standards, which are stricter than federal rules, are expected to follow along with the state's mandate to eliminate the sale of new gas-powered vehicles by 2035.
In August, the California Air Resources Board (CARB) approved the Advanced Clean Cars II rule that "establishes a year-by-year roadmap so that by 2035 100% of new cars and light trucks sold in California will be zero-emission vehicles, including plug-in hybrid electric vehicles."
As of May 13, CARB lists 17 other states — New York, Massachusetts, Vermont, Maine, Pennsylvania, Connecticut, Rhode Island, Washington, Oregon, New Jersey, Maryland, Delaware, Colorado, Minnesota, Nevada, Virginia, and New Mexico — as those that have adopted California's vehicle standards under Section 177 of the federal Clean Air Act.
Washington, Massachusetts, New York, Oregon, and Vermont are expected to adopt the ban while Colorado and Pennsylvania probably won't, according to the Associated Press.
In Virginia, the rule would apply if Democrat-penned 2021 legislation remains in effect, according to state attorneys. The rule codifies the light-duty vehicle goals in Gov. Gavin Newsom's Executive Order N-79-20, according to CARB.
It's a bit more complicated in Minnesota where the issue has been taken to court by the Minnesota Auto Dealers Association (MADA), which says the mandate would be effective automatically. The association wants to block that from happening and argues that the Minnesota Pollution Control Agency (MPCA)'s Clean Cars Minnesota rule, which was adopted in July 2021 to be effective beginning with model year 2025 vehicles, is improperly delegating the state's authority to CARB, the AP reports.
"In July of 2021, Governor Walz signed the California LEV-ZEV rules into law for Minnesota, joining the 16 other states that had already done so," an Aug. 25 MADA news release states. "Under federal law,  states that choose to adopt California's regulations must follow them identically; they cannot amend or alter the rules promulgated by CARB."
MADA President Scott Lambert said in a statement that, "Minnesota's auto dealers repeatedly requested that Governor Walz delay joining California's regulatory scheme until we knew whether California would be adopting a ban, which has been in the works since Governor Newsom signed an executive order in September 2020."
According to the AP, the MPCA doesn't intend to launch a new rulemaking process, which they've said would be necessary to adopt California's mandate.
The Minnesota Center for Environmental Advocacy plans to file its own arguments against the dealers in court but hasn't made it clear whether it'll call for the state to follow California's new ban, according to the AP.
A bill to repeal the MPCA's rulemaking authority over vehicle emissions standards in the state stalled in the Senate during the 2021-22 legislative session that adjourned in May.
"This has been an unconstitutional separation of powers and intent to go around the legislature," said bill sponsor Sen. Andrew Mathews (R-District 15) in March. "…The commission's been very overbroadly interpreting statute to claim they have the authority for regulating what cars dealers can have on their lots all around the state of Minnesota."
In March, Washington Gov. Jay Inslee signed "Clean Cars 2030″ into law, which mandates the sale and purchase of only electric passenger and light-duty vehicles in the state beginning with model year 2030.
Oregon regulators are taking public comments through today on whether to adopt the new California standards.
IMAGES
Featured image credit: Dimitrios Karamitros/iStock
Share This: