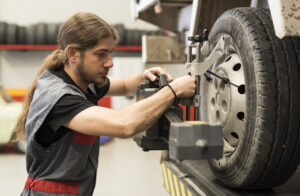 The rise of advanced driver assistance systems (ADAS) in vehicles has made proper calibration during repairs vital, CCC Intelligent Solutions said in its April trends report.
The company said in its latest analysis that up to 60% of today's vehicles include at least one ADAS feature such as rear backup cameras, blind spot monitoring, automatic emergency braking, and parking assist. Such tools require cameras, sensors, radar, and lidar around a vehicle's perimeter function, meaning they're likely to sustain damage in a collision.
Vehicle scans and calibration are critical to ensuring the features operate as intended following repairs, CCC said.
"All these components must be aligned properly to work as designed, and even a minor fender bender can result in the need to reposition, reprogram and/or recalibrate these systems," its report said. "Even the removal and replacement of a camera, sensor, radar or lidar may require recalibration, depending on the OE and how its system is designed."
Scans are necessary pre-repair, during the repair, and after repairs are complete to fully understand the vehicle's electronics and whether they're working, the report said, adding that many OEMs recommend a test drive or other assurance that the ADAS features are working before returning the keys to a customer.
If there's an issue during the final checks, diagnostic trouble codes are normally triggered that guide the repairer to fix or replace the broken part, clear the code, and perform a calibration to confirm the repair was completed correctly, CCC said.
"More concerning is the fact that if a system is not calibrated properly or the sensors are not aimed correctly, there can be instances where there is no indicator like a DTC or dash light to inform the repairer that the system is not calibrated, or the sensors are not aimed correctly," the report said. "Following the vehicle-specific procedures and requirements, and documenting they have been completed properly, is critical to being able to demonstrate accurate calibration has occurred."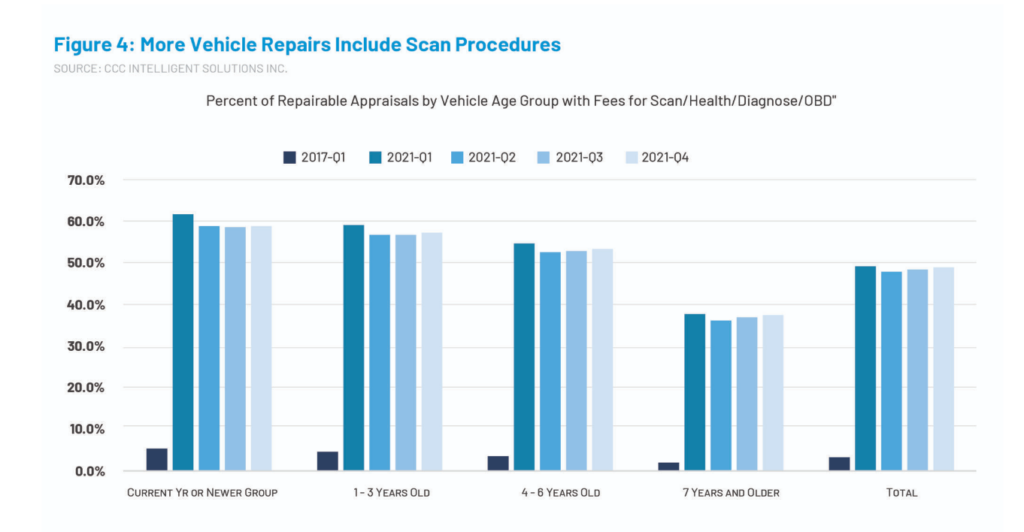 It appears insurers are increasingly recognizing the importance of such measures. During Q1 2017, less than 1% of repair estimates included an appraisal line entry for calibration, reflash, aim camera, or sensor reprogram operation. Four years later, during Q4 2021, that figure rose to 7.2%  with nearly 17% of current model year vehicle appraisals including a calibration entry.
 "For full year 2021, appraisals with a primary point of impact of Front had the highest percent with a calibration entry, followed by rear and side impacts," the report said. "Many more calibration entries are added during supplement changes than for scans and the fees associated with different types of calibrations see much greater variability than those for scans, in part due to the type of calibration performed, but also based on whether the calibration is done in the repair shop or outsourced to a dealer."
It listed the average line entry amount for subcategories of calibrations based on keywords, which varied from about $12,000 maximum for "dealer sublet and calibration" to just $46 to "transport to dealer to calibrate."
"Given the range of what's included (i.e. the calibration operation, an ADAS part, multiple operations, etc.) and the types of calibrations required depending on the OEM and the system being calibrated, understanding whether the fees are appropriate are an ongoing challenge," the report said.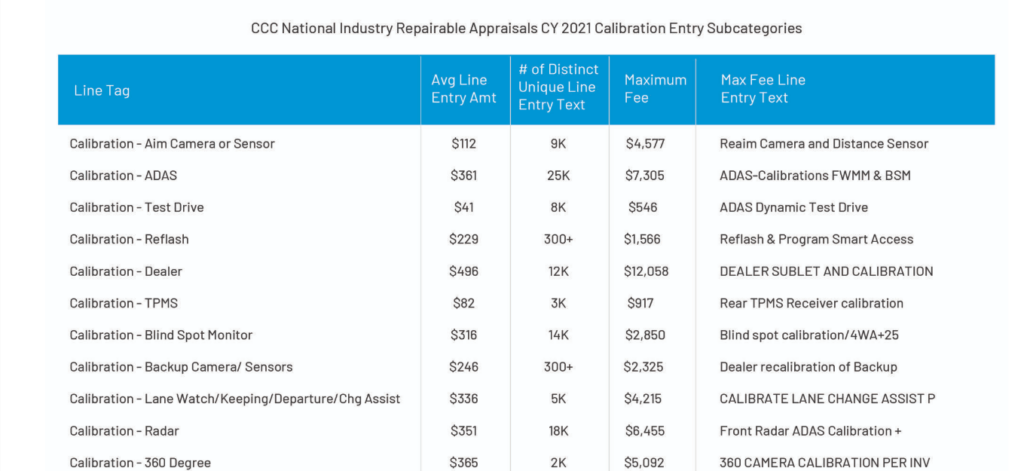 The report also acknowledged the complexity of repairing modern vehicles, noting that the average car or truck manufactured today contains more than 1,000 semiconductor computer chips alongside cameras and sensors. 
"As electronic content has grown, the ability to identify which vehicle features may have been damaged or are inoperable can be done only when a vehicle scan is performed," the report said. "These electronics are integrated and fused to multiple systems; a scan can help identify communication errors and reasons; damaged modules; wire or connector damage; pre-existing damage; corrosion issues; warranty issues; and aftermarket accessories interference.
"It is important to understand however that depending on the vehicle and its set conditions, damage might not appear on the pre-scan or in process scan and appear only after a post scan and/or test drive."
The complexity of ADAS repairs was previously highlighted in an Insurance Institute for Highway Safety (IIHS) study that found crash-detection features make repairs more difficult. However, the IIHS report failed to take into account insurer pushback and failure to prioritize adherence to OEM procedures as a contributing factor, some diagnostics specialists say.
Vehicle diagnostic companies Repairify and AirPro Diagnostics previously shared with Repairer Driven News how following OEM repair procedures in collision repair is essential to preventing injuries and deaths in repaired vehicles that could be involved in another crash.
"The current and near-term vehicle safety technologies provide significantly safer vehicles for the motorist," said Chris Chesney, Repairify Training and Development's vice president. "The systems onboard are becoming more mature and robust in their ability to mitigate collisions. But they all still require the motorist to be involved and in control. As well, the other vehicles on the road that are not equipped with these systems continue to present opportunities for an accident.
"When these damaged vehicles are repaired, it is critical that they be returned to their 'as designed state' or we risk placing the motorist in a vehicle that cannot perform in a way that was intended. Failure to properly calibrate a sensor that should be calibrated presents a risk to the motorist by allowing them to drive a vehicle that may not react as designed when called upon. However, when a technician reads, understands, and follows the OEM processes and procedures, including a post-scan and a comprehensive test drive, to ensure the affected systems are operating as designed, [that] will contribute to safer roadways."
Images
Featured image credit: July Alcantara/iStock
All graphs taken from the CCC April trends report
Share This: