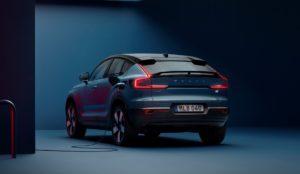 Volvo on Tuesday unveiled its first electric-exclusive model, the C40 Recharge SUV, and said it would sell no other type of powertrain by 2030.
The 2030 pledge involves being truly all-electric. Volkswagen said it plans to phase out hybrids along with any other internal combustion engine over the course of this decade.
"Its decision also builds on the expectation that legislation as well as a rapid expansion of accessible high quality charging infrastructure will accelerate consumer acceptance of fully electric cars," Volvo wrote in a news release.
Volvo wants its global sales to be 50 percent fully electric as early as 2025, with the other 50 percent of sales coming from mild or plug-in hybrids.
"There is no long-term future for cars with an internal combustion engine," Volvo Chief Technology Officer Henrik Green said in a statement Tuesday. "We are firmly committed to becoming an electric-only car maker and the transition should happen by 2030. It will allow us to meet the expectations of our customers and be a part of the solution when it comes to fighting climate change."
Volvo is already making headway on electric vehicles in the U.S. It reported Tuesday that "Recharge models," defined as either plug-in hybrids or fully electric vehicles, represented nearly 10 percent of its February sales.
"The brand's performance in California contributed significantly to this number with 30 percent of total sales in the state being Recharge models," Volvo wrote in a news release.
Volvo plans to shake up its electric sales by selling the C40 and all other new BEVs online exclusively. But it said it wouldn't get rid of dealerships.
"While Volvo Cars is investing heavily in online sales platforms, it will build stronger customer relationships together with its retail partners," Volvo wrote. "They remain a crucial part of the customer experience and will continue to be responsible for a variety of important services such as selling, preparing, delivering and servicing cars."
Volvo also plans to pitch customers a new version of the company's all-inclusive vehicle subscription service "Care by Volvo."
The current "Care by Volvo" format is an all-inclusive lease/subscription which can be cancelled any time after the first four months (or after a year in Illinois).  It starts at $600 for a gas XC40 T5 AWD Momentum, with $600 due at signing, and includes insurance; scheduled maintenance; and wear, tires and wheel protection. Mileage is limited to 1,250 a year.
For a little context, Volvo charges $355 a month and seeks $3,855 at signing to grant a 36-month lease on the same vehicle, based on an offer available Wednesday. The average insurance premium for full coverage in 2017, the last year with NAIC data, would add on another $94.49 a month for a total of $449.49 monthly before expenses like maintenance.
Volvo will offer a similar all-inclusive Care by Volvo deal to customers who buy a C40 or other new electric vehicle. A video posted on Volvo's media site Tuesday suggests the "Care by Volvo" package would also be available for those purchasing Volvo's electric XC40, as would a version where the customer buys his or hers own insurance.
"When buying an electric Volvo online, it will come with a convenient care package that includes items such as service, warranty, roadside assistance, as well as insurance where available and home charging options," Volvo wrote Tuesday.
Electric vehicle customers embracing the new Care by Volvo could prove convenient for collision repairers, particularly certified Volvo shops. Presumably, the insurance associated with the program (the policies come from a Volvo-Liberty Mutual partnership) will concur with the certified network's 100 percent OEM parts requirement, nor would that carrier balk at reimbursing any of the automaker's OEM repair procedures.
Volvo's plan for online electric sales could also be convenient for all body shops by limiting the number of build variations repairers encounter. Volvo said it will "radically reduce complexity in its product offer, and with transparent and set pricing models."
Volvo said it would "radically simplify the process for, and reduce the number of steps involved in, signing up for an electric Volvo" online. It said it would sell "attractive pre-configured electric Volvos" that can be ordered and delivered quickly.
"The future of Volvo Cars is defined by three pillars: electric, online and growth," Volvo global commercial operations head Lex Kerssemakers said in a statement. "We want to offer our customers peace of mind and a care-free way of having a Volvo, by taking away complexity while getting and driving the car. Simplification and convenience are key to everything we do."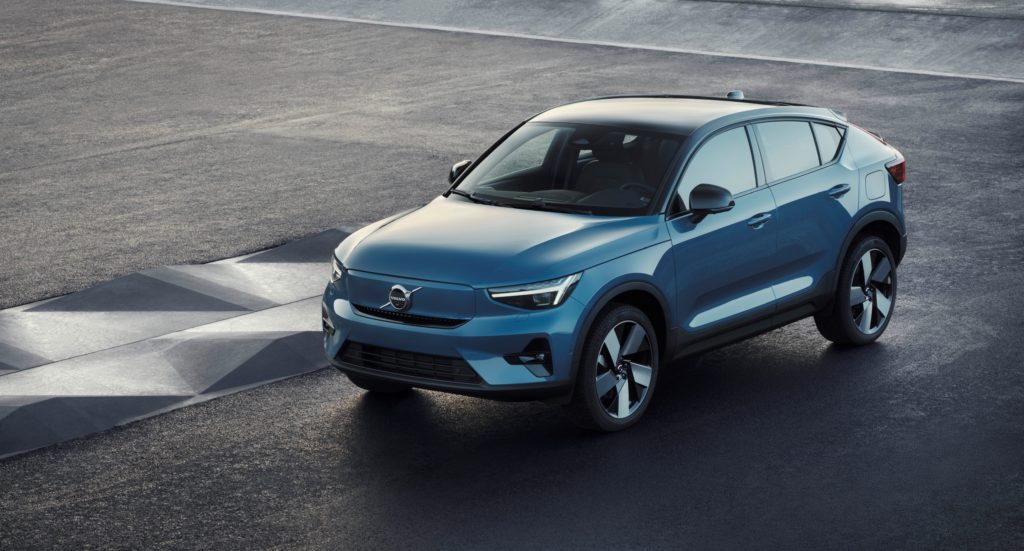 As for the C40 coming to these online platforms, repairers will find an SUV that's based on Volvo's existing new "Compact Modular Architecture" platform, but also "the first Volvo model in history designed as pure electric only."
Electric powertrains can create safety considerations for repairers, encourage lightweight materials to offset battery mass or improve range, and present new structural elements to auto body shops.
Volvo spokeswoman Maria Zwaik said she couldn't yet discuss the lightweighting and structural elements of the C40.
"That said, the C40 Recharge shares the CMA platform with the XC40 and XC40 Recharge so there will be synergies you can infer from those two products," she wrote in an email Wednesday.
Volvo in 2017 said the internal combustion engine 2019 XC40 represented the debut of the CMA platform, which it called designed for electrification. In 2019, it described the structure of its then- upcoming electric XC40:
While building on the excellent safety standards of the original XC40, Volvo Cars safety engineers had to completely redesign and reinforce the frontal structure to deal with the absence of an engine, meet Volvo Cars' high safety requirements and help keep occupants as safe as in any other Volvo. …
To help keep passengers safe and the battery intact in the event of a collision, Volvo Cars also developed a new and unique safety structure for passengers and battery alike in the XC40. The battery is protected by a safety cage which consists of a frame of extruded aluminum and has been embedded in the middle of the car's body structure, creating a built-in crumple zone around the battery.
The battery's placement in the floor of the car also has the benefit of lowering the center of gravity of the car, for better protection against roll-overs.
Meanwhile, the car's body structure has not just been reinforced in the front, but also at the rear. Here, the electric powertrain has been integrated in the body structure to realise a better distribution of collision forces away from the cabin and reduce the strain on people inside the car.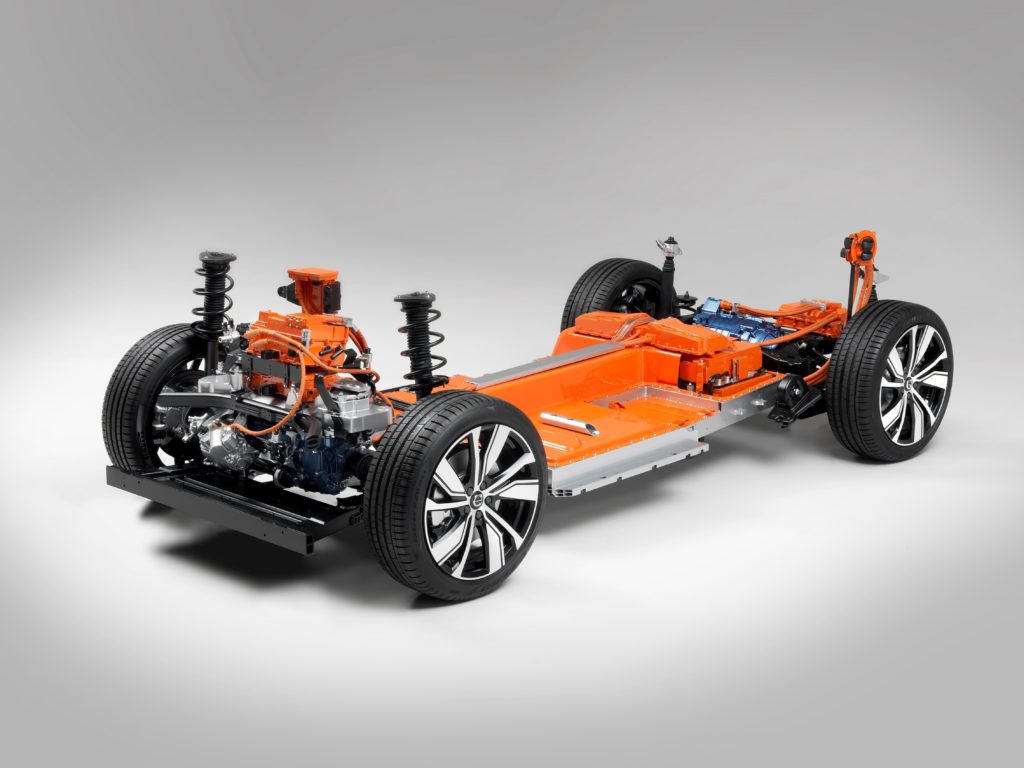 We do know a few things about the C40 which might be of interest to body shops.
Volvo said the SUV would present "a new face for electric Volvos and includes head lights with state-of-the-art pixel-technology."
It also stressed the simplicity factor mentioned above, pledging to concentrate on only selling "attractive pre-selected variants."
The battery electric powertrain has two motors (one in the front, one in the rear) and a range of nearly 261 miles. It can fill the battery from 0 to 80 percent in 40 minutes with fast charging.
The vehicle will receive over-the-air software updates, which Volvo expects it can use to boost the range along with delivering other upgrades.
Images show a large panoramic glass roof.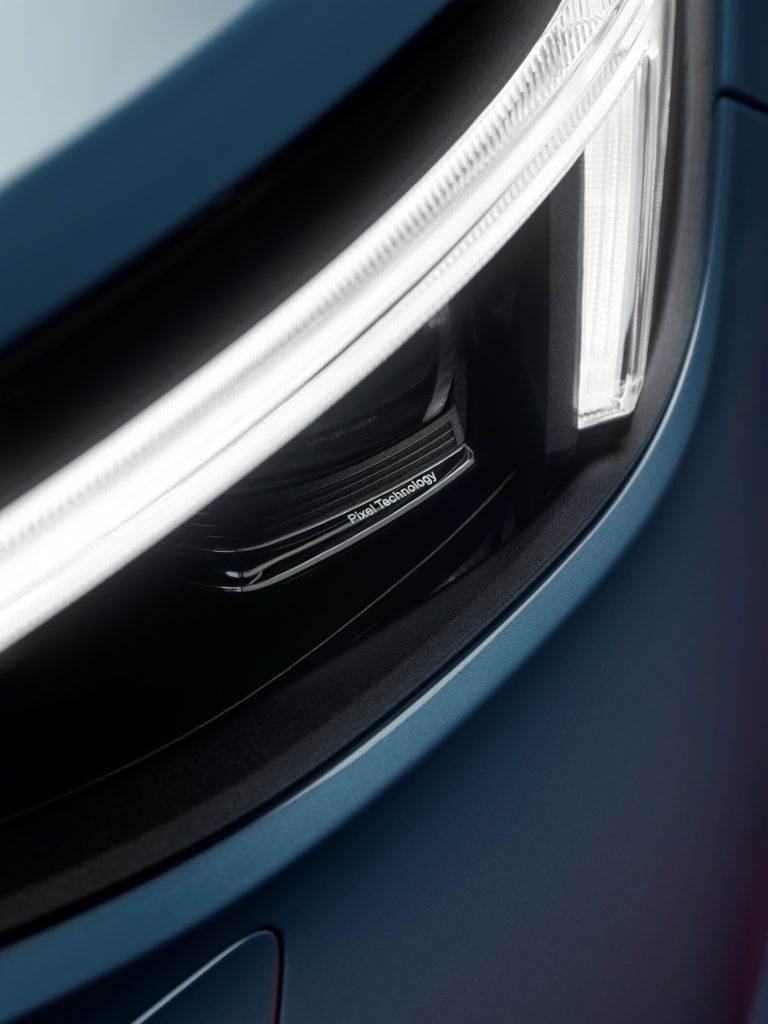 More information:
"Volvo Cars to be fully electric by 2030"
Volvo, March 2, 2021
"Volvo Cars launches new, pure electric Volvo C40 Recharge"
Volvo, March 2, 2021
"Volvo Car USA posts 16.9 percent growth in February year-over-year"
Volvo, March 2, 2021
"All pure electric Volvo models to be available online only"
Volvo, March 2, 2021
Images:
The completely electric Volvo C40 Recharge is shown. (Provided by Volvo)
The internal combustion engine 2019 Volvo XC90, left, and the upcoming fully electric Volvo XC40 body-in-white are shown. The same color coding applies to both. (Provided by Volvo)
The fully electric Volvo XC40 powertrain is shown. (Provided by Volvo)
Volvo said the C40 Recharge would present "a new face for electric Volvos and includes head lights with state-of-the-art pixel-technology." (Provided by Volvo)
Share This: