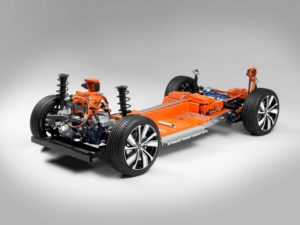 Volvo on Wednesday described revamping the structure on the front and rear of the upcoming electric Volvo XC40 to ensure occupant crash safety.
The news release teasing Volvo's first electric vehicle offers collision repairers some insight into how an electric version of a vehicle might differ from the internal combustion engine version they've seen.
Volvo in 2017 said the internal combustion engine 2019 XC40 would be the first in a new "Compact Modular Architecture" designed for electrification.
It said Wednesday that a car is changed "at its core" with electrification, given the absence of an engine in the front and the heavy battery "in the floor." (This presumes the OEM uses the "skateboard" electric vehicle design, of course.)
Volvo said losing the front engine on the XC40 produced "a fresh set of challenges" from a structural standpoint.
"While building on the excellent safety standards of the original XC40, Volvo Cars safety engineers had to completely redesign and reinforce the frontal structure to deal with the absence of an engine, meet Volvo Cars' high safety requirements and help keep occupants as safe as in any other Volvo," the OEM stated.
Diagrams of the body-in-white reveal structural differences between the ICE XC40 and battery-electric vehicle ("BEV") XC40.

One notices a greater use of aluminum and new "Extra high-strength steel" structures in the front. Volvo also has decreased the strength of the steel in the frame rails slightly — which probably has something to do with the new aluminum structure protecting the battery within.
"To help keep passengers safe and the battery intact in the event of a collision, Volvo Cars also developed a new and unique safety structure for passengers and battery alike in the XC40," Volvo wrote Wednesday. "The battery is protected by a safety cage which consists of a frame of extruded aluminum and has been embedded in the middle of the car's body structure, creating a built-in crumple zone around the battery."
Volvo said it also worked the electric powertrain into the rear body structure "to realise a better distribution of collision forces away from the cabin and reduce the strain on people inside the car."
"Regardless of what drives a car forward, be it an electric machine or combustion engine, a Volvo must be safe," Volvo Cars head of safety Malin Ekholm said in a statement. "The fully electric XC40 will be one of the safest cars we have ever built."
More information:
"The fully electric XC40 SUV – Volvo's first electric car and one of the safest on the road"
Volvo, Sept. 25, 2019
Images:
The fully electric Volvo XC40 powertrain is shown. (Provided by Volvo)
The internal combustion engine 2019 Volvo XC40 body-in-white is shown. (Provided by Volvo)
The fully electric Volvo XC40 body-in-white is shown. (Provided by Volvo)
The fully electric Volvo XC40 powertrain is shown in this diagram. (Provided by Volvo)
Share This: