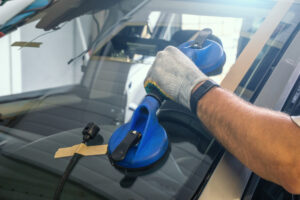 Anti-steering prohibition added to Florida auto glass bill, approved in committee
By on
Insurance | Legal
A vehicle glass replacement bill that seeks to prevent collision repair shops from fighting insurance companies over underpayment on behalf of their customers and would prohibit insurance carriers and auto glass shops from steering has unanimously passed the Senate Committee on Rules.
Senate Bill 1002, introduced by Sen. Linda Stewart (D-District 13) would prohibit shops or their employees from "offering anything of value to a customer in exchange for making an insurance claim for motor vehicle glass replacement or repair," otherwise known as assignment of benefits (AOB) — a practice Florida lawmakers have tried to do away with for years. The companion bill passed the House on first reading last week.
"This bill will modernize our laws to include new technologies and make sure the calibration of these new systems are covered in replacements and will finally put an end to the frivolous lawsuits perpetrated by a few bad actors," Stewart told the committee. "By passing this bill through committee today we will be taking an important first step to address one of the reasons we continue to see premiums increase in auto policies."
Committee member Sen. Nick DiCeglie (R-District 18), who submitted an amendment that was given a favorable recommendation by the committee, said the amendment moved the bill in the right direction.
"There are agreements [and] arrangements in place between the insurance companies and some of these auto glass folks," he said. "This levels the playing field somewhat. …What I think is unfair is if Safelite doesn't have the requirement to make sure that the consumer has other options when it comes to auto glass replacement or repair. I think that this amendment is going to go a long way in making sure that the consumer understands and knows that there are other options and that SafeLite or any other company that they're dealing with isn't the only choice that the consumer has."
The National Insurance Crime Bureau Government Affairs Director Eric De Campos said Florida's current law allows glass shops to charge for unwarranted advanced driver assistance system (ADAS) recalibrations, or to charge for recalibrations but not perform them. The bill, he said, would create transparency about why ADAS calibrations and recalibration are needed in addition to fighting fraud and abuse in the auto glass industry.
"Unfortunately, Florida's relatively unique among other states in that current law creates a friendly environment for auto glass replacement fraud and abuse," De Campos said. "And that's through provisions like assignment of benefits and allowing glass shops to be able to provide financial inducements to consumers. These provisions have created an imbalance and in auto glass insurance claims, which has resulted in a 4,000% increase in lawsuits from 2011 to 2021. By looking to cash in on these low cost, quickly paid out insurance claims, fraudsters are able to use these low dollar amounts for glass replacements to fly under the radar but their fraudulent actions do add up over time and ultimately it's the consumer who ends up paying the price."
State of Florida CFO Jimmy Patronis noted that windshield-related lawsuits went from 591 in 2011 to 37,000 last year as a result of the state allowing assignment of benefits (AOB) — when an insurance policyholder signs over their claims to repairers who can then sue insurers.
"We had had an unchecked growth, an epidemic, of this business model because of a loophole existing in Florida statutes and all we have seen is the insurance companies working with OIR [Office of Insurance Regulation] and the plaintiffs' attorneys and the installers… huddling together in order to create impasse on this particular issue," he said. "The one person that has been totally neglected the whole entire time is the policyholder. …At the end of the day, this is in the best interest of the policyholder and the State of Florida. This bill will ultimately help lower [insurance] rates."
Jeff Johnston, lobbyist for the Florida Independent Glass Association, warned the committee that if the bill is approved independent glass businesses will cease to exist in the state and will be a Safelite monopoly. "I would argue that steering actually occurs when somebody calls their insurance company and Safelite answers the phone; they're steered to Safelite," he said. "Maybe Safelite needs to pick a lane. Maybe they should be the glass company or they should be the third-party administrator. Maybe they shouldn't be both."
Committee member and Democratic Minority Leader Sen. Lauren Book said she is concerned about putting "the little guy" out of business but said she would vote for the bill to do what's right for consumers. She asked Safelite during the committee meeting if they would be willing to meet with lawmakers to get everyone on the same page.
A Safelite representative said the company would do that and that they support the amended bill.
"Safelite does not engage in steering. We're happy to support anti-steering regulation. Safelite does have a company called Safelite Solutions, which does claims handling. There's a couple other competitors in that space. In fact, some of the companies represented here use those competitors. …Safelite Solutions administers the insurance contract and so for every insurer for which it performs claims handling, it has a different procedure based on what that insurance policy provides."
She added that "litigation-oriented shops" often use the term "steering" to describe job price confirmations with out-of-network shops.
Committee member Sen. Jim Boyd (R-District 20) called the concern of the bill leading to shuttering of small businesses an exaggeration. Independent glass repairers in his district have told him they wouldn't go out of business if the legislation is passed, he said.
"This is a problem," Boyd said. "It's costing consumers, at the end of the day, a lot of money just like we had with the roof claims."
Committee member Darryl Ervin Rouson (D-District 16) said insurance carriers' preference for Safelite locations that are far out of the way for policyholders is an issue as well as underpayment to independent brokers. He voted for a favorable committee recommendation of the bill but said he might not support it when makes it to the House floor after doing his own research, including calling his insurance carrier about a chip in his vehicle's windshield to see if steering occurs.
The bill also:
Defines ADAS;
Expands the state's motor vehicle repairs definition to include ADAS calibration or recalibration;
Expands the state's definition of unlawful vehicle repair shop acts to include offering inducements for making vehicle glass replacement or repair insurance claims; and
Adds failing to give customers notice about the necessity of ADAS calibrations as an unlawful vehicle repair shop act.
Prior to the anti-steering amendment, the bill was given favorable recommendations by the Senate Bank and Insurance and Commerce and Tourism committees. It's scheduled to go before the Senate for a vote on April 19.
Images
Featured image credit: DedMityay/iStock
More information
Fla. Legislature excludes auto glass repairs from major AOB bill
Share This: