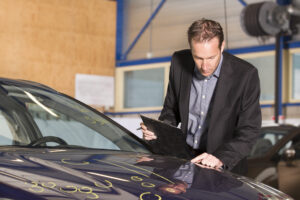 The growth of electric vehicles will have unintended consequences for auto insurers, Moody's Investors Service analysts say.
Speaking during a recent podcast, Matthias Heck, a senior credit officer, said battery electric vehicles (BEVs) will likely represent about one-third of vehicle sales by 2030 and nearly half of vehicles by 2035 worldwide.
"This is actually a faster uptake than we had previously forecast because of tighter environmental regulations, and more aggressive electrification targets from automakers," he said.
"In the U.S. because of growing consumer interest and subsidies made available by the legislation passed during the Biden administration, we expect BEVs to account for 35 to 40% of total light vehicle sales by 2030, up from just 5% in 2022. Combined with plug-in hybrid electric vehicles and other hybrids, we see alternative fuel vehicles representing just over half of U.S. total vehicle sales by 2030, up from just 13% in 2022."
The uptick in emission-free vehicles won't necessarily benefit everyone, analysts said, noting that they will be more costly to repair, meaning insurers will be on the hook for larger payouts.
Insurers will have to make adjustments as BEV car sales grow, podcast listeners heard.
Jasper Cooper, vice president senior credit officer at Moody's, said because there is a small percentage of BEVs on the road today, it isn't having a significant impact on insurers.
However, as the share of BEVs increases, insurers are likely to start feeling more of a strain, he said.
"The main effect is going to be higher repair costs that insurers are going to have to cover when there's an accident," he said. "The reason why EVs are more expensive to repair is one they have more expensive components, especially the batteries, and two, they're more likely than regular internal combustion engine vehicles or ICE vehicles to need a full replacement once they're in a collision. The replacement values for EVs are generally higher than for ice vehicles because their retail values are higher."
He said while the average value of a new BEV is about $60,000, ICE vehicles typically sell for about $50,000, but noted that electric vehicles are becoming more affordable.
It isn't just insurers whose policyholders own BEVs who'll be affected by the shift, he said, adding companies will also be on the hook if the ICE vehicles they insure are responsible for hitting and damaging an electric vehicle.
Insurance companies will be forced to respond by raising prices and taking into account high repair costs for collision coverage when pricing BEV plans, Cooper said.
"As the share of EVs in the U.S. fleet increases, insurers will also need to proactively incorporate the changing fleet composition into the liability portion of their pricing plans, which covers damage to third party vehicles," he said. "Smaller maybe regional auto insurers in particular will need to improve their pricing sophistication to address this challenge."
The heightened cost of insuring electric vehicles is something consumers should be aware of as well, said ValuePenguin said in a recent report.
"While your dealership probably won't be upfront about the cost to insure an EV, they're about 28% more expensive to insure compared to a gas car," ValuePenguin's Divya Sangameswhar said. "It would be good to talk to your insurer about how much your premiums may increase if you switch to an EV."
Vehicle-specific insurance discounts, like electric car and safety feature-based, could save some money, the research company said.
"The Mini Cooper Electric is one of the cheapest EVs to insure, while Teslas are some of the most expensive," the report states. "The Porsche Taycan is one of the most expensive cars to insure, as it's both a sports car and an EV."
Citing CCC Intelligent Solutions' finding in 2022 that the average small non-luxary EV model costs $4,041 to fix — about 27% more than the average for roughly comparable non-EV models — Sangameswhar concluded that EVs have lower maintenance costs but cost more if they're damaged in a car crash or by bad weather. Among mid-size luxury SUVs, the difference was even more pronounced: $8,037 versus $5,242 for internal combustion engine (ICE) vehicles, according to CCC.
A Forbes Advisor analysis found that an EV costs about $100 more per year to insure than a similar ICE vehicle. Forbes said its analysis of data from Quadrant Information Services shows that the average annual premium for EVs is $1,889 versus $1,786 for an ICE vehicle.
IMAGES
Featured image credit: BartCo/iStock
Share This: