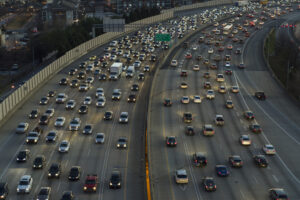 The Insurance Institute for Highway Safety (IIHS) executive director is calling on the government to move forward "without delay" on a law that requires all new cars to be equipped with technology to prevent impaired driving.
David Zuby, also IIHS' chief research officer, is a member of the Technical Working Group on Advanced Impaired Driving Prevention Technology (TWG).
It was launched in 2022 to oversee the implementation of advanced impaired driving prevention technologies to support an Infrastructure Investment and Jobs Act (IIJA) mandate that requires every new passenger vehicle to be equipped with a system that can measure driver blood alcohol content before embarking on a trip.
Zuby called technology the "ultimate solution" for preventing impaired driving collisions.
"Making roads safer often involves doing a lot of little things. There's no single reason crashes occur and no single way to protect people from death and injury. When we discuss a given solution — whether it's in the realm of vehicle technology, road design or enforcement — we are usually talking about shaving off a few hundred fatalities from the annual toll at best," Zuby said in an opinion piece published last week.
"But recent action by Congress opens the door to something much bigger. If we seize this opportunity, we could put an end to one of the most persistent highway safety problems — impaired driving — and prevent more than 9,000 deaths a year."
The congressional mandate, passed in 2021, calls on the National Highway Traffic Safety Administration (NHSTA) to take several steps before issuing a final regulation. This includes:
Researching the breadth of possible technologies and detming what must be done to ensure manufacturer compliance;
Preparing a cost estimate for equipping fleets with impaired driving prevention technologies, and comparing it with the "societal cost of illegal impaired driving"; and
Publishing a proposed regulation and make necessary revisions following public feedback.
"The process doesn't lend itself to shortcuts, which is why it's crucial that the agency proceed without delay, Zuby said.
"The technology itself is closer to being ready than most people realize. But because few consumers would pay extra to equip their vehicle with an impaired driving prevention system, automakers have had little incentive to bring it to market. A regulatory requirement would push it over the finish line."
Under the new mandate, this technology must be required to "passively monitor the performance of a driver [to] to accurately identify whether that driver may be impaired" and "prevent or limit motor vehicle operation if an impairment is detected," the law states.
The U.S. Department of Transportation is required to set a safety standard for the new technology within three years, after which OEMs will have another two years to comply.
If the NHSTA finds it cannot meet 30111 standards within the alotted time frame, it can extend the time period by three years but must provide an annual report to Congress.
An NHSTA spokesman told Repairer Driven News that the agency has initiated work to meet the Bipartisan Infrastructure Law's requirement for rulemaking concerning advanced impaired driving technology in vehicles."
According to the National Highway Traffic Safety Administration (NHTSA), alcohol-impaired crashes accounted for 30% of all traffic fatalities in 2020, and are to blame for more than 230,000 deaths since 2000. The Insurance Institute for Highway Safety (IIHS) estimates that 25% of crash deaths could be prevented each year if all drivers with BACs of 0.08 percent or higher were prevented from driving.
According to a newly-released Johns Hopkins University study, most people support mandating technology that would screen drivers for impairment before they hit the road. Its survey of 2,274 adults found 63% of respondents supported the congressional mandate on vehicle impairment prevention technology.
"Motor vehicle crash deaths are increasing at a historic rate, and alcohol is associated with close to one-third of all fatalities," the study said. "Vehicle impairment prevention technologies can recognize whether a driver is dangerously impaired by alcohol or other causes and prevent an impaired driver from operating the vehicle. Installed in every vehicle, this technology could save more than 9,000 lives per year."
Images
Featured image by Cavan Images/iStock
Share This: