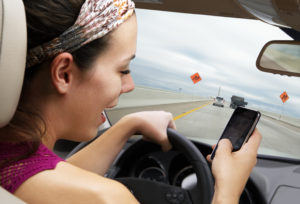 Ohio's handheld driving ban is reducing distractions, study says
By on
Legal
Ohio drivers have become more focused behind the wheel since the passing of Ohio's distracted driving law earlier this month, a study found.
Cambridge Mobile Telematics (CMT) said it analyzed the amount of time drivers spent on their phones in March, before the ban took effect, and after April 4, when the distracted driving law became enforceable.
The study found that Ohio drivers spent 1 minute and 31 seconds on their devices in April, representing an 8% drop from the 1 minute and 39 seconds they spent handling their phones behind the wheel in March.
Under the state's new distracted driving law, it is illegal for someone to hold an electronic device in their hand or on their lap while driving on Ohio's roads.
Drivers aged 18 and older are allowed to engage in hands-free calls under the legislation.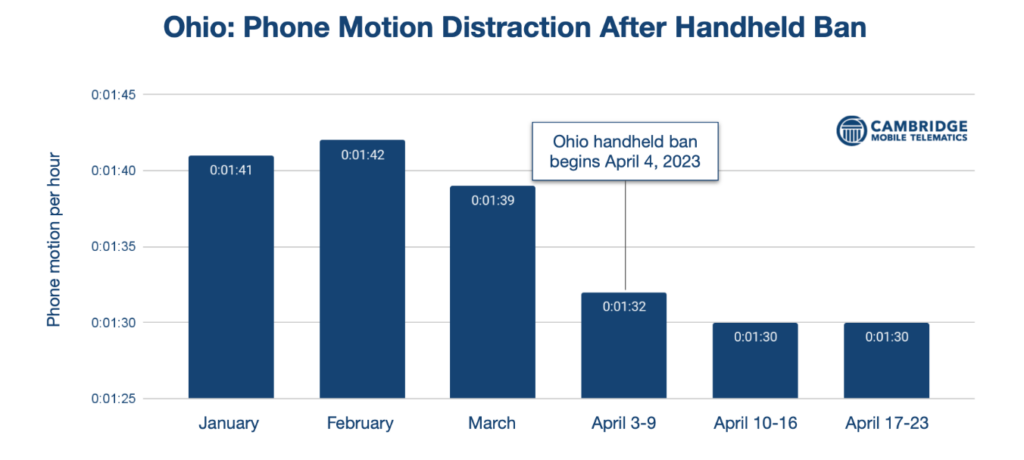 A day before the legislation took effect, Nationwide released a study that found 42% of surveyed Ohio drivers admitted to making a phone call on a handheld device while driving. Another 42% of respondents admitted to texting while driving, while 10% said they have video chatted while behind the wheel. Five percent have watched a movie while piloting a moving vehicle, the study found.
CMT's data showed that a 10% decrease in distracted driving reduces the crash rate by 1.4%. According to that formula, Ohio's reduction in distracted driving has helped prevent more than 300 crashes and $8 million in economic damages, it said.
CMT said it has studied the response to distracted driving laws in eight other states since 2018 and found that states, on average, reported a 16% reduction in phone-related distraction immediately after the law took effect. The impact dropped to 13% after three months, but in the long-term remained lower than rates observed before the legislation was passed, it said.
Earlier this month, the National Highway Traffic Safety Administration (NHTSA) launched its annual distracted driving campaign as well as new federal data it says "underscores the risk of distracted and other forms of risky driving."
According to NHTSA data, fatalities in distracted driving cases increased from 12% from 2020 to 2021. In 2021, distracted driving played a role in 3,522 traffic fatalities; in 2020, it contributed to 3,145 deaths.
"These new data tell us just how much harm distracted driving can cause and why a nationwide campaign is more important today than ever," said Sophie Shulman, NHTSA's deputy administrator. "We need to use all the tools we have to reduce distracted driving: state laws, education and outreach, and disabling of phones while driving can all work to save lives."
Despite the dangers of distracted driving, a separate CMT study found that drivers interacted with phones on nearly 58% of their trips.
McMahon said at the time that the passage of distracted driving laws helps but isn't the cure-all.
"In almost every case, new laws reduce risk, and that reduction persists for months but in many cases, there is a regression that occurs," he said. "Passing laws helps but is not enough to think that it's the single tool to fix this problem. It's a major problem that needs new solutions. The truth is that the sheer prevalence of distracted driving in America is staggering."
Americans spent two minutes and 12 seconds per driving hour interacting with their phones last year, an increase of 23% over 2020, according to the annual report.
"We wanted to help people understand the consequences of these increases," the report states. "Our research shows that the 23% increase in distracted driving in 2022 caused an estimated 420,000 additional crashes, 1,000 fatalities, and $10 billion in economic damage — compared to 2020."
CMT found that 34% of phone motion distractions happened last year at speeds of 50 mph — the highest rate in three years.
Its research shows that 3 in 4 Americans in states without a handheld ban see drivers texting while driving every day and nearly 9 in 10 see drivers talking on the phone while driving. On top of that, 7 in 10 said texting and driving is the most dangerous activity that can be done while driving.
"Distracted driving significantly increases the chance of crashing. CMT research has uncovered two key insights on this front. The first is that drivers who crash are 2X more likely to interact with their phone the minute before the crash. In other words, drivers who crash are more likely to be distracted before the crash. The second finding is that of all the drivers who crash, 34% interacted with their phones within the minute before the crash."
Images
Featured image credit:  nycshooter/iStock
Share This: