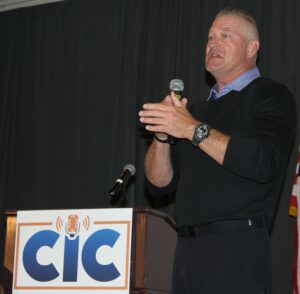 A panel hosted by the Collision Industry Conference (CIC)'s Emerging Technologies Committee on April 12 stressed the importance of safety protocols when handling electric vehicles (EVs) and hybrid vehicles, first from the perspective of the Energy Security Agency (ESA).
ESA Chief Operations Officer Dalan Zartman said the agency's 24/7 Guidance Center is meant to help fill the gap between best practices and standards in the entire custody chain of EVs and hybrid vehicles from first responders to towing and recovery, recyclers, salvage yards, and the collision repair industry. The center is staffed by first responders who collaborate with engineers and have access to OEM vehicle engineering diagrams to create their own proprietary data maps by make, model, and year.
"We can give real-time guidance to what questions are asked," Zartman said. "Those questions come in calls daily and we do everything from manage massive large-scale events… to connect the full dots all the way up from the simple question, where is this vehicle?"
During post-incident operations, Zartman said ESA works closely with state and federal departments of transportation, the National Highway Traffic Safety Administration (NHTSA), and the National Transportation Safety Board (NTSB) in addition to everyone in the vehicle custody chain. ESA is advocating for compliance with SAE International's Standard J2990, which covers recommended practices for first and second responders to hybrid and EV crashes.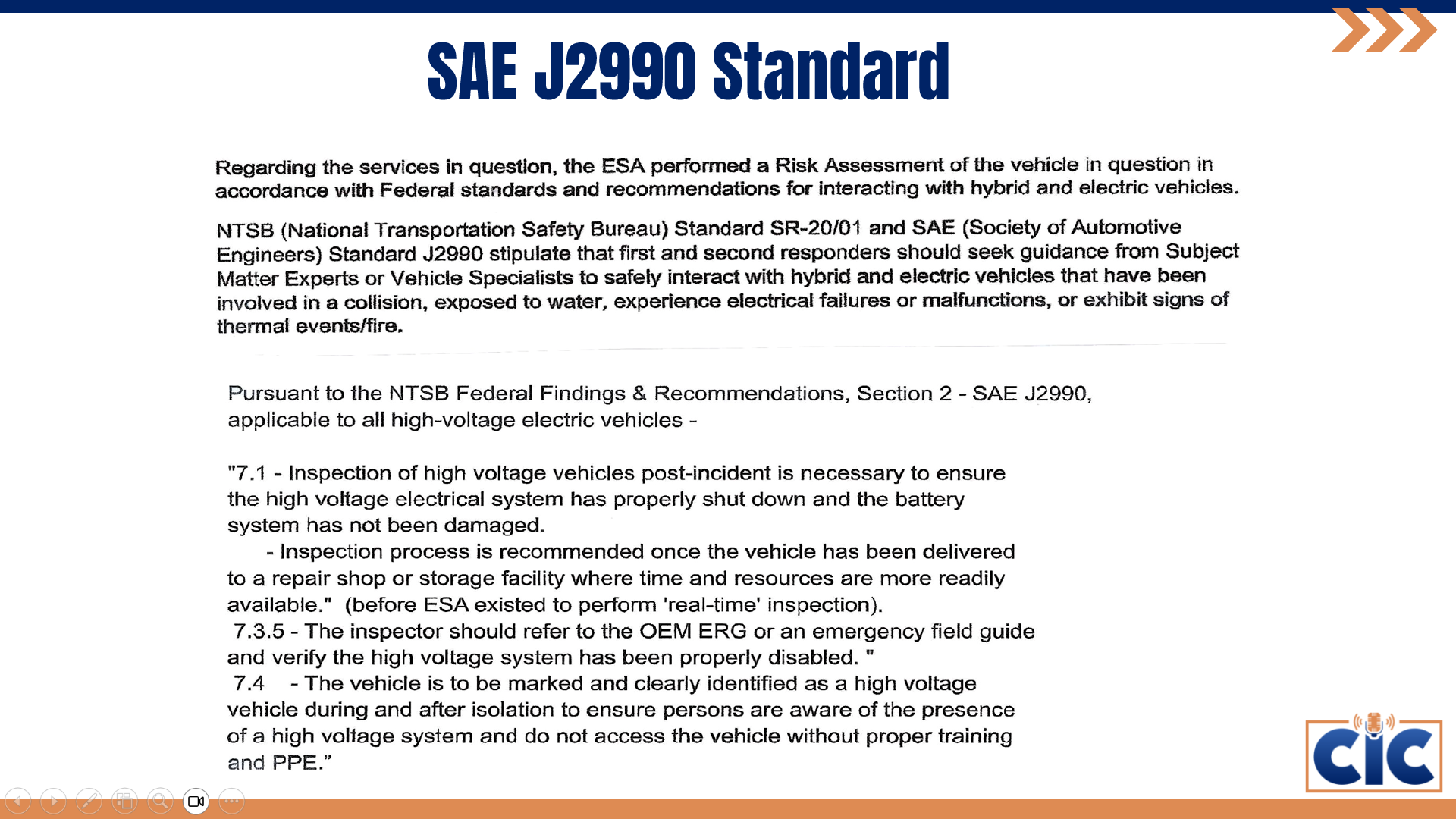 "The liability and risk reduction starts with everybody in the chain of custody so regardless of individual state specifics for underwriters, at the end of the day, everybody's holding a piece of responsibility to this puzzle," Zartman said.
ESA has been educating first responders, law enforcement, and fire departments across the country on their responsibilities with hybrids and EVs, and making sure they know they're "accountable and responsible for putting that vehicle into a safe state" within their scope of capabilities before the tow truck recovery operator ever touches an EV or hybrid vehicle.
The primary way ESA tells first responders to make sure the damaged vehicles are safe for transport is to create a data trail that complies with SAE J2990 by using the agency's color-coded sticker system. Each person or department that comes into contact with or has custody of the vehicle is encouraged to call ESA's Guidance Center. They'll be walked through risk assessments with ESA's real-time tools that are used to view the vehicle and evaluate the damage and state of the voltage systems. ESA can assist in carrying out low- and high-voltage system shutdowns, gauging the potential of thermal runaway occurring, finding out where to safely cut into the vehicle body based on component locations to limit further damage, and vehicle tow truck loading and unloading.
ESA placards placed on the damaged vehicles indicate:
Level green: Safe to be stored near other vehicles with no voltage concern;
Level yellow: A second ESA analysis is needed within 24 hours of the first, usually after a 24-hour quarantine. To quarantine, keep the vehicle 50 feet away from buildings and vehicles and inside three-sided masonry or steel containment bays with open air ventilation and a drainage slope to a floor grate, as recommended by NHTSA;
Level red: Serious risk of electrical shock, electrocution, and/or fire — do not handle high-voltage components; store at least 50 feet away from vehicles and structures; limit vehicle movement to critical only; if the vehicle was submerged in or sprayed with water, position vehicle to allow for water to drain out of the high-voltage battery, and monitor for smoke, fire, or arcing. A second ESA analysis is needed within 24 hours of the first.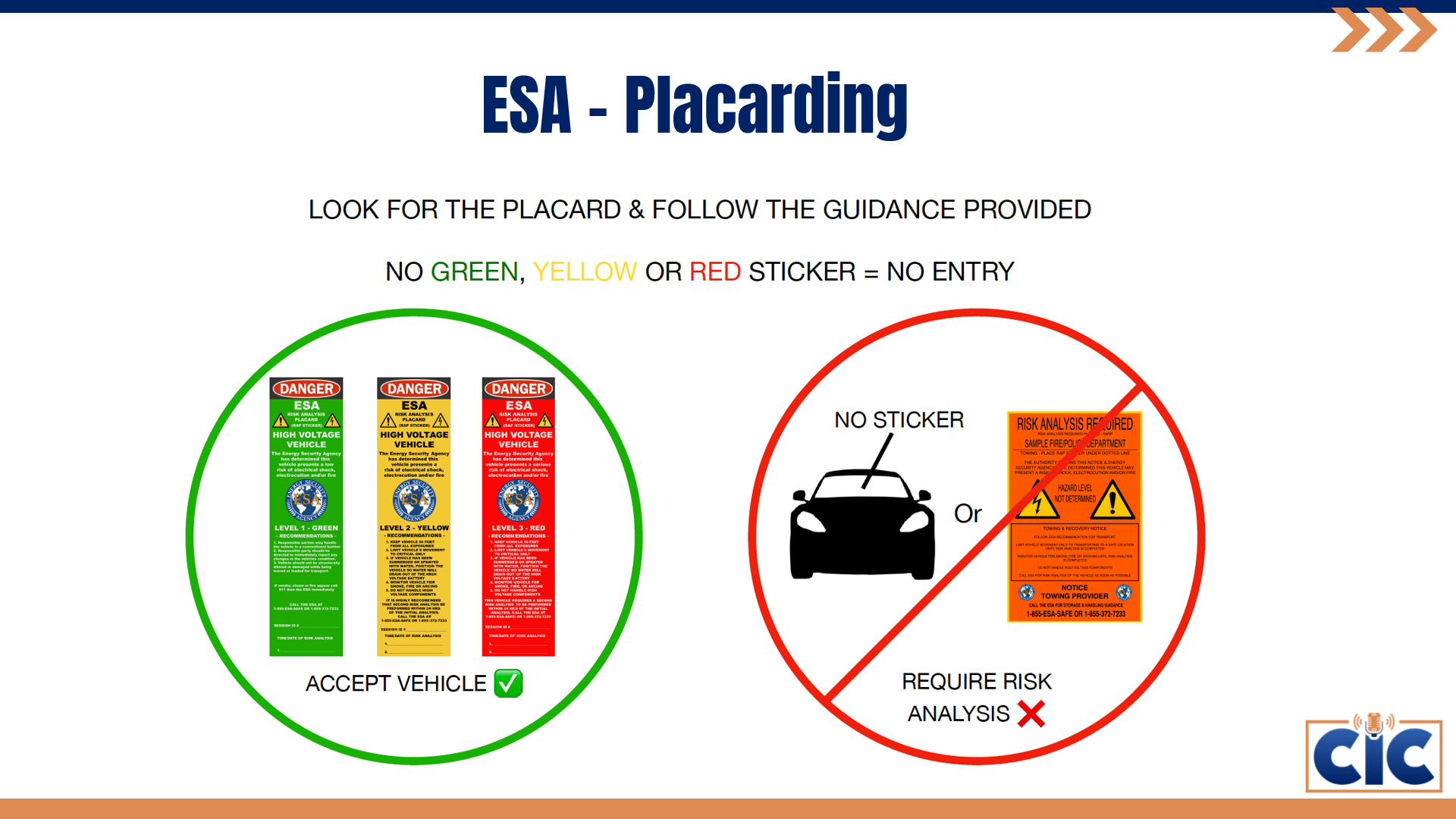 Before collision shops perform their intake process several things need to be confirmed: whether the vehicle is still a hazard and, if so, how the vehicle should be stored, what steps need to be taken during intake to ensure the safety of everyone in the shop, and how long it should be quarantined or isolated. Repairers can use each vehicle's ESA session ID found on the placard to check the agency's database for all the information gathered from their assessments, including photos.
"What we find statistically is small measures of intervention, following the manufacturer's best practices negate the vast majority of the events that we see both in storage yards, in handling procedures, and in interaction procedures with these vehicles," Zartman said. "Taking the time to apply the right steps at the right moments negates a huge quantity of the risk and liability and eventual hazards."
Check out RDN on Thursday for the rest of what the panel covered, including thermal imaging, carbon monoxide analyses, low and high-voltage disconnects, safety system handling, OEM guidelines for EV intake at collision repair shops, and much more.
Images
Featured image: Energy Security Agency (ESA) Chief Operations Officer Dalan Zartman speaks during CIC's meeting on April 12, 2023. (Lurah Lowery/Repairer Driven News)
Presentation slides published courtesy of CIC
Share This: