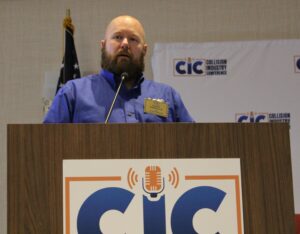 I-CAR says there's a lot of work ahead for the collision repair and recycling industries in figuring out how to safely store battery electric vehicles (BEVs) and, for repairers, how to handle refinish baking times since it varies from vehicle to vehicle.
The issues were brought up during the Emerging Technologies Committee portion of the Collision Industry Conference (CIC)'s January meeting, and the conclusion was there is a lot of variation from OEM to OEM on all of the above so the entire industry needs to address the unknowns.
"We need to have conversations," said I-CAR Repairability Technical Support and OEM Technical Relations Manager Scott VanHulle. "Do you have to remove the battery pack or not? Is disconnecting the battery pack enough like we have traditionally the 12-volt systems? There's a mountain of work that has to be done. With all the vehicle makers coming out with a fully electrified fleet by 2025 or 2035, we're going to start seeing this really quickly. We're really trying to get out ahead of this."
Because of high voltage EVs, all-electric vehicles, and now BEVs coming to market refinish times have become more critical, he added.
"The bake temperature that these vehicles have for their maximum requirement, a lot of times, is about 160 degrees Fahrenheit, which a lot of the bake temperatures from the product makers is actually above that threshold," VanHulle said. "One of the things that a lot of these position statements don't make clear is, is that the actual surface temperature of the vehicle or is it the ambient temperature of the booth? And the reason that becomes important is to get a vehicle to 160 degrees Fahrenheit surface temperature, you have to get that bake booth set to probably about 180 degrees, which then is over the threshold that a lot of the OEMs have set for that requirement."
Bake temperatures recommended by OEMs range from 120 degrees for 10 minutes ambient or surface temperature up to 180 degrees for 30 minutes. If the bake temperature is higher than the threshold for the vehicle, repairers might have to use an air dry option, which will "drastically affect that cycle time," according to VanHulle.
Many OEM statements are centered on protecting the life of the battery through high temperature prevention. "…if the entire vehicle is disabled, the 12-volt system is disabled and all of a sudden now there's no way to maintain that battery temperature," he said.
I-CAR Technical Programs and Services Director Dirk Fuchs covered the issue of storage using a more extreme example that was the result of Hurricane Ian hitting Florida and submerging 3,000 EVs.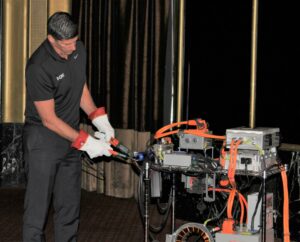 "We don't know if there's any risk… so we separate those vehicles 50 feet apart in case of fire," he said. "When I saw this, and I was in a couple of calls, what I pointed out was that, 'Hey, all those cars are battery disconnected [meaning the] 12-volt system is disconnected. And what [did] the firefighters do? Two things — they cut the fireman's loop and they removed the 12-volt battery."
Then, Florida temperatures rose to more than 100 degrees and melted the batteries down as the vehicles sat in a grassy lot for months.
"Now the question is, was it the saltwater intrusion in the battery or was it other consequences? And this is what we have as an industry to learn," he said. "What I wanted to point out with this as well is, where are we going from here? You, as the repairers, started repairing vehicles and ran into parts shortages. The vehicle is disconnected; the full battery is out so no battery heating or cooling system is active. And then you store the car outside somewhere on the ground and say, 'OK, let's wait for my parts.' …50 feet [of space around the vehicle] is the recommendation from the National Highway Traffic Safety Administration."
VanHulle and Fuchs said other questions that need to be answered are why does the recycling industry need the batteries? VanHulle pointed to the batteries being the highest valued part. Who owns the batteries? How should EV batteries be stored in higher-temperature regions? Should they be removed from the vehicles instead?
OEMs are "all over the board" on storage from some having a process in place through their dealer networks to wanting them recycled, and some not providing any guidance, VanHulle said.
"There's a lot further work that we need to bring to the OEMs to get them to understand what we need from them," he said. "A lot of times repair information is a little bit lagging behind when the vehicle is released. They're still trying to figure out what that process is and build infrastructure to help us out."
Shops that remove the battery need to keep in mind that it must be properly stored inside in a temperature-controlled area with a ventilation system to prevent fire and explosion, Fuchs said. During the next Repairability Summit, VanHulle said ideal battery storage for both collision repairers and recyclers will be discussed.
Progress was made on reaching a best practice to disable EV batteries a couple of years ago by repairers, insurers, and OEMs at I-CAR's Repairability Summit, VanHulle said.
"All the service information is truly written for dealership personnel," he said. "When they have a warranty repair, they're doing a diagnostic where we have a collision damage vehicle that might have multiple faults in the system that could potentially be deadly to somebody. We wanted to standardize the procedure for the industry so that they can really approach that vehicle safely."
The next phase that I-CAR is looking into is what to do with total loss EVs that make it to collision repair shops.
Images
Featured image: I-CAR's Scott VanHulle speaks during CIC's January 2023 meeting in Palm Springs, California. (Credit: Lurah Lowery/Repairer Driven News)
I-CAR's Dirk Fuchs demos an EV battery system cart during a special CIC session in July 2022. (Credit: Lurah Lowery/Repairer Driven News)
Share This: