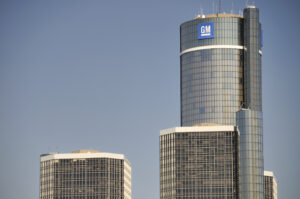 General Motors (GM) announced yesterday that it will expand its vehicle-to-home (V2H) bidirectional charging technology throughout its suite of Ultium-based electric vehicles (EVs) by model year 2026.
This includes its previously announced 2024 Silverado EV RST, as well as the MY 2024 GMC Sierra EV Denali Edition 1, Chevrolet Blazer, Chevrolet Equinox EV, Cadillac LYRIQ and the upcoming Cadillac ESCALADE IQ, which will be revealed today.
GM's bidirectional charging means electricity can circulate both ways, allowing EVs to power homes and vice versa. According to its website, the OEM is "designing vehicles that can keep the lights on in a blackout for up to 21 days."
The OEM said in a press release that the technology "unlocks additional value for EV drivers, who will be able to transfer energy from their vehicles to a properly equipped home when desired."
"The technology allows consumers to store and transfer energy to help offset electricity needs during peak demand days and mitigate the impact of power outages, making the transition to an all-electric future even more compelling," GM said.
Drivers will be able to use V2H technology on certain GM EVs through Ultium Home offerings, and the GM Energy Cloud, which helps users facilitate energy exchange between their vehicles and home.
"GM Energy's growing ecosystem of energy management solutions will help accelerate GM's vision of an all-electric future by further expanding access to even more benefits that EVs can offer," said Wade Sheffer, vice president of GM Energy. "By integrating V2H across our entire Ultium-based portfolio, we are making this groundbreaking technology available to more consumers, with benefits that extend well beyond the vehicle itself, and at broader scale than ever before."
GM did not respond to a Repairer Driven News request inquiring considerations repairers should take into account when working on a V2H model, and any additional complications that might bring.
It isn't the first automaker to introduce V2H to vehicles, with Ford introducing a system last year that allows the Ford-150 Lightning to be used as a power generation source during situations like home power outages.
GM is working to expand its EV reach elsewhere as well, announcing last month that it was among seven global automakers working to create an "unprecedented new charging network joint venture that will significantly expand access to high-powered charging in North America."
Other automakers include BMW, Honda, Hyundai, Kia, Mercedes-Benz, and Stellantis. The group is planning to install at least 30,000 high-powered charge points offering both Combined Charging System (CCS) and North American Charging Station (NACS) connectors locations throughout the nation.
The first stations, which will be accessible to all EV customers, are expected to open in the U.S. in the summer of 2024, with Canada to follow at an undisclosed date.
"GM's commitment to an all-electric future is focused not only on delivering EVs our customers love, but investing in charging and working across the industry to make it more accessible," said GM's CEO Mary Barra. "The better experience people have, the faster EV adoption will grow."
Images
Main image: iStock/RiverNorthPhotography
Share This: