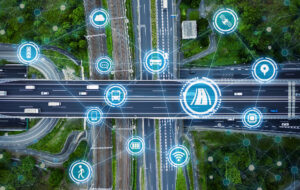 Construction began this week on Michigan's "first-of-its-kind" corridor for connected and autonomous vehicles, which is expected to improve roadway safety as sophistication grows among both vehicles and surrounding infrastructure.
The state's connected and automated vehicles (CAV) pilot project, a partnership between the Michigan Department of Transportation  and Cavnue, will repurpose each lane within a three-mile stretch of Interstate 94 with digital technology to support the use of smart vehicles between Ann Arbor and Detroit.
"This pilot is the first-of-its-kind in the U.S. and will upgrade a portion of I-94 from Belleville to Rawsonville roads with technology to improve safety and operations by utilizing digital infrastructure," Michelle Mueller, Michigan Department of Transportation's senior project manager for connected and automated vehicles, told the Detroit News. "The pilot will allow us to document lessons learned, benefits, and evaluate potential business models for future deployment opportunities." 
The initial step involves equipping the highway's left westbound lane with digital infrastructure, with work expected to be completed by early next month. It will take an estimated two years to complete the first phase.
Poles equipped with radar sensors, cameras, and wireless radio equipment will be used to transmit data.
As part of the undertaking, the state is planning to repurpose an existing travel lane into a tech-enabled express lane in each direction, pending environmental reviews.
"A technology-enabled express lane uses physical and digital infrastructure to simplify operations for vehicles and to provide important information about the road ahead," said the state's transportation department. "The resulting lane is intended to make the road safer and more efficient for all drivers."
Cavnue, a Washington-based company focused on road technology, said it would work with an advisory committee including Ford General Motors, Argo AI, BMW, Toyota and others to move the project forward.
When the project was first announced, Cavnue touted it as "the world's most sophisticated roadway, combining innovations in physical, digital, coordination and operational infrastructure."
"At its core, the project is designed to be 'future proofed' and evolve to meet transportation goals, beginning with connected buses and shared mobility vehicles such as vans and shuttles, and expanding to additional types of CAVs such as freight and personal vehicles," it said.
CAV construction is underway as progress is made at the federal level to advance connected infrastructure.
Earlier this year, the Federal Communications Commission approved a joint application that will allow for the use of cellular vehicle-to-everything (C-V2X) technology to reduce collisions.
It allows applicants — including Ford, Jaguar Land Rover, and Audi — to use the technology in a spectrum of the 5.9 GHz band, which allows automobiles to communicate with each other, pedestrians, and nearby infrastructure.
And in March, the federal government awarded nearly $95 million in grants for projects nationwide that will make transportation systems safer and "more equitable."
Several of the initial 59 projects selected through the Strengthening Mobility and Revolutionizing Transportation (SMART) Grants Program are to prepare for a future with more electric and connected vehicles.
Images
Main image: iStock/metamorworks
Share This: