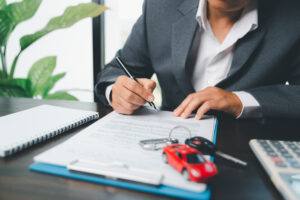 Mitchell: EVs remain more expensive, time consuming to repair
By on
Market Trends
Electric vehicles continue to cost more money and be more time consuming to repair compared to internal combustion engine (ICE) vehicles, according to a new analysis.
Mitchell's Plugged in: EV Collision Highlight found that during Q2, severity costs were higher for EVs by $963 in the U.S. and $1,328 in Canada. For Tesla specifically, costs were $1,589 and $1,600 higher respectively, Mitchell said.
"When we looked at EVs compared to ICE vehicles, they're significantly more expensive," Ryan Mandell, Mitchell's claim performance director, told Repairer Driven News. "We also have to keep in mind that these are newer vehicles, and their average cash value vehicles are much greater than the average ICE vehicle in general."
He added: "And so when we see that, it makes sense that we're going to expect there to be a higher cost of repair for these vehicles just based on those facts alone."
The report also noted that EVs continue to take more time to repair with an average of 8.51 refinish hours, compared to 8.02 refinish hours for ICE vehicles.
"When we start thinking about the EV — its engineering, the way it's designed, and the fact that you have to manage the high-voltage battery during the course of the repair, which involves additional labor — all these things will add additional costs beyond just the fact that this is a newer more expensive vehicle," Mandell said.
Mitchell's survey found OEM parts utilization to be higher among EVs as well, with 90.75% using original parts versus 66.5% for ICE vehicles. EV repairs required a lower percentage of parts as well.
Mandell attributed the higher use of OEM parts among EVs to the fact that there simply isn't a matured aftermarket available within the EV space, which is largely limited to recycled or original parts for repairs.
This is especially true given that Tesla accounts for about 75% of the EVs included in Mandell's report, which also documents the differences in claims severity and post-accident drivability.
Interestingly, Mitchell's analysis showed EVs tend to be designated as non-drivable less frequently than ICE vehicles, with just 10.31% of EVs deemed non-drivable during Q2. In comparison, 13.11% of ICE vehicles were non-driveable following a collision.
The exception is in collisions involving rear-end impact, where EVs are more likely to be considered less driveable (10.87%) than their ICE counterparts (9.72%).
Mandell said that while he didn't have a definitive answer on why EVs are more likely to be driveable in collisions not involving rear impact, he said it likely relates to more complicated mechanics in ICE vehicles.
"[They] have a lot more rotating parts that are likely to be disrupted during the course of an accident," he said. "At the front end of an ICE vehicle, you've got your cooling system, your AC, and all of this stuff that essentially ties into the belt pulley system. An EV doesn't have [to replace] any of that [after] a front-end accident."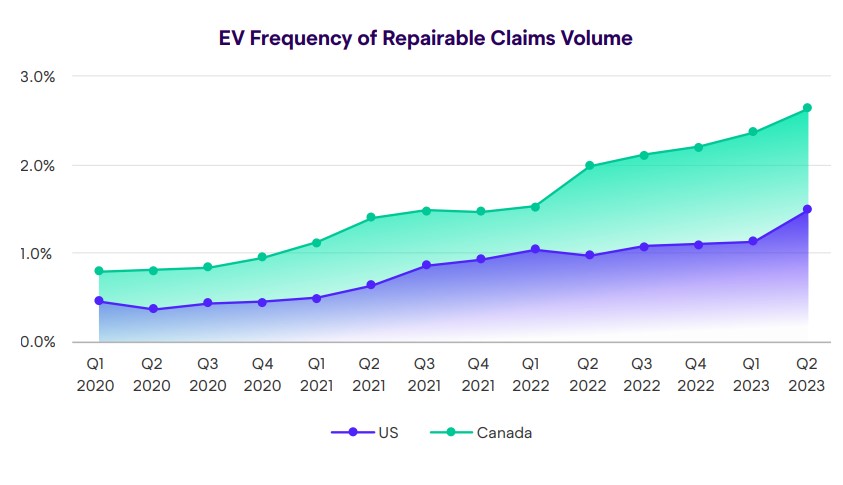 Meanwhile, EV repairable claims frequency rose to 1.49% in the U.S. and 2.64% in Canada during Q2, representing increases in both nations.
Mandell said the growth up north is noteworthy.
"Canada continues to just amaze me," Mandell said. "The fact that you're seeing such rapid growth in Canada, and you've got the province of B.C., which actually has a higher percentage of claims frequency than California.
"We're all in the collision repair ecosystem, and I think it's a unique opportunity to look to our neighbors to the north and kind of see what's happening now."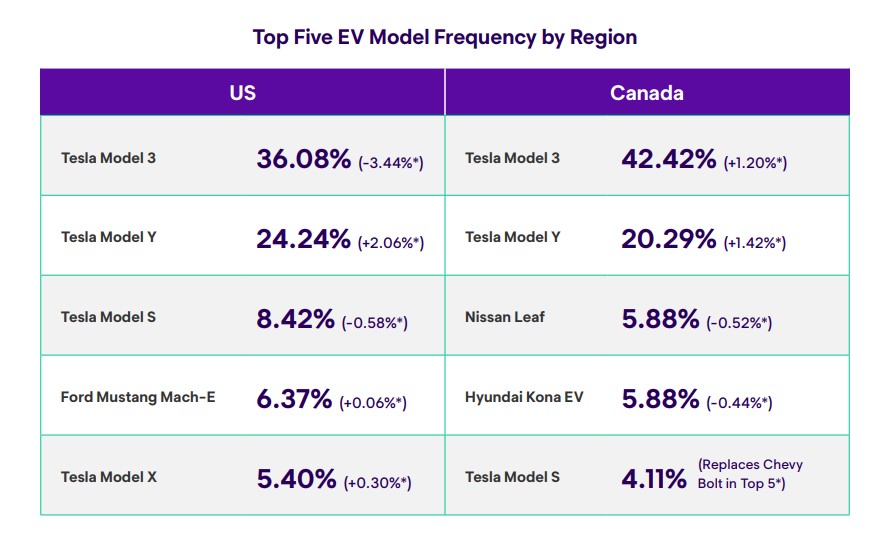 Mitchell's report also said that Tesla's market share of repairable vehicles dropped during Q2 to 74.57% of all EVs repaired, compared to 75.8% in Q1. The shift signaled that "the number of available EV models is affecting the types of vehicles repaired in collision facilities," it said.
"The most notable movement was in the repairable claims frequency of the F-150 Lightning, Ford's new battery electric light-duty truck. It saw more than double the volume in Q2 2023 compared to Q1, rising from 1.25% to 3.05% of EV repairable claims in the U.S.," Mitchell said. "In Canada, however, Tesla's market share actually increased to 70.67%, up from 67.87% in Q1, with the Model S reappearing in the top 5 list of most frequently repaired EVs in the country."
Images
Featured image: iStock/MarcusLindstrom
Graphics courtesy of Mitchell
Share This: