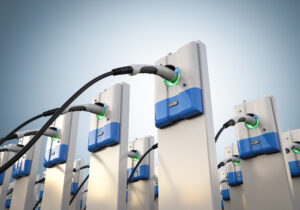 ComEd announces new commercial rate option to accelerate northern Illinois' EV adoption
By on
Market Trends | Technology
Commonwealth Edison (ComEd), the largest electric utility in Illinois, has revealed plans to help accelerate the adoption of electric vehicles (EVs) in northern Illinois as part of a $231 million investment in removing barriers that might otherwise dissuade consumers from making the transition. 
While sharing details on its new programs last week, ComEd announced a new EV charging delivery rate option to incentivize expanding the region's EV charging infrastructure network to meet a growing need.
The utility provider said its new rate option is available to all non-residential customers, like repair shops with EV chargers, and provides them with a "cost-effective alternative to demand-based delivery rates."
ComEd said the move will benefit customers expected to have near-term low charger utilization.
As in numerous other states, EV adoption is growing in Illinois, where nearly 70,000 of the vehicles are registered. The Renewable Energy Laboratory has estimated that between 18,000 and 36,000 additional fast charging stations will be necessary to support EV growth throughout the state.
"As we move towards developing a new fueling infrastructure for the state the utility role will only become more critical," said Megha Lakhchaura, Illinois EV officer.  "ComEd's new rate options will complement the state's investment in charging infrastructure and help create an expansive public charging network in Illinois."
ComEd and the region's Metropolitan Mayors Caucus (MMC) also announced last week that it will continue investing in the EV Readiness program, which was launched to help local governments meet the growing need for EV infrastructure. 
As part of that initiative, it selected 15 new communities to participate in its training program. That's on top of the 16 communities that took part in the program last year to learn more about supporting electrification.
"ComEd's investments in electrification have been essential as community leaders move to reach new climate goals, navigate funding opportunities, and adopt local policies that will make EV integration safe and equitable for the residents and businesses they serve," said Kevin Burns, MMC's environment committee and energy subcommittee chairman. 
As part of ComEd's previously-announced three-year investment in supporting EV growth, it said it will continue to roll out a number of new programs in coming months.
This includes new rebates, pilot studies, and make-ready infrastructure support, it said. It has previously made investments to help the power grid support EV growth.
ComEd's investments to support EV adoption align with its proposals filed with regulators earlier this year to enable the power grid to support the increasing number of EVs and solar resources while ensuring continued resiliency in the face of more severe and frequent weather events.
A number of organizations, including the fast charging station network EVgo, championed such efforts. 
"Commercial EV rates and make-ready programs are both market accelerants for transportation electrification," Sara Rafalson, EVgo's senior vice president of public policy, and External affairs for EVgo, said in a press release. "Through the Beneficial Electrification Plan, ComEd has laid the foundation to rapidly grow third-party investments in public charging."
The increased investment in supporting EV infrastructure and supporting communities was announced as a number of automakers, governments and private businesses work to improve access to charging stations.
According to a recent J.D. Power report, this is necessary to overcome the No. 1 barrier preventing drivers from switching to EVs: a lack of charging availability.
The study found that 49% of people shopping for a new vehicle rejected EV as an option due to infrastructure concerns.
A lack of charging availability has been the No. 1 reason shoppers have opted to stick with internal combustion engine (ICE) vehicles since J.D. Power's Electrical Vehicle Consideration Study was launched in 2021.
"With all of these influences shaping today's EV market, the biggest friction point for consideration is the availability of public chargers," said Stewart Stropp, executive director of EV intelligence at J.D. Power.
"The growth in public charging isn't keeping pace with the rising number of EVs on the road. While owners are impressed by what automakers are offering, they're also thinking about how, when and where they'll be able to charge their vehicles away from home. A resounding effort to build out and improve the public charging infrastructure will emphatically increase EV purchase consideration."
Images
Main image: iStock/
PhonlamaiPhoto
Share This: