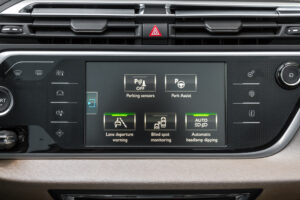 Study predicts over half, up to 69% of vehicles to come standard ADAS-equipped by 2050
By on
Technology
A new study sponsored by the AAA Foundation for Traffic Safety focused on the safety benefits of advanced driver assistance systems (ADAS) has concluded that more than half of U.S. vehicles will come equipped with a full ADAS suite by 2050.
The purpose of the study was to figure out how to estimate the number of vehicle crashes, injuries, and deaths ADAS features are likely to prevent through 2050, beginning with 2020.
"These technologies have a clear role to play in our efforts to minimize vehicle crashes and save lives on our roads," wrote C. Y. David Yang, the foundation's president and executive director. "However, it is important to have realistic expectations regarding the magnitudes of the safety benefits offered by technology, as well as how soon those benefits will be seen."
Researchers from the University of North Carolina at Chapel Hill, Duke University, and Kreuger Consulting wrote they kept in mind "complex and interconnected" factors that are likely to influence:
How well ADAS will work;
How widely they're offered on new vehicles;
The likelihood that consumers would buy ADAS-equipped vehicles;
How often ADAS features will be used; and
How quickly the technologies improve and mature.
ADAS features included in the study were blind spot monitoring, lane departure, forward collision warning, pedestrian detection, adaptive cruise control, automatic emergency braking, emergency steering assistance, lane keeping assistance, and SAE Level 2 autonomous driving. Level 2 means the driver must constantly supervise the actions of the vehicle and remain ready to accelerate, brake, or steer as needed.
By 2050, the findings suggest that 54% of the total U.S. vehicle fleet will be equipped with a full suite of ADAS including blind spot monitoring, lane departure, forward collision warning, pedestrian detection, adaptive cruise control, automatic emergency braking, emergency steering assistance, lane keeping assistance, or SAE Level 2 autonomous driving.
On the low end of the researchers' estimation, 30% of all U.S. vehicles will be equipped with all of the above, and on the high end, 69%.
ADAS technologies currently available to U.S. consumers are anticipated to prevent 37 million crashes, 14 million injuries, and nearly 250,000 deaths. That adds up to 16% of crashes and injuries and 22% of deaths that would otherwise occur on U.S. roads without these technologies, according to the study results.
"ADAS would be expected to prevent approximately 38% of all traffic fatalities that would have occurred in 2050 given current levels of ADAS effectiveness, uptake, and use, meaning that 62% of those fatalities (or approximately 27,000 fatalities) would still be expected to occur despite the anticipated ubiquity of ADAS by 2050," the researchers concluded. "These findings are consistent with previous research cautioning that automated vehicle safety systems are unlikely to eliminate all or most traffic fatalities and injuries in the near future (e.g., Mueller, 2020; Shetty et al., 2021).
"Thus, consistent with the Safe System Approach, which calls for a layered, redundant approach to safety, there remains a clear need to continue to invest in a wide array of proven traffic safety measures, including but not limited to vehicle technology."
One-third of nonfatal and 50% of fatal crashes involve lane departure, many of which occur in darkness, according to the study. Therefore, researchers conclude that lane departure warning and lane keeping assistance systems are substantially impactful on ADAS safety.
However, the capability of a vehicle's ADAS to prevent crashes doesn't hold much water if the driver doesn't use it. When the attractiveness of ADAS, or how likely drivers are to use them, is increased or decreased by 20%, effectiveness is correspondingly affected up or down by 5%.
The rate at which improvements in technology, design, manufacturing, et cetera, lead to cost reductions of ADAS-equipped vehicles seemingly has little influence, according to the study.
"Other than for technology attractiveness, even large increases in parameter values generally result in increases of less than 2.5% in the predicted numbers of fatalities and injuries prevented by ADAS in 2050," the study states. "This is because many of the parameter values in 2050 are already approaching their theoretical maximum values, limiting the potential for gains to be achieved by increases/improvements in many of these parameters.
"By contrast, decreasing the values of the same parameters was predicted to lead to relatively larger reductions in the numbers of fatalities and injuries prevented by ADAS."
The full report, or a summary, can be viewed and downloaded here.
Separate research released in June by the AAA Foundation and SAFER-SIM University Transportation Center on adaptive cruise control use found that drivers' understanding of it improved as they used it more.
"[O]ne practical implication that can be drawn from this study is that when introducing ADAS-equipped vehicles to new users, an effective strategy should consider targeted exposure to different situations either through direct experience or through training," the report states. "Prior driver training studies have adopted similar error-feedback approaches to provide a controlled and safe exposure to risky situations, where drivers can safely make mistakes and learn from them. Such approaches could form an important pillar in terms of future training or consumer education research about ADAS and other advanced vehicle technologies."
According to S&P Global Mobility survey results, also released in June, nearly 35% of respondents said they own vehicles with forward collision warning, and 30% said they drive vehicles with blind spot detection.
Overall, the survey showed that those shopping for a new car want the vehicle to include ADAS and are less enthusiastic about semi-autonomous features. The most sought-after ADAS features are blind spot warning, automatic emergency braking for cyclists and pedestrians, and night vision.
Images
Featured image: Examples of ADAS available to drivers on a vehicle. (Credit: supergenijalac/iStock)
Share This: