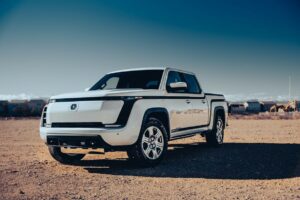 Lordstown agrees to $40M settlement to sell company amid bankruptcy
By on
Legal
Lordstown Motors Corp. has reached a $40 million settlement with Karma Automotive in an intellectual property rights dispute and, if the terms are approved in court, it will be able to proceed with selling the company.
Karma and Lordstown both make electric vehicles (EVs). However, Lordstown has failed to bring its EV pickup truck, the Endurance, to market. Calling the suit the "single largest claim that has been asserted" against Lordstown, attorneys noted in the settlement motion that Lordstown says it has only been able to operate on a limited basis since June when it filed Chapter 11 bankruptcy and a lawsuit against Foxconn.
Foxconn allegedly didn't hold up its promise to invest millions in manufacturing the Endurance and a new vehicle development platform. Essentially, Lordstown blames Foxconn for its bankruptcy in the suit stating that Foxconn "over time, had the intended effect of destroying the business of an American start-up," including when it bought what Lordstown says was its unique and most valuable asset — a factory in Lordstown, Ohio.
Karma's suit, filed in California in October 2020 and later amended, seeks more than $900 million in damages for:
Violation of the U.S. Computer Fraud and Abuse Act;

Misappropriation of trade secrets in violation of the U.S. Defend Trade Secrets Act;

Misappropriation of trade secrets in violation of the California Uniform

Trade Secrets Act;

Breaches of a confidentiality agreement, independent contractor agreement, letter of intent, duty of loyalty, and fiduciary duty;

Tortious interference with contract and prospective economic advantage;

Unfair competition in violation of California's Business and Professions Code;

Conspiracy;

Fraud; and 

Violation of the U.S. Racketeer Influenced and Corrupt Organizations Act (RICO).
Karma contends that Lordstown misappropriated trade secrets and intellectual property from them. Until intellectual property ownership is determined in court, Karma said Lordstown can't sell its company because part of the value comes from Karma property. Some of the accused include former Lordstown employees.
In light of the Chapter 11 case, the California District Court stayed any action but didn't vacate the lawsuit trial, set to begin on Sept. 12. On July 31, the court ordered that Karma could proceed with a jury trial and post-trial motions against Lordstown.
"[A] verdict giving Karma even a fraction of the damages that it seeks would significantly impair creditor recoveries in these Chapter 11 Cases (to say nothing of stockholder recoveries)," Lordstown's Aug. 15 settlement motion states. "By contrast, a consensual resolution of Karma's claims pursuant to the Settlement Agreement will fix the Debtors' liability to Karma at approximately 4.4% of the amount that Karma seeks, resolve the Debtors' most significant contingent liability, and significantly enhance the probability of full creditor recoveries and of recoveries for stockholders."
Lordstown has cut operational costs, preserved cash on hand, and is looking to sell quickly "to maximize the value of their assets, and bring all claims before this Court for the purpose of effectively resolving them," attorneys for Lordstown wrote.
Karma claims that Lordstown cut costs and development time through "feigned interest" in an infotainment development partnership with Karma. Prior to spending five months working with Karma's engineering and project management staff, Lordstown allegedly said it would pay to do so.
"Faced with pressure from investors, regulatory authorities, and the general public about its significant development and production delays, LMC decided to take a shortcut and steal Karma's trade secrets," Karma wrote in its suit. "By doing so, LMC hoped to avoid — in the words of its own executives —millions of dollars in costs, and months if not years of development time.
"…The courtship was a ruse and the promised check never arrived. Instead, LMC used those five months to begin poaching and onboarding key Karma employees, and to steal Karma's confidential information and trade secrets — not just about the infotainment system being developed but about every aspect of Karma's business."
If granted, $5 million of the settlement will be a one-time royalty payment as part of a license agreement with Karma.
Canoo, another EV startup potentially in financial trouble, said on Monday that it had substantial doubts about its ability to continue operations for the next year, according to a Reuters report. It reported cash and cash equivalents of $5 million as of June 30, compared with $36.6 million at the end of December.
Reuters reports that while Canoo's shares went up 2% in extended trading, its Q2 loss was still $70.9 million; although, that's down from $164.4 million in Q2 2022. Also, research and development costs fell about 67% in the quarter, lowering operating expenses to $73.6 million from $173.5 million a year earlier.
Images
Featured image: 2023 Lordstown Endurance (Provided by Lordstown Motors)
Share This: