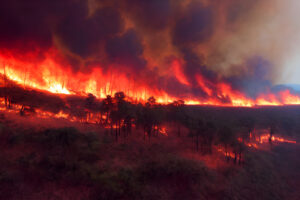 CIF offers help for repairers affected by Hawaii fires
By on
Announcements
The Collision Industry Foundation (CIF) says it's facilitating disaster relief assistance to collision repair professionals affected by the devastating Lahaina, Maui fires.
"Our hearts go out to all those impacted," said Michael Quinn, who is leading the relief efforts as CIF's immediate past president. "The CIF has already taken several actions, and we are ready to provide more help. We also encourage all industry stakeholders to support collision repair employees, technicians, and their families in the face of this crisis. 100% of your tax-deductible donations to CIF will be going towards Lahaina, Maui recovery efforts."
Lahaina was largely reduced to ashes and more than 100 people were killed after a brush fire spread to the area August 8.  As of Friday, about 90% of the blaze, which burned through more than 2,100 acres, was contained.
Petra Schroeder, CIF secretary, said immediately after the disaster took hold, the non-profit began making social media posts to raise awareness of relief efforts. Its members also reached out to paint, distribution, and equipment companies, as well as information providers and other companies, to help locate collision repair professionals in need, she said.
CIF has also made phone calls to people they know living in Hawaii to seek help and information, and published a press release to spread the word about its efforts.
On top of that, it connected with shop owners who have experienced similar situations before to better understand the needs of affected repairers.
"It's such a tragedy and hard to comprehend," Shroeder told Repairer Driven News. "Especially when talking to the affected people, this really hits home and gets personal. We encourage everyone to do their utmost best in supporting Lahaina, Maui."
So far, Scroeder said she's aware of two shops with multiple employees affected by the fires, with one person still missing.
"All of the collision repair industry members–also on the other islands–are on high alert to share information they receive," she said. "This industry has a big heart and the companies and organizations come together quickly to help their own. We have connected with some and will connect with more."
To further raise awareness about its fire relief fundraising campaign, CIF has renamed the "general donation" section of its website to "Lahaina relief efforts/general donations" and moved it to the top of the donation choices.
Aside from donating money, Schroeder said other members of the collision repair industry can help by thinking of creative ways of assisting those affected.
"It's not always money, but thinking of donating tools," she said. "Tax deductible donations to the Lahaina Relief Effort are welcome."
The CIF is a 501(c)3 charity which provides replacement tools and necessities to collision professionals and shops impacted by catastrophes, as well as other parties related to the industry.
Quinn noted that making cash donations to industry professionals is also at the heart of CIF's mission.
"Payroll ends for technicians and staff of facilities that are destroyed in events like these.
We will work to re-tool these technicians who lost everything," Quinn told RDN. "We are an all-volunteer organization made of collision repair professionals who mobilize when tragedy strikes.  At CIF, we answer the call and assist our brother and sisters in need."
Those looking to make a donation can do so here, while those seeking assistance related to the fires can click here.
Images
Main image: Forest fire stock photo (i-Stock/mbala mbala merlin)
Share This: