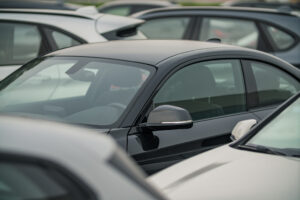 Over 400 salvage vehicle charges filed against NC dealership, customers not informed of damages
By on
Legal
As the result of a six-month investigation by the N.C. Division of Motor Vehicles License & Theft Bureau, former employees of North Carolina-licensed franchise dealer Nissan of Shelby are facing more than 400 title, inspection, and undisclosed damage charges.
The charges stem from records reviewed back to December 2022.
Charges have been filed in Cleveland County against 12 former employees. The bureau determined that 31 vehicles were sold at the dealership without properly disclosing damages on DMV forms. The other charges were violations of dealer procedure during the selling process that didn't necessarily have a direct impact on customers, according to DMV Communications Manager Marty R. Homan.
The initial investigation centered around the process used by individuals or dealers to rebuild salvage vehicles and the documents used to transfer the titles of those vehicles. During the investigation, more information was found that led to additional charges.​
Homan told Repairer Driven News the investigation was the result of a WBTV news story that found totaled and flooded vehicles for sale on the dealership's website.
No complaints had been received about the dealership when the investigation began in February, according to Homan. Some have been received since the charges were filed last week and are being reviewed by the bureau, Homan said.
Charges filed are:
110 counts of NCGS 20-183.4(c) Failure to Inspect Vehicle Prior to Being Offered for Sale;
137 counts of NCGS 20-75 Fail to Deliver Title;
36 counts of NCGS 20-71.4 Fail to Disclose Damage;
101 counts of NCGS 20-79.1 Improper Use of Temporary Markers;
1 count of NCGS 20-74 Making False Statement about Date of Sale;
24 counts of NCGS 20-79.1 Improper Use of Markers.
Because of a corporate change in ownership in 2020, Homan said there shouldn't be any problem with the current owners and employees working out residual issues from prior ownership.
In an Aug. 15 video on the dealership's Facebook page, General Manager George Ewing said, "I wanted to reach out and remind you this is where we do the right thing the first time, every single time… in the coming days you may see some news reports about events that happened back in February of this year dealing with flood vehicles and some salvage titles. 
"We're working closely with the North Carolina DMV and we look forward to anything that they have to share with us and with you."
He noted the dealership has a new management team and encourages viewers to call him directly or stop by with questions or concerns.
In a separate video, Ewing tells customers who have purchased vehicles from the dealership in the past few years and aren't happy with them to bring them in for purchase or trade-in.
When RDN asked Nissan about the charges, the OEM responded: "We are aware of charges. This is a matter for the authorities and we do not comment on pending litigation."
Customers with issues stemming from the charges can contact the License & Theft Bureau or submit complaints through its online portal. The portal website says accepted complaints include those that have to do with:
Title fraud;
Curbstoning;
Odometer fraud;
Identity theft;
License & Theft Bureau employees; and
Businesses such as auto dealerships, inspection stations, scrap yards, etc.
RDN reached out to Automotive Recyclers Association (ARA) Director Sandy Blalock to talk about fraudulent used car activities across the country and what potential buyers and shops can do to curb it.
"Buyer beware — if it looks like it's too good of a deal, it probably is," Blalock said. "If the seller is not willing to allow you to have that vehicle taken to a third party for inspection, then that would trigger in my mind, 'Walk away now while you can.'"
Fraudulent activity ranges from curbstoning to title washing, rebuilding titles, and cloning.
Curbstoning is an illegal scheme to draw shoppers to a roadside or vacant lot to buy unfit cars without permits, licenses, or mandated consumer protection. Oftentimes, individuals say the vehicles are their own personal cars but in reality, they've been bought at auction, rebuilt — likely not following any OEM repair procedures — and put back on the road.
Title washing is when the true identities of vehicles are masked, such as by skipping an owner who didn't sign the title and/or getting false documents to make a fraudulent title appear clean. It's a side effect of curbstoning.
Cloning means using a VIN from a legally registered car to hide the identity of a stolen or salvaged vehicle. It's also used to sell cars that should've been marked salvage.
The ARA has always been concerned with the lack of regulations and restrictions on salvage-titled vehicles that are sold, Blalock said.
"There are just very few restrictions on who can buy those vehicles and then there's definitely nobody on the other side watching or having the hawk eye out on what happens to those vehicles once they're acquired," she said. "We are forced to compete in a market where we're bidding against people that are doing just what this [dealership] was doing."
However, more legislation isn't the solution, she added.
"There certainly are ways to at least put, what I would call, transparency in the transactions that are happening in just requiring more reporting by the people that are buying those vehicles," Blalock said. "I think there are enough laws on the books now that maybe some work needs to be more closely done with the state's attorney generals and looking at the consumer protection laws."
Scott Benavidez, owner of Mr. B's Paint & Body Shop in New Mexico and Automotive Service Association (ASA) board chairman, also shared with RDN that third-party inspections are always a good idea for used car shoppers to consider. The inspections are required in New Mexico under state law. Benavidez's shop offers the inspections.
"We lift the car up in the air, mil gauge the paint, look for damage that was previously done and then we re-engineer an estimate to say, 'This is approximately what was done to this vehicle…' from PDR [paintless dent repair] work to hail damage to water intrusion," he said.
"You can't dissemble the whole vehicle and figure everything out but we can figure a lot of it out to get that customer a good idea of what they're buying and if it's even safe. A lot of them are salvage vehicles that are repaired unsafely."
Benavidez called it a good turnaround, not only for consumer safety but for trust in dealerships because they're picking out better vehicles to sell.
Images
Featured image: Stock photo of used cars for sale on a lot. (Credit: deepblue4you/iStock)
Share This: