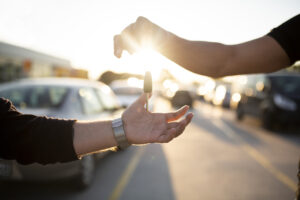 Report: Customer satisfaction with vehicles rising
By on
Market Trends
Customer satisfaction with automobiles rose 3% year-over-year, with high-end models continuing to outpace lower-budget alternatives, according to a newly released report.
This year's American Customer Satisfaction Index (ACSI) Automobile Study found Toyota outpaced its competitors in buyer satisfaction, Tesla and Lexus led the luxury segment, and that electric vehicle (EV) and hybrid models bested their internal combustion engine (ICE) counterparts.
"Satisfaction with the auto industry as a whole has fully rebounded to pre-pandemic levels, and consumer demand is strong despite rising interest rates," said Forrest Morgeson, ACSI's director of research emeritus. "The supply chain kinks that slowed production during the pandemic are starting to wane, and more cars are back in stock."
He added: "Nearly every aspect of the driver experience — including driving performance, safety, dependability, gas mileage, and warranties — is better. And, despite higher prices, value perceptions have improved as well. These factors bode well for automakers — and their sales figures — in the second half of 2023."

Toyota improved its customer satisfaction score by 5% during this year's study to reach 84 points, outperforming competitors like Subaru (82 points), Honda (81 points), and Mazda (80 points).
ACSI attributed its edge to a number of factors.
"The automaker's production system appears to have made it more resilient in the face of pandemic-driven supply chain disruptions, while strong showings for gas mileage, dependability, and quality for the price factor into its successful year," it said. "Furthermore, despite Toyota dealers' consistently low inventory, 35% of American car shoppers considered purchasing a Toyota product — more than any other car brand on the market."
Chrysler scored the poorest with 71 points, representing a 1% year-over-year drop for the automaker. Other OEMs lost grounding, with Nissan and Volkswagen both down 3% and Ram dropping 5%.
An ACSI spokesperson said the lower-scoring OEMs were more heavily affected by supply chain issues.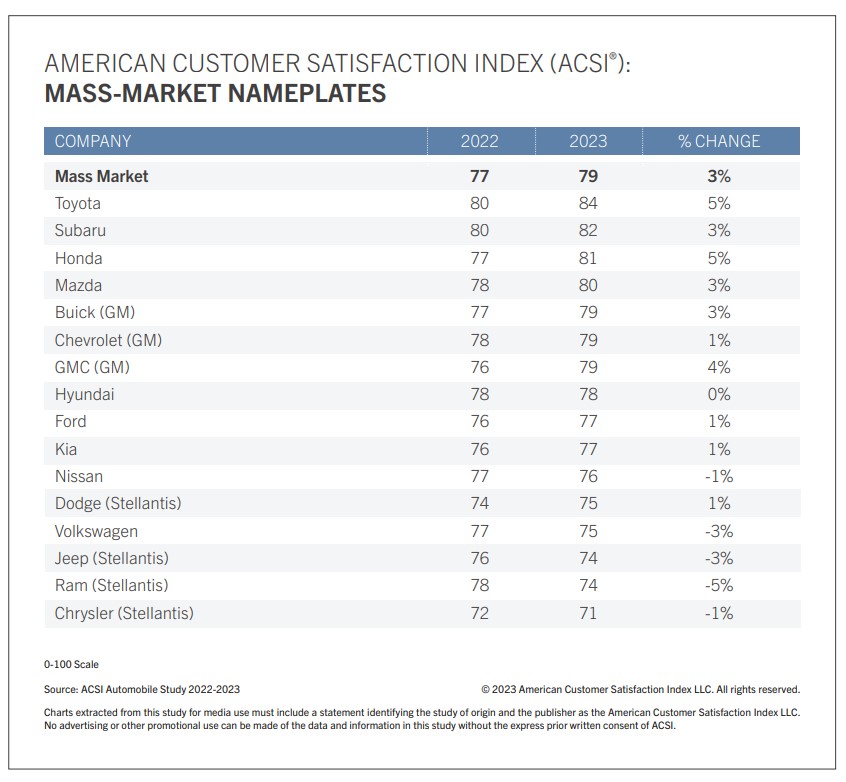 Within the luxury segment, Tesla and Lexus tied in customer satisfaction with 83 points, followed by Cadillac (82 points). Audi, BMW and Mercedes-Benz each scored 80 points.
The study noted another trend: more younger buyers are opting for luxury vehicles and are consequently more satisfied than others their age buying cheaper models.
Among survey respondents aged 26 to 41, satisfaction is five points higher for luxury car owners than it is for mass-market buyers, ACSI said.
"For these younger buyers, technology is the driving factor," it said. "In this area, luxury vehicles live up to the hype: They outperform mass market by a score of 83 to 78."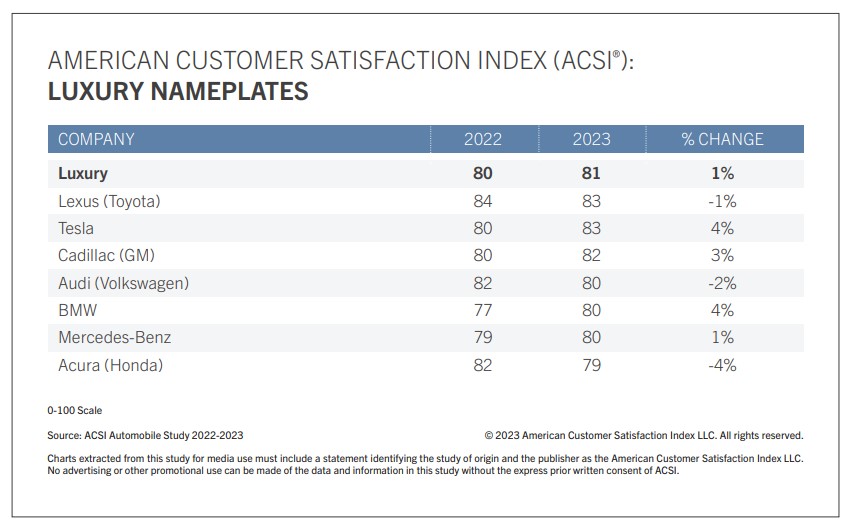 The survey also found that drivers of EV or hybrid vehicles are more satisfied than those who drive gas-powered alternatives.
Drivers of both electric and hybrid vehicles are more satisfied than customers who own or lease gas-powered cars.
However, the study also noted that infrastructure growth and EV adoption have room for progress, as does dependability.
"EVs must improve before automakers can justify the price differential for a broader audience," Morgeson said. "Early EV adopters find these vehicles perform well relative to their expectations, yet ACSI data show they are only superior in technology and warranties. That is not enough to convince more consumers to leave gas in the past."
A new study from J.D. Power also highlighted the need for more EV infrastructure, finding that while automakers continue to introduce new EVs and experience growth in market share, public vehicle charging infrastructure has not kept pace.
"If anything, it is falling further behind," J.D. Power says. "The recent move to open Tesla Superchargers to non-Tesla owners could improve the situation but such effort might not be the answer that some suggest, as overall satisfaction continues to decline."
The ACSI study was based on interviews with 8,941 customers contacted at random via email between July 2022 and June 2023, ACSI said.
Images
Main image: Burak Fatsa/iStock
Secondary images courtesy of ACSI
Share This: