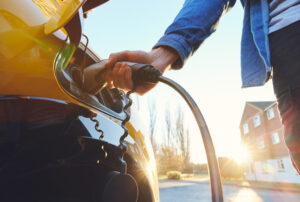 EV owners experience more issues with vehicle technology, study says
By on
Technology
Owners of battery-electric vehicles (BEVs) are more likely to experience problems with advanced technology than drivers of internal combustion engine (ICE) vehicles, a new study shows.
J.D. Power's 2023 U.S. Tech Experience Index, released last week, focused on user experience with advanced technology that's new to the market to track problems experienced by drivers during the technology's early days.
Its study was based on responses from 82,472 owners of new 2023 model-year vehicles surveyed after 90 days of ownership.
According to J.D. Power's findings, among 17 of the 21 advanced features offered by both ICE vehicles and BEVs, the latter vehicle type had more quality problems per 100 vehicles (PP100) with the exception of Tesla, which was not included in the analysis.
The survey found that satisfaction with technologies such as remote parking assistance and interior gesture controls was 86% lower among BEV owners than it was for those driving ICE vehicles.
"Innovation through a strong advanced tech strategy is crucial for all vehicle manufacturers, especially those working to build their reputation in the electric vehicle space," said Kathleen Rizk, senior director of user experience benchmarking and technology at J.D. Power.
She added: "The perception in the industry is that most BEVs should offer many advanced technologies to compete with high-tech entrants like Tesla. Success will be dependent on those manufacturers that can execute flawlessly while ensuring the user experience is the same for those who are tech-savvy and those who are not."
J.D. Power noted that where newer electric vehicle (EV) OEMs like Tesla, Rivian and Polestar are delivering innovative new technologies, they are falling short elsewhere.
"Innovation and tech offerings are high for new manufacturers, but they are not providing a problem-free experience," it said. "Average problem levels for advanced technologies among new manufacturers, except for Polestar, are well above the premium average of 24.3 PP100 and are among the highest in the industry."
The study also touched on biometrics, saying those that monitor things like eye movement are less problematic than technologies that monitor physiological characteristics such as facial recognition.
"Regardless of the biometric type, owners say they do not consider them to be useful," J.D. Power said. "Despite continued usage, biometric technologies have low desirability in terms of owners wanting them in their next vehicle compared with other advanced technologies."
Among BEVs, the report said plug-and-charge technology is liked nearly universally across manufacturers and among vehicle owners.
On the flip side, it said enthusiasm for advanced driver assistance systems (ADAS) was waning slightly year-over-year. Satisfaction dropped for reverse automatic emergency braking, safe exit assist, and automatic emergency steering.
"While usage rates are still relatively high, small declines across several technologies is a worrying sign that reinforces the need for automakers to remain diligent on providing a positive customer experience so that trust and perceived feature usefulness are not negatively affected," J.D. Power said.
Its latest survey was published less than a month after a separate J.D. Power study that also highlighted customer dissatisfaction with new vehicles. That study found that new vehicle owners experienced a consecutive year-over-year decline in customer satisfaction for the first time in the 28-year history of a J.D. Power report.
Images
Main image: iStock/SouthWorks
Share This: