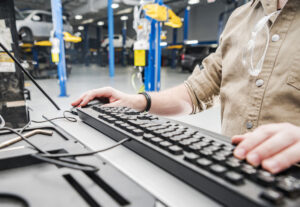 Mitchell International and CCC Intelligent Solutions have acknowledged the growing necessity of vehicle diagnostic scans and calibrations and say they want to ensure collision repair technicians have what they need to properly perform them.
Members of the CCC team are visiting its collision repair customers across the country "to better understand their needs and questions related to repair scanning and calibrations."
"Diagnostics scans and calibrations have become increasingly important as more technology and advanced driver assistance systems become standard in more vehicles," CCC told Repairer Driven News. "Our repair customers frequently ask us about how they can improve operations around scanning and calibrations as a way to drive efficiency and transparency into their processes.
"Our scan tour is designed to educate them on the topic and to demonstrate how our CCC Diagnostics solution can help them view the results of pre-, in-process, and post-repair diagnostic scans from their selected solution provider(s) directly in CCC ONE."
Others in the industry have also stressed the importance of not only properly conducting scans, calibrations, and recalibrations according to OEM repair procedures but also documenting every part of the repair process, including those steps.
Some other examples of why documentation is important have been previously provided to the industry by Automotive Education & Policy Institute founder and National Association of Insurance Commissioners (NAIC) consumer liaison  Erica Eversman and Collision Safety Consultants of West Virginia owner Steven Krieps.
Eversman said in May that documenting everything, from what's charged to procedures, creates consistent standards and helps shops get paid, especially from insurance carriers who will compare claims documents during subrogation.
"[I]f it's not in your physical documents somewhere, it didn't happen," she said.
Krieps added that shops tend to underestimate the value of SOPs but when established and documented, they create consistency and credibility. And every job doesn't have to be accepted, he said. It's also about safety.
Also regarding documentation, repairers that use certain Mitchell scan tools will now be able to use a new feature in Mitchell Cloud Estimating that automatically detects a completed scan or calibration and allows users to quickly add it as a line on the collision damage appraisal, according to the company.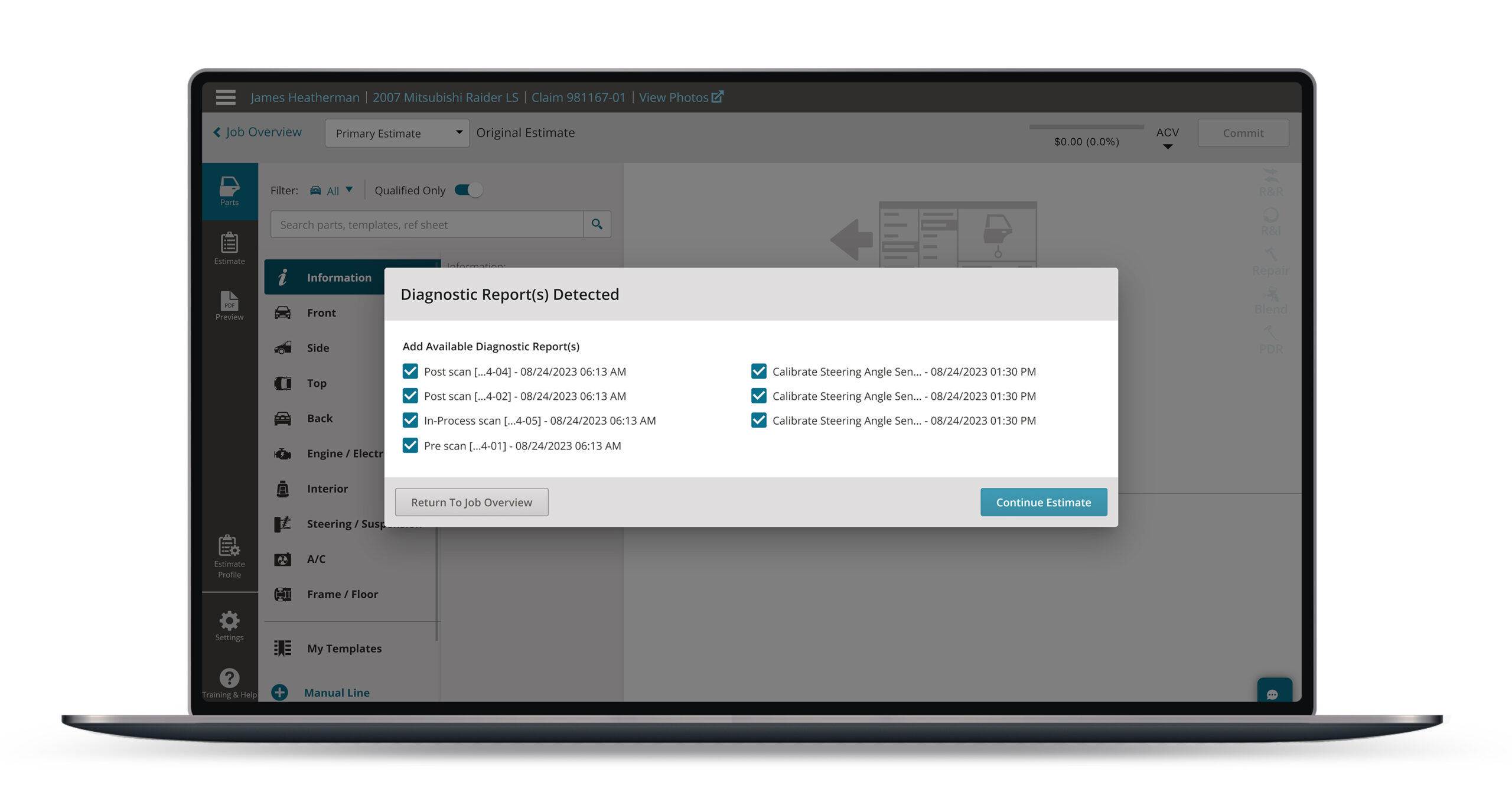 The feature indexes the related scan and calibration documents associated with each claim and, in the estimating system, brings up a list of available scan and calibration operations related to the vehicle. Estimators can select the applicable diagnostic lines and input operations, labor times, and price figures.
"This enhanced integration between carrier and shop workflows helps ensure that estimates include the appropriate diagnostic procedures performed," Mitchell said. "It is also designed to assist independent staff and shop appraisers with maintaining accurate records while giving vehicle owners added visibility into the repair work completed."
The new feature is only available on Mitchell scan tools so it won't work for CCC or Audatex estimates using a Mitchell Diagnostics device or for a Mitchell Cloud Estimating estimate using a different scan/calibration tool.
"Right now, the integration automatically detects diagnostic procedures performed by Mitchell Diagnostics," Mitchell told RDN. "Currently, we do not have plans to extend support to third-party scan and calibration tools."
The company also announced that its customers have used the Mitchell Diagnostics platform to conduct more than 5 million scans and 125,000 static and dynamic calibrations in the U.S. and Canada.
After bringing the MD-500 all-in-one device to market Mitchell saw scan volume within the platform grow by more than 2 million in less than two years and a 150% increase in calibrations since late 2021 when the MD-TS21 target system was released.
"Diagnostic scanning and calibration are becoming a standard part of collision repair," said Jack Rozint, senior vice president of repair sales at Mitchell. "By enhancing our Diagnostics as a Service platform and more tightly integrating it with Mitchell Cloud Estimating, we can provide collision facilities with an end-to-end solution designed to efficiently manage repairs, documentation, and billing."
Images
Featured image: Stock photo of a vehicle repair shop. (Credit: welcomia/iStock)
Secondary image: Mockup photo of Mitchell's new scan and calibration feature in the Mitchell Diagnostics platform. Claim number and information are fake. (Provided by Mitchell International)
More information
Looking to the future: CIC chair, panel talk influences on the industry & telematics
Share This: