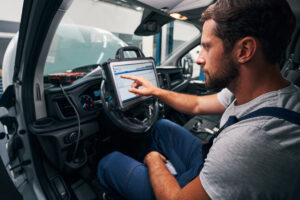 EV adoption and increased technology driving rise in repair costs, CCC says
By on
Announcements
The growing electric vehicle (EV) and advanced driver assistance system (ADAS) markets are forcing shops to spend more time and money properly repairing the vehicles, CCC Intelligent Solutions said.
Its latest trends report highlighted how modern vehicles are pricier to repair due to their electrical and part components as well as the extra tools, labor, and training necessary to return them to their original state following a collision.
CCC's data showed the total cost of labor for vehicles manufactured in 2021 with autonomous braking was up to 19% higher than repairs to vehicles made in 2015 that lacked such technologies.
Other industries have experienced surges in expenses as well. For example, the heating, ventilation and air conditioning (HVAC) and commercial refrigeration equipment sector has been spiking in the U.S. for the past few years. Costs grew by 7.2% in 2021 and 20% last year, according to Statista.
Labor rates have also risen overall, according to a Reuters report that showed average hourly earnings were up 4.3% year-over-year in August.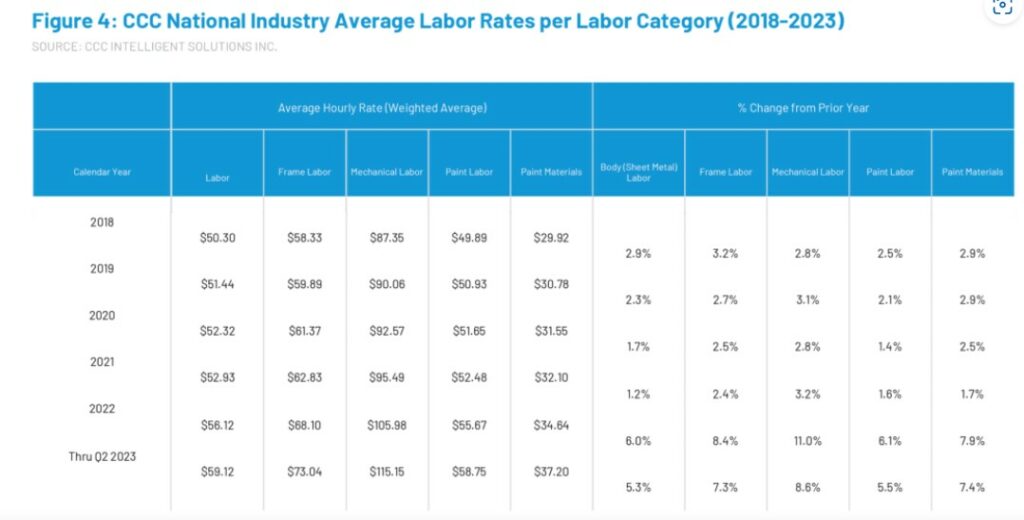 So far in 2023, 47.4% of non-comprehensive claims include mechanical labor, which now has an average hourly rate of $115.15, CCC said. The current labor rate represents an 8.6% year-over-year rise.
"And as shops incur higher costs to attract, train, and retain talent, we might expect to see continued increases in labor rates within this highly competitive market," CCC said in its report.
"Additionally, repairing complex vehicles now requires even more specialized skillsets to support tasks like replacing complex parts, reviewing diagnostic trouble codes (DTC), and performing scans and calibrations, which continue to steadily increase."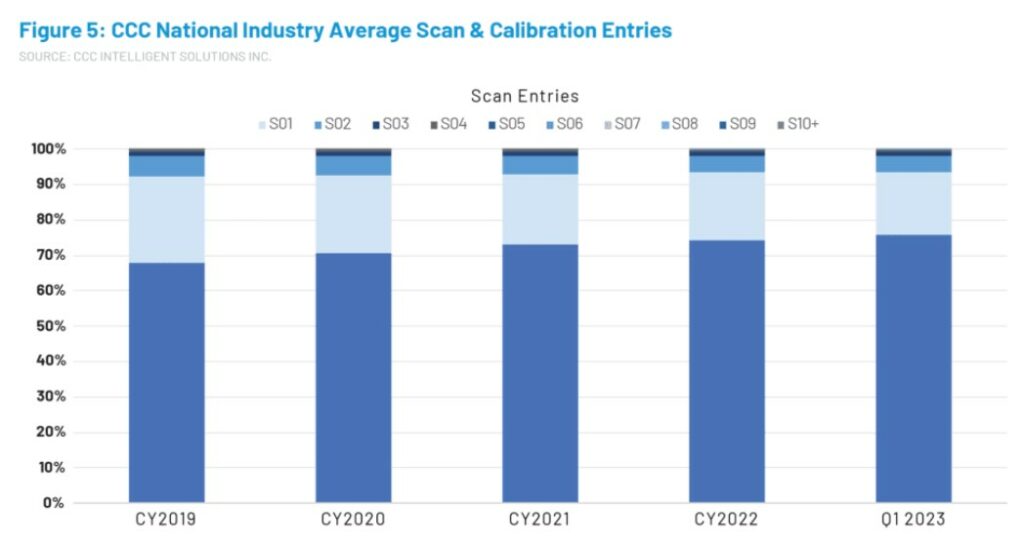 During Q1, nearly 60% of repairable appraisals included a scan procedure representing a nearly 8% year-over-year jump, CCC said. During the same time period:
More than 70% of current year or newer vehicles included a scan, the highest percentage CCC has seen;

13.6% of appraisals included fees for calibration operations, a 5% year-over-year increase; 

27.7% of current-year or newer vehicles and 24.1% of vehicles one to three years old included a calibration.
"With complexity comes cost," the report said. "Average costs for these operations continue to steadily increase. In comparing first quarters, the average scan is +$11.40 and calibration is +$48.00 in 2023. In cases where repair shops cannot complete calibrations, those operations are subcontracted out to dealerships or other vendors… which can result in increased cost and cycle time for the repair process."

CCC's report also detailed how the average estimate for a front-end repairable claim for a drivable vehicle was $3,706 last year, a 15% year-over-year increase and nearly 40% higher than 2019's $2,748 cost.
Kyle Krumlauf, CCC's director of industry analytics, said the organization's analysis found that nearly 50% of the increases were driven by parts, including the total number of parts used in repairs and the costs per part.
"Labor accounted for over 30% of repair cost increases – once again, driven by both the number of hours per repair and the increases in hourly labor rates," Krumlauf told Repairer Driven News. "The average number of lines (tasks) per appraisal has also increased, which is a reflection of the number of parts or labor operations required."
Perhaps unsurprisingly, vehicles that are more than seven years old are generally more than $1,000 cheaper to repair than newer models with ADAS features following a front-end crash where the vehicle remained both drivable and repairable.
The cost was attributed to ADAS sensors as well as higher labor and parts costs.
More expensive repairs are also being felt by insurers who are accounting for the price spikes through increased claims severity, time spent managing claims, and policyholder attrition, CCC said.
"Auto insurers lost an average of 12 cents on every dollar of premium they collected in 2022 — the worst performance in more than 20 years," the report said. "This is, in part, due to the higher cost of repairs and replacements for more complex vehicles, which can lead to increased frequency of insurance claims, affecting insurers' claim payouts and overall costs."
Further pushing up costs for insurers are drivers who disable ADAS features, which results in more crashes due to riskier behavior, CCC said, adding that its research found that more than 70% of drivers have disabled ADAS features.
They did so because they believed the features weren't working properly, that they weren't necessary, or that they were a distraction, CCC said.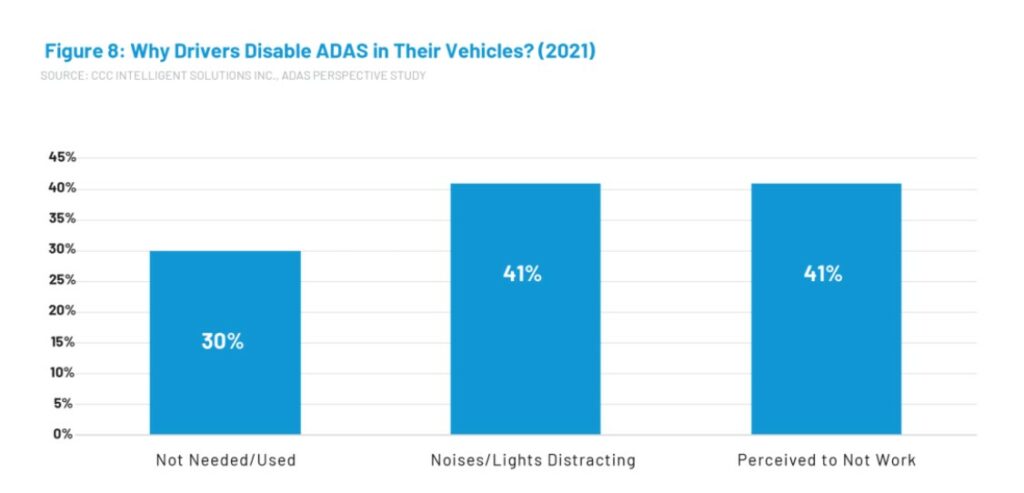 CCC's report also found that EVs are taking four days longer than internal combustion engine (ICE) vehicles to get into shops and another four extra days for repairs to be completed, according to a new CCC Insights study.
However, it also found that total cycle time was down was down 10 days for EVs and six days for non-EVs during Q1.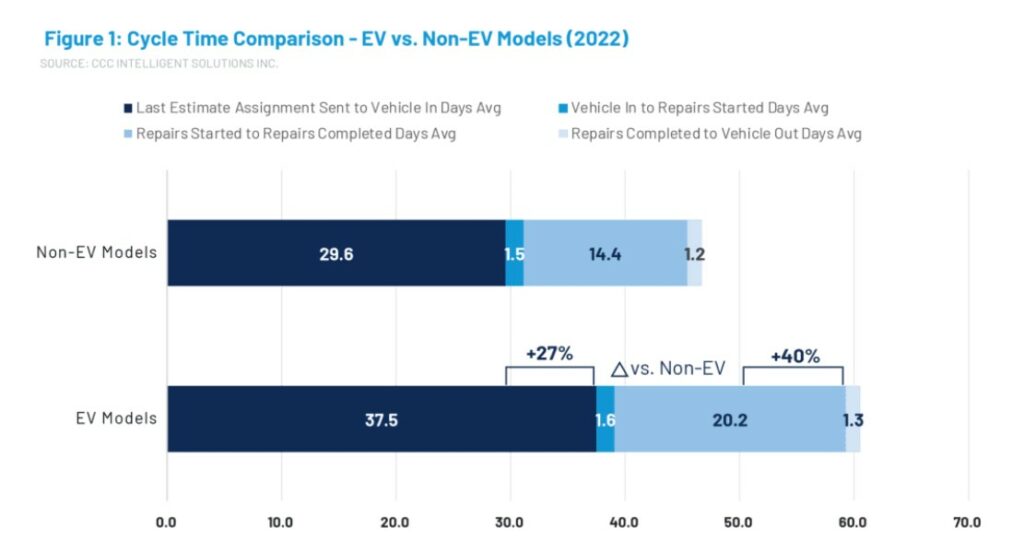 Going forward, CCC said collision repairers that prepare for the industry's transformation through training and investment are likely to get out ahead.
"Claims organizations and repair shops have turned to AI technology-enabled solutions as industry professionals explore new ways to provide better, more intelligent experiences, starting with automating highly repetitive, low-skill tasks, which frees up their time to work on more important ones," the report said.
"…And finally, repair shops that invest in better training, tooling, and technology that supports parts procurement and seamless connections to third-party vendors and partners may be best positioned to save time, money, and customers amid the new vehicle technology revolution."
Images
Featured image: yacobchuk/iStock
Graphics courtesy of CCC Intelligent Solutions
Share This: