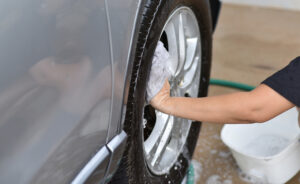 Driven Brands business cited with numerous OSHA violations, fined $256K
By on
Legal
While the potentially deadly risks of mixing electricity and water are well known, OSHA says a Take 5 Car Wash in Ohio, operated as a subsidiary of Driven Brands Shared Services, "ignored reports of employees suffering electrical shocks for more than 14 months."
In response to a complaint of unsafe working conditions, the U.S. Department of Labor's Occupational Safety and Health Administration opened an inspection of the car wash in March 2023. It found that employees were told to clean the walls of the facility with high-pressure water near electrical equipment, including a 480-volt electrical panel not rated for wet or damp locations and showing signs of deterioration.
The case serves as a lesson for repairers in electrical safety on the job. OSHA provides detailed guidelines on its website of how to reduce or eliminate electrical-related injuries including the use of insulation, guarding, grounding, electrical protective devices, and safe work practices. OSHA says effective guarding requires equipment with exposed parts operating at 50 volts or more to be placed where it is accessible only to authorized people qualified to work with it.
Some of OSHA's recommended safe work practices include:
Deenergizing electric equipment before inspection or repair;
Keeping electric tools properly maintained;
Exercising caution when working near energized lines; and
Using appropriate protective equipment.
The basics when it comes to water and electricity are that water itself isn't a good conductor of electricity but when it's on other materials or contains small amounts of salt, acid, solvents, or other materials the chance of electrical shock increases, according to OSHA.
"Dry wood, for example, generally slows or stops the flow of electricity," OSHA states in a booklet that covers how to control electrical hazards. "But when saturated with water, wood turns into a conductor. The same is true of human skin. Dry skin has a fairly high resistance to electric current. But when skin is moist or wet, it acts as a conductor. This means that anyone working with electricity in a damp or wet environment needs to exercise extra caution to prevent electrical hazards."
OSHA notes that it isn't just electricity that can cause shocks. Static electricity could also be a hazard if enough materials, such as plastics, are handled in a certain spot of work areas or objects. If near or exposed to flammable or combustible substances, an explosion could occur. Grounding or other preventative measures would need to be taken to prevent the electricity buildup, OSHA says.
"Our investigation found that Take 5 Car Wash's management knew that live electrical hazards existed throughout the facility, and that employees suffered electrical shocks repeatedly, yet allowed them to continue working in these conditions and took several weeks to make repairs after a worker suffered electrical shock," said OSHA Area Director Howard Eberts in Cleveland. "It is unsettling that a company with such vast resources would expose employees to the potentially deadly risks of electrical shock."
Inspectors also found rusted electrical boxes with live wires, improper use of flexible cords, restrooms without properly grounded outlets, and multiple energized electrical cabinets and boxes that weren't guarded to prevent contact with live parts; all of which exposed workers to potential shocks, OSHA said.
OSHA inspectors also found the Take 5 Car Wash failed to:
"Use lockout procedures to control potentially hazardous energy sources for those working in the car wash tunnel amid automatically controlled equipment, highly pressurized water, and heated blowers;
"Remove lockout/tagout kits from boxes;
"Train employees on energy control procedures and applying lockout on track and tunnel equipment;
"Conduct required periodic inspections of machine safety procedures;
"Ensure adequate working space was provided around electrical equipment; and
"Train unqualified persons on safety-related electrical work practices and provide them with appropriate personal protective equipment.
Following the inspection, OSHA cited Driven Brands for one willful and 12 safety and health violations. The agency has proposed $256,707 in penalties.
Driven Brands acquired the Beachwood, Ohio location in October 2020, according to OSHA.
The company has 15 business days from receipt of its citations and penalties to comply, request an informal conference with OSHA's area director, or contest the findings before the independent Occupational Safety and Health Review Commission.
Images
Featured image: Stock photo of a car being washed. (Credit: anocha98/iStock)
More information
Driven Brands stock plummets, 2 firms allege violation of federal securities laws
Share This: