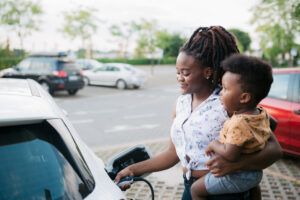 Electric vehicle (EV) and plug-in hybrid shipments are expected to rise by 19% next year, reaching nearly 18 million units worldwide, according to a new Gartner forecast.
And by 2030, more than half of all models sold by OEMs will be EVs, Gartner said in its latest report, indicating a rapid transition from internal combustion engine (ICE) vehicles to emission-free alternatives.
This year alone, EV shipments are expected to reach 11 million units, an 11% increase over the 9 million units sold last year. Although plug-in hybrid electric vehicles (PHEVs) are also forecasted to grow, the increase is less significant, Gartner said, adding those vehicle shipments will rise from 3 million last year to 4 million this year.
However, the survey results, available with a subscription, note that preferences vary from nation to nation.
"The proportion of PHEVs, as a percentage of total EVs in countries like the U.S., Canada, and Japan will slightly grow as consumers in those countries prefer PHEVs to BEVs," said Jonathan Davenport, senior director analyst at Gartner. "U.S. consumers who are transitioning from a pure internal combustion engine (ICE) car are choosing to adopt PHEVs over their BEV counterparts because PHEVs combine the ability to deliver emission-free urban driving, with the convenience of gasoline-powered propulsion for longer journeys.
"The situation is different in Western Europe, China — and to a lesser extent — India, where consumers favor BEVs' lower overall running costs, quieter driving experience and green credentials."
The analysis also touched on how government regulations are playing into automaker behaviors. For instance, in the U.S. the Environmental Protection Agency (EPA) is calling for new, "more stringent" emissions to accelerate production of BEVs.
It proposed in a 758-page notice, released in April, that its latest multi-pollutant emission standard rules would be phased in for models manufactured from 2027 through 2032. If enacted, the limits on tailpipe emissions could result in BEVs accounting for up to 67% of passenger vehicles by 2032, according to one estimate in the report.
Gartner noted how growing efforts to ban the sale of zero-emission vehicles have prompted some automakers to aim for half of their models sold to be electric by 2035. Meanwhile, new models and automakers are entering the field which could help further drive EV growth.
"Ever-tightening emission regulations will lead automakers to pivot more than half of the vehicle models marketed to EVs by 2030," said Davenport.
Affordability has been one of the factors named for reasons some haven't transitioned to an EV.
However, Gartner analysts said that by 2027, the average price of an EV will "reach parity with ICE vehicles of similar size and configuration, which will accelerate the global adoption of EVs."
There's a caveat, though. Gartner said insufficient infrastructure capacity could stall demand and prevent mass adoption of EVs, even if they do become as affordable as other vehicle types.
"Unless countries take actions to incentivize EV drivers to charge outside peak electricity consumption periods, the switch to EVs may put an additional strain on both the power generation capacity and the distribution infrastructure," said Davenport. "Using dual day and night or even half-hourly electricity tariffs can incentivize EV drivers to charge outside peak times, which would require a mass roll-out of smart metering.
"Likewise, the ability of utilities to control EV chargers directly via application programming interfaces (APIs) would enable EV charging to be momentarily curtailed at peak consumption times to ensure grid demands weren't exceeded."
Images
Featured image: Brothers91/iStock
Share This: