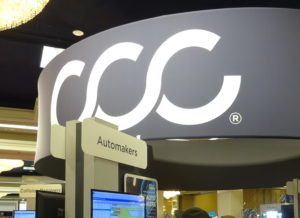 The majority owner of CCC Intelligent Solutions is considering selling it and is in talks with potential buyers, according to Reuters.
Advent International is "exploring a sale" of the leading P&C insurance cloud platform, which currently has a market value of $7.1 billion, Reuters said in an exclusive article, citing unnamed sources.
"Investment bank Morgan Stanley is advising CCC on its talks with potential acquirers, which include other buyout firms, the sources said, adding that no deal is certain," the Reuters article said.
Neither CCC nor Advent International responded to Repairer Driven News' requests for comment.
As of Tuesday, the stock value of CCC's parent company, CCC Intelligent Solutions Holdings, had risen 31% year-over-year and was up 3% since going public in July 2021. At the time of its initial public offering, CCC had an enterprise value of $7 billion and about $6.54 billion when factoring in debt.
Advent acquired a majority stake in CCC in 2017 when it was valued at $3 billion. 
Eric Wei, Advent's managing director at the time, said that while the global equity evaluated hundreds of tech businesses, CCC stood out as "having built a truly world-class innovation engine."
"Advent evaluates hundreds of technology businesses and CCC stands out as having built a truly world-class innovation engine," Advent managing director Eric Wei said in a statement. "The company has established itself as a leader in hyperscale cloud computing, machine learning, IoT, mobile, and consumer engagement technologies – all areas we see as becoming increasingly important to the industries that CCC serves," Wei said in February 2017 a statement. "We look forward to partnering with Githesh in supporting the development of high performance products that deliver exceptional results for CCC's insurance carrier, repair facility, and automotive customers."
CCC Intelligent Solutions Holdings said when releasing this year's Q2 results that both its revenue and EBITDA increased 10% year-over-year.
"The strong performance in the first half of 2023 included multiple large renewals and relationship expansions that reinforce our confidence in our ability to deliver on our strategic and financial objectives," said Githesh Ramamurthy, CCC's chairman and CEO, said at the time. "We estimate that as a result of the continued macro pressures facing our customers, the cumulative annual cycle time for automotive claims in the U.S. increased to more than 2 billion days in 2022.
"This staggering figure underscores the importance of delivering effective and integrated state-of-the-art capabilities to help our clients in the P&C insurance economy address operational efficiency. Our solutions and use of AI are helping to do just that by helping customers to reduce the cycle time, administrative cost, and environmental impact of the claims process."
CCC was previously sold in January 2013, when Leonard Green bought it from Investcorp for more than $550 million and then flipped half of it to TPG, according to Fortune.
Images
The CCC SEMA 2018 booth is shown. (John Huetter/Repairer Driven News)
Share This: