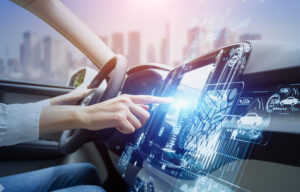 Technologies like vehicle sensors, navigation systems, and network connectivity are driving "profound changes" within the auto industry, according to a new report.
A recently published article by Intellias, a consulting and software engineering provider, also details how a growing number of electrical control units, sensors, and software code are driving up vehicle complexity and cost.
It indicated that 60% of U.S. car owners drove connected vehicles in 2021 and that the figure is expected to reach 70% within the next several years.
Oleksandr Odukha, Intellias' vice president of delivery and mobility, said that as automakers advance their technology, it's especially important to get their human machine interface (HMI) systems right.
"HMI design is a challenge because you need to create a virtual harmony between the physical elements of a car and driver gestures," Odukha said. "Drivers are growing more connected to their connected vehicles.
"As driving becomes more autonomous, customers come to expect more lifestyle features for comfort, entertainment, commerce, and business — and OEMs will address that with highly efficient HMI ecosystems."
According to Intellias' report, modern auto systems currently include more than 100 sensors and upward of 3,000 chips, driving the importance of "middleware" to bridge connections between applications, data, and vehicle hardware.
Such advancements are also worth tracking for repair facilities as the Insurance Institute for Highway Safety (IIHS) has indicated that vehicles equipped with advanced driver assistance systems (ADAS) are more challenging to repair following a collision.
New in-cabin technologies are announced on a regular basis as automakers and engineering firms compete to deliver the most impressive customer experiences.
Just this week, Mitsubishi Electric Automotive America (Mitsubishi Electric) unveiled a new in-cabin system that it says will advance road safety by anticipating risks, reducing driver distractions, and flagging potential driving hazards.
The electric equipment manufacturer said its new automotive system, called Electric FLEXConnect, will be powered by BlackBerry Ivy's edge-to-cloud vehicle data platform.
"The collaboration between Mitsubishi Electric and BlackBerry to advance our in-cabin system takes the driving experience to the next level by truly going the extra mile," said Mark Rakoski, Mitsubishi Electric's vice president of advanced engineering. "With its advanced safety features, intuitive interface, and enhanced sensory feedback, [the system] establishes a new cabin experience standard, revolutionizing the way we interact with vehicles. With BlackBerry IVY, we're able to bring innovations like this to market faster, and in full confidence that the security and privacy of user data is protected."
Vito Giallorenzo, BlackBerry's head of corporate development, said the new system "raises the bar for in-cabin experiences and helps improve road safety."
"BlackBerry IVY is unique in how it enables automotive OEMs to leverage a multitude of vehicle signal data in real-time and cost-effectively into valuable insights," Giallorenzo said.
When detailing how the new platform works, Mitsubishi Electric said it extracts and analyzes data from both internal and external sensors. It then leverages machine learning to process the data collected.
According to Mitsubishi, the platform is useful for:
"Determining driver distraction and concentration levels by detecting signs of drowsiness, estimating cognitive load, monitoring interaction with the infotainment system, and more.
"Collecting biometric information to provide insight into short- and long-term changes to a driver's physical status, such as health, triggering autonomous pullovers and alerts to emergency services.
"Analyzing facial features to create personalized identification profiles for automated verification to enable vehicle access and in-car payments.
"Correlating user preferences with environmental information, such as suggesting optimal parking locations based on preferences for cost, distance from destination, parking format and availability."
Separately, Toyota Group company, Toyoda Gosei, announced this week that it's investing in the Tokyo-based transportation company Pyrenee Inc., which is developing new ADAS tools.
Its Pyrenee Drive retrofit device helps with the cognitive aspect of driving by capturing things that drivers fail to notice, Toyoda said in a press release.
"The device is mounted on the automobile dashboard or elsewhere in the vehicle, and detects pedestrians and other automobiles and predicts their movement with AI," it said. "When it determines that there is a risk of collision, it notifies the driver by voice, thereby contributing to a decrease in accidents.
"[Toyoda Gosei] invested in Pyrenee to reduce traffic accidents through a comprehensive approach of combining passive safety and preventive safety — not only reducing injuries/deaths in case of traffic accidents, but also preventing traffic accidents caused by driver neglect and other human errors."
Another collaboration between Autoliv China and Great Wall Motor is working to advance some innovative technologies, including an overhead passenger airbag that deploys from the ceiling.
The companies are also working on a zero-gravity seat for autonomous vehicles that adapts to the needs of different drivers and passengers based on their weight, height, and gender.
Images
Featured image courtesy of metamorworks/iStock
Share This: