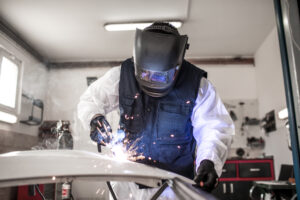 Three Canada trade groups offer welding training program to build tech pipeline
By on
Education
The Canadian Welding Bureau (CWB Group) and the Automotive Industries Association of Canada (AIA Canada) have partnered to increase welding training opportunities in the country for collision repairers.
The program will travel to repair centers across the country to train technicians at their workplaces. This will ensure more facilities in rural and urban areas of the country will be able to offer safe, quality, and timely vehicle repairs, according to CWB and AIA.
Like the U.S., Canada is also facing a technician shortage.
As Repairer Driven News reported in December, British Columbia is the only Canadian province without trade certification, despite the already established programs in other territories that rely on occupational certification, apprenticeships, and licensure for performing work in the collision repair trade. But, in 2022, the Skilled Trades Act was introduced to help address the shortages in the industry.
Techs will have until Dec 1, 2023, to either pass a trade skills test or sign up to be an apprentice. The second phase will address the automotive trade, and those in the field will have until 2024 to meet the requirements.
In May, AIA Canada, in partnership with the Government of Ontario, St. Lawrence College, Conestoga College, Fanshawe College, and Plug 'N Drive, launched a new auto care industry training program to help address the industry's workforce development challenges.
Made possible through the third round of the Ontario Government's Skills Development Fund, the Innovation in Automotive Training project will build on the success of round two and has been expanded to include new partners, training locations, and curriculum.
"We have many great existing relationships with colleges and independent trainers that serve their markets well," AIA Canada told Repairer Driven News on Wednesday. "However, this agreement expands our ability to deliver welding certifications in underserviced markets in Canada. …OEM certification programs have caused an increased demand and this partnership will help I-CAR keep up with that demand."
As part of the new training partnership, CWB will allow I-CAR Canada, which is operated by AIA Canada, to use its training facilities in Milton, Ontario, and Nisku, Alberta along with its nationwide instructors. According to the online course catalog, classes include certification in steel MIG welding, aluminum GMA (MIG) welding, and steel sectioning.
The courses are designed for both technicians and apprentices learning the trade, while the certification programs are aimed at experienced welders, AIA Canada told RDN.
Earlier this week, on AIA Canada's website, I-CAR Canada shared a brief overview of welding methods used today in collision repair and some important things for technicians to keep in mind.
First of all, I-CAR notes that steel and aluminum are the predominant metals used in body and frame construction of vehicles.
"Each alloy or metallurgy comprises its own unique properties designed to perform in that vehicle's structure to provide 'as built' integrity," I-CAR states. "As such, there are unique considerations for collision repair, particularly in avoiding any adverse effects on future crashworthiness and occupant protection attributes of each vehicle repaired. No stronger, no weaker."
This backs up what we and many others in the collision industry strive to emphasize — the necessity to conduct repairs according to OEM repair procedures.
"Welding recommendations and requirements vary widely across the original equipment manufacturers (OEMs) — one size does not fit all," I-CAR wrote. "For instance, STRSW is the preferred or required method for many OEMs, while weld bonding is specified in some procedures, and other variations in the process may be required. Keep in mind as well that OEMs may identify other attachment alternatives such as rivet bonding."
Welding methods used on today's cars include gas metal arc (GMA), MIG brazing, tungsten inert gas (TIG), and squeeze-type resistance spot welding (STRSW).
According to I-CAR Canada, a brief description of each include:
GMA welding: Has been a collision repair mainstay for the past 4o years. Uses a wire feeder to deliver electrode filler wire to a gun handle assembly where the operator directs the deposition of the weld puddle to the join area. An electric current (arc) generates the necessary heat to melt the filler wire, and in the case of fusion welding, the metals are joined. However, it uses high temperatures in the immediate weld zone, which can affect the properties of the materials being joined — another reason to follow OEM repair procedures.
MIG brazing: A non-fusion GMA process that introduces an electrode filler wire that is commonly silicone bronze and produces an adhesive joint. The benefit of it is that lower temperatures are introduced into the joint, which helps preserve the strength of ultra-high strength steels common in today's vehicles.
TIG welding: An electric arc process during which the welder holds a torch handle that houses a tungsten electrode that is directed to the weld area while a shielding gas is also dispersed as the welder introduces the required filler rod by hand. This process is not common in mainstream collision repair but it may be recommended in some exotic and high-end specialty vehicle repairs.
STRSW welding: The primary joining method used by most automakers on the assembly line. Sealers or adhesives may be used in the panel stack as well. Modern STRSW equipment is available to the collision repair industry and is very capable of reproducing the factory look while minimizing the detrimental effects of the high heat input compared to GMA welding.
The first round of CWB trainers have finished their I-CAR certification and are prepared to start providing I-CAR training right away.
"At CWB Group, we're committed to enhancing the skills of Canada's welding community," said Bill Gwynne, CWB industry solutions vice president. "Partnering with I-CAR Canada allows us to combine our robust training infrastructure with their specialized curriculum, ensuring a brighter, safer future for the collision industry. Together, we're reaching every corner of Canada."
CWB says the partnership will also help it to continue to grow in the collision industry and expand its network while sharing its expertise.
"This is an incredible opportunity to provide I-CAR welding training to rural, sometimes inaccessible, areas of Canada," said Stuart Klein, AIA Canada Collision Programs vice president. "Working with the CWB Group at these facilities and through their traveling instructors
will ensure that all Canadian collision sector businesses, regardless of their location, will have access to the training they need to safely repair vehicles."
Images
Featured image: Stock photo of MIG welding. (Credit: EXTREME-PHOTOGRAPHER/iStock)
Share This: