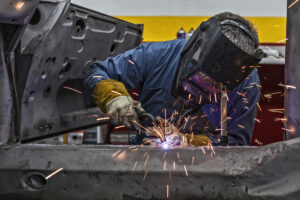 'Who Pays for What?' survey finds more than one-third of repairers aren't charging for test welds
By on
Insurance
The latest "Who Pays for What?" survey has flagged test welds as an area where 37% of collision repairers never sought reimbursement, leading to questions about whether the procedure is even being performed at the majority of repair centers.
The surveys are conducted quarterly by Mike Anderson of Collision Advice in conjunction with CRASH Network to find out which not-included operations the nation's eight largest insurers — State Farm, Farmers, Nationwide, Allstate, USAA, Liberty Mutual, Progressive, and GEICO — typically pay for.
While the survey indicated that the latest test weld figure is an improvement from 2015, when nearly 80% of repairers never charged for the procedure, it led Anderson to wonder whether the more than one-third of facilities that are continuing to leave it off the bill are even conducting welding testing.
"We need to wake up on this one," Anderson said. "This is a non-negotiable procedure that every OEM says is necessary. If your techs aren't doing this, don't delay, get them doing it today. I recently was at a shop that set up and performed a destructive test weld that failed because the welding equipment did not have the latest software update. That was not the first time I've seen that happen. Be sure to check with your welder equipment company to know when any updates should be performed."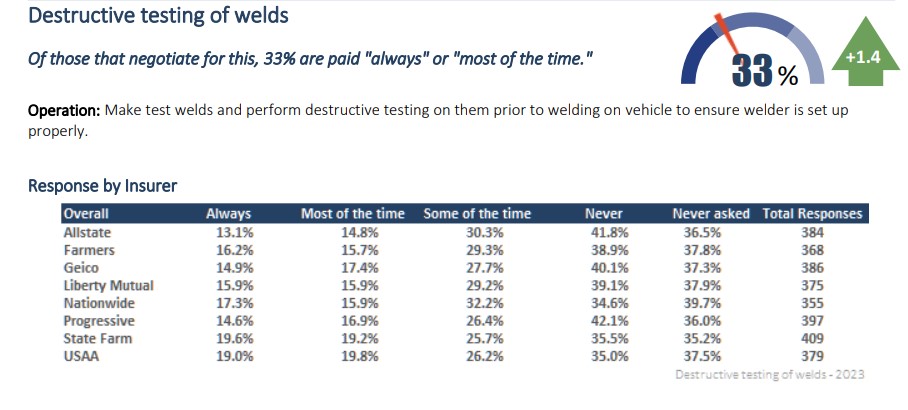 Among the repairers that did charge to perform deconstructive testing prior to welding on vehicles to ensure the welder was set up properly, 33% were paid at least most of the time, the survey found.
Anderson said he wants to see that figure improve.
"Our whole industry needs to acknowledge how critically important test welds are," he said. "Repairers need to perform them routinely, and insurers need to pay for them routinely."
Anderson detailed in the survey results how a proper weld involves numerous factors and that it can be difficult to tell whether the settings are correct without first performing the destructive test welds.
He encouraged shops to use an electronic quality control app to document, through photos, the test welds being repaired. 
"I have seen some repaired cars with welds that could be popped loose simply by prying on them with a screwdriver," Anderson said. "That is a scary situation that can be avoided by verifying the welder settings with a destructive test weld."
He added that Collision Advice has asked I-CAR to develop a video series to educate technicians on how to properly perform the procedure.
Clearing personal data
Among repair facilities that bill for time spent erasing customers' personal data, 25% were paid all or most of the time and, of the insurers that were billed, each didn't pay more than half of the time. The data cleared could include garage door codes, GPS information, or have come from synched cell phones.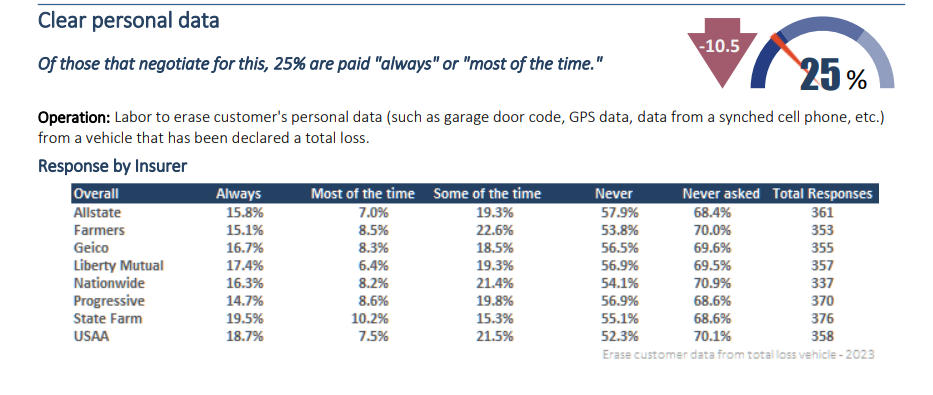 Anderson said erasing vehicle owners' personal data is something the industry should start paying more attention to.
"A vehicle owner today may have their home address stored in their navigation unit of the vehicle," Anderson said. "Their contacts can be stored when they sync their phone. Garage door opener codes might be stored. So, we need to be asking the vehicle owner, when the vehicle is a total loss, if they would like us to erase their personal information. The process for this can be found in the owner's manual."
This quarter's survey also found that among repairers who bill for:
Labor payment to cover transporting a non-drivable vehicle into a repair facility, 44% received it always or most of the time;

"Removal and reinstallation of electrical components from areas on the vehicle on which welding will occur during repairs to prevent damage from electromagnetic pulse (EMP)," 72% are paid all or most of the time;
Stall time, which can last 36 to 48 hours so the vehicle remains stationary while structural or adhesive bonding cures, 12% are paid all or most of the time;
Final verification of measurements, 48% are paid all or most of the time;
Disconnecting and reconnecting the battery, 79% are paid all or most of the time;
Administrative time for entering insurer estimates into the repair center's estimating system, or to reconcile both estimates, 12% are paid at least most of the time;
Tire run-out tests, 28% are paid most or all of the time;
Parts cart storage, 41% are paid most or all of the time;
Jig rentals, 52% are paid all or most of the time;
Jig assembly, 51% are paid all or most of the time; and
Photo-based estimates are paid at least 21% of the time.
The current "Who Pays for What?" survey is focused on billing and payment practices related to scanning and calibrations, aluminum repair, and repair facility supplies. It can be completed online through the end of October.
Those who take the survey receive a free report with its findings as well as analysis and resources to help repairers better understand the information.
The surveys take about 15 minutes to complete and responses are kept confidential.
Previous surveys are available to view online.
Images
Featured image: TerryJ/iStock
All charts provided by Collision Advice and CRASH Network
Share This: