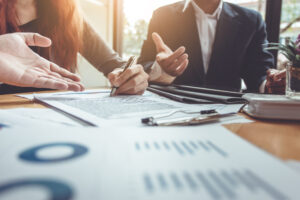 CFA calls out insurers for 'exorbitant' CEO compensation
By on
Insurance
As insurance rates spiked throughout the U.S., executives leading 10 of the nation's personal insurance companies raked in "massive salaries, bonuses, and other payments," according to a new Consumer Federation of America (CFA) review.
CFA said Wednesday that its analysis of insurance executive compensation showed that six of the major insurance companies received more than $12 million in compensation last year — each. When taking all 10 companies into account, compensation totaled $130 million in 2022.
According to CFA, the 10 top executives accumulated $250 million combined between 2021 and 2022.
"CEOs are living high on the hog while increasing insurance premiums for people living paycheck to paycheck," said Michael DeLong, CFA's research and advocacy associate. "Insurers are telling regulators that ordinary consumers have to pay much more for auto and home insurance because the companies are struggling with inflation and climate change but they are quietly handing CEOs gigantic bonuses.
"Drivers are required to buy auto insurance and homeowners have to buy coverage to satisfy their loan requirements, so there needs to be more scrutiny of the rate hikes companies are demanding and the huge CEO paydays that are funded with customer premiums."
CFA said it sourced the financial figures from Nebraska's Department of Insurance, which requires insurance companies to submit information about top executive compensation. However, it noted that the figures might actually underrepresent the executives' true salary since companies can exclude compensation provided by affiliate companies.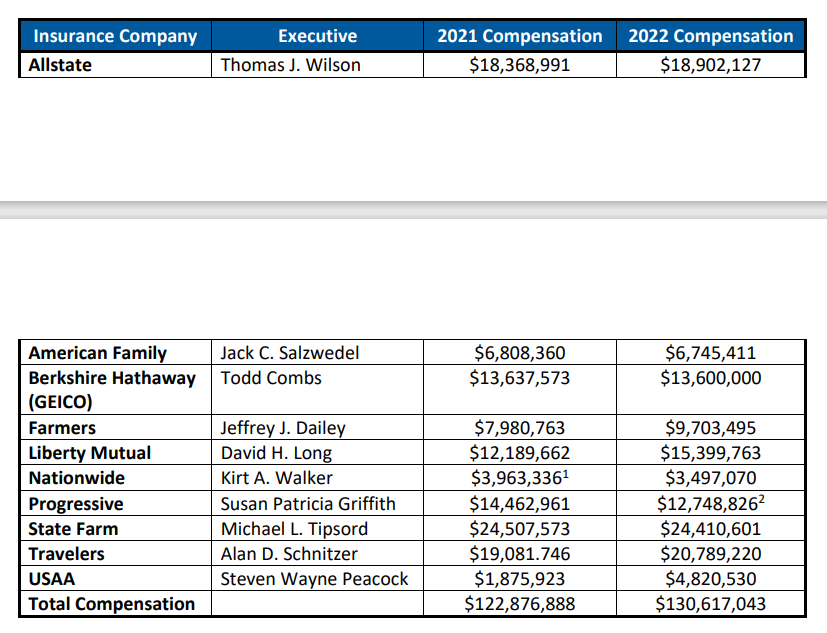 According to CFA's findings, State Farm CEO Michael L. Tipsord brought home the most generous compensation last year with $24.4 million, followed by Travelers' CEO Alan D. Schnitzer who earned $20.29 million in 2022, which was a slight decrease from his 2021 payout.
When calling the compensation packages "exorbitant," CFA noted how they came despite drivers nationwide being hit with a series of insurance hikes. It detailed how:
"While Farmers' executive Jeff Dailey got a nearly $2 million raise in 2022, his company increased homeowners insurance premiums by over $575 million across 42 states, limited its availability in the company's home state of California, stopped renewing almost a third of its homeowners insurance policies in Florida, and laid off 11% of its workforce;
"Liberty Mutual paid its CEO David Long over $15 million in 2022 — and recently increased its homeowners insurance rates by $729.8 million"; and
"State Farm paid its CEO Michael Tipsord over $24 million while hiking auto insurance rates in its home state of Illinois four times in a single year, increasing auto rates by 17% in Louisiana, and raising homeowners insurance rates by 28.1% in California while also halting new California applications for homeowners insurance."
Separately, a new Insurance Information Institute study found that social and economic inflation caused U.S. auto insurer liability claim payouts be to upward of $105 billion higher between 2013 and 2022.
Its study, called the Impact of Increasing Inflation on Personal and Commercial Auto Liability Insurance, found that inflation drove personal loss and defense containment costs (DCC) up by $61 billion during the nine-year span. Commercial auto liability loss and DCC spiked by between $35 billion and $44 billion during the same period, Triple-I said.
An unrelated mid-year report from Insurify indicated that during the first six months of 2023, personal auto insurance increased an average of 17% in the U.S. It projected another 4% increase before 2023's close as Insurance Thought Leadership (ITL) said the auto insurance industry is in a state of "existential crisis."
According to Insurify, rate increases have reached 34% in some parts of the U.S. this year.
A more recent Insurify report, released last week, said that the ongoing Union Auto Workers (UAW) strike against General Motors, Ford Motor Co., and Stellantis could drive insurance rates even higher.
The increase would be triggered by the rising cost of auto parts because of a production halt making it more costly to repair cars and decreasing the inventory of new vehicles, Insurify said. It added that new vehicle inventory is approaching one-fifth of the 2019 supply and near its lowest level in the past decade.
"Higher parts prices will mean it's costlier to make and repair cars," says Allie Feakins, senior vice president of insurance at Insurify. "This will drive up the severity of insurers' losses, and lead insurance companies to raise rates."
Images
Featured image: AmnajKhetsamtip/iStock
Chart courtesy of the Consumer Federation of America
Share This: