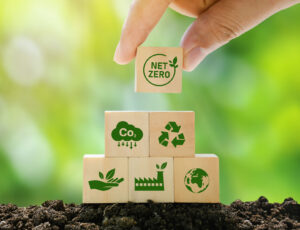 CAR finds OEMs, suppliers should better collaborate on climate & emissions goals
By on
Market Trends
The Center for Automotive Research (CAR), in collaboration with Fresh Coast Climate Solutions, has released a research paper that explains an urgent need for automakers to align their operations and vehicle designs with the Paris Agreement to limit global warming to 1.5°C.
The Paris Agreement is a legally binding international treaty that was agreed to by 196 parties in 2015 to combat climate change.
CAR noted that despite supply chain disruptions and ongoing parts and semiconductor shortages, automakers have landed on sustainability as a central concern, namely the reduction of greenhouse gas emissions (GHG) in line with the Paris Agreement and becoming carbon neutral.
At least contributing to that decision is the result of climate goals from the Biden Administration which have tightened emissions standards and aim to reach net-zero emissions economy-wide by 2050. When Biden took office, he signed the U.S. back into the Paris Agreement. Later that same year, he established the goal of 50% "clear car" sales by 2030.
Most automakers aim to have a large percentage of their fleets made up of zero-emissions vehicles by 2030-2035.
According to the Biden Administration, the "climate crisis" has caused unprecedented wildfires, extreme flooding, and record-breaking hurricanes. It noted that through August of this year, the U.S. experienced 23 separate billion-dollar weather and climate disasters — the highest number on record.
The International Energy Agency (IEA) and the Intergovernmental Panel on Climate Change (IPCC) are providing guidance to achieve global net-zero emissions by 2050.
While CAR says automakers are being publicly transparent about environmental, social, and governance (ESG) goals and sustainability efforts, it says "significant implementation progress is needed to achieve them," and there's a need for more consistent and measurable data in reporting across the industry.
CAR researchers undertook its research through supplier roundtable sessions, analysis of publicly available information, and comprehensive vehicle manufacturer interviews. The interviews covered six key areas: corporate goals and commitments, carbon reduction, social responsibility, sourcing and supplier relations, product and material sustainability, and future directions.
Based on its findings, CAR recommends the establishment of deeper supply chain communications, placing value on supplier climate activity, standardizing targets and measurements, and expanding the workforce knowledge base.
Industry-wide communication and collaboration are key in meeting ESG goals but even more so between suppliers and OEMs, CAR concluded.
"Collaboration between vehicle manufacturers and suppliers can make sustainable practices more achievable," CAR wrote in its research paper. "Automaker coordination with suppliers on sustainability initiatives can lead to reduced recalls and more achievable climate targets."
However, more automakers said they make communication a priority than auto suppliers. Inconsistency remains from manufacturer to manufacturer and suppliers told CAR communication from OEMs is "often confusing and lacks clear, concise directives."
"For example, climate directives can vary by department, e.g., sustainability, purchasing, and engineering," the report states.
One remedy CAR recommends is the consistent support of suppliers and regular supplier industry forums, and not just on Tier 1, to cover details about climate commitments, supplier expectations, reporting requirements, and implementation plans.
In fact, suppliers told CAR they need more transparency and consistency from OEMs in valuing climate goals against other targets such as quality, safety, and cost.
"For suppliers, finding a balance between the value of climate directives and the financial bottom line is often difficult," CAR said. "Current minimum mandates for recycled content and other requirements can make it difficult to manage supplier costs."
For example, in regard to Scope 3 GHG emissions, which are those not owned or under the control of but rather indirectly linked to the reporting organization, CAR found less than half of suppliers provided reduction projections.
"Scope 3 emissions reduction goals ranged from simply addressing it as a priority, to incremental reductions, to net zero projections in the future," CAR said. "Suppliers noted that more input from vehicle manufacturers is needed to focus on long-term investment in major climate initiatives.
"Vehicle manufacturers agreed on the importance of long-term investment but varied on the deployment and level of implementation of initiatives."
CAR believes that in order for OEMs and suppliers to effectively reach climate goals there needs to be education, training, and knowledge sharing in non-competitive forums. Doing so "could help advance climate activities on behalf of the entire industry" and would thereby reduce the sustainability and circularity burden on individual OEMs and suppliers.
When it comes to regulations, both OEMs and suppliers said they significantly consider them and surmise those to come will be more regional-based than from the federal level.
"The automotive industry stands at a critical juncture where sustainability isn't just an option but a business, product, and service design necessity," said K. Venkatesh Prasad, CAR's senior vice president of research. "Our research underscores the importance of cohesive efforts to align with climate goals and drive impactful change across supply chains."
Other recommendations from CAR's research include:
Promotion of streamlined reporting and measurement;
Expansion of workforce knowledge about the climate and sustainability industries, including climate workforce expansion programs; and
Additional research on how sustainability initiatives, policies, and regulations are deployed and implemented in the industry.
Images
Featured image credit: Sakorn Sukkasemsakorn/iStock
Share This: