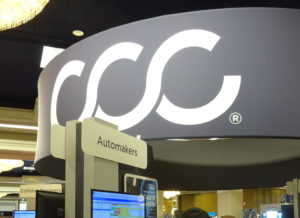 2 AI tools from CCC work based on photos, still need repairer expertise & OEM guidance
By on
Announcements
CCC Intelligent Solutions has now integrated artificial intelligence (AI) into the functions of CCC ONE for collision repairers to automate initial damage assessments.
Essentially, Repair Cost Predictor involves a consumer end-use of the AI in addition to the repair centers and is intended mostly for minor, lower-severity damage. Mobile Jumpstart is used on the repairer's end.
"We've been offering this capability to our repairers that allows consumers to request an online estimate but that required the estimator at the shop to write an estimate and return it back to the consumer," said CCC Automotive Services Product Management Vice President Mark Fincher. "That could take hours, sometimes that may take a day or two.
"The idea here is that this gives consumers just a quick idea of what the repair costs may entail. And maybe they want to go file a claim, maybe they don't want to get their car repaired, or a lot of them are saying, 'Yeah, that seems reasonable.' They can go ahead and book an appointment to then go in to get a complete estimate from the collision repair facility, or they can also request an online estimate where a collision repair facility estimator would actually write the estimate for the consumer."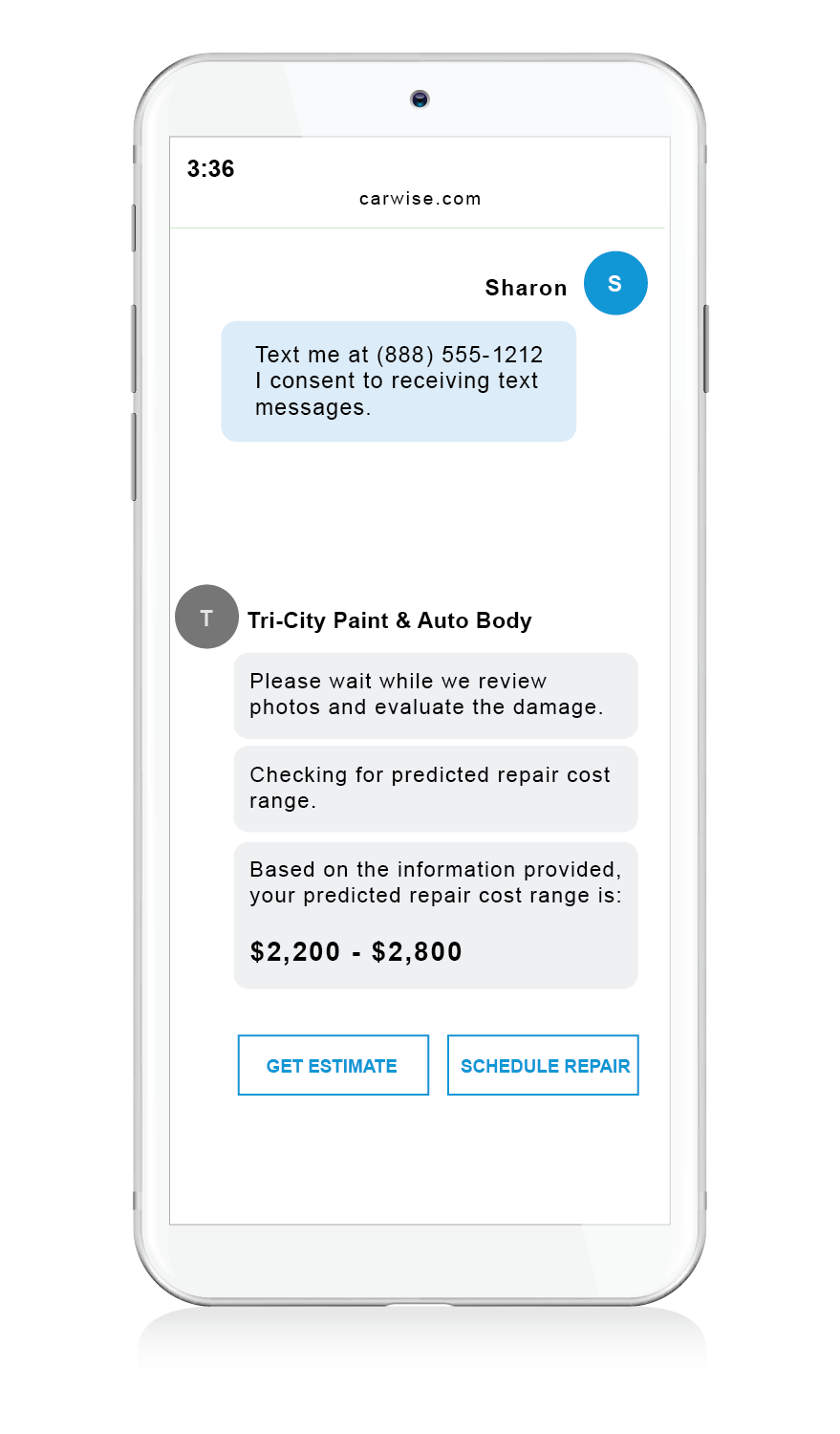 A clear disclaimer is provided to consumers on Predictor that the damage assessment is only a range of what the costs could be and that the price could go up or down depending on parts used and damage found in disassembly, Fincher added. Both tools also let consumers know they'll need to have an in-person estimate completed at a collision repair center to get a better idea of what repairs could cost.
Predictor is available to consumers through Carwise.com or it can be embedded on repair centers' websites.
CCC says Repair Cost Predictor and Mobile Jumpstart can help estimators at understaffed repair centers automate and streamline initial damage assessments to save time for other tasks amid labor shortages, supply chain disruptions, and growing vehicle repair complexity.
Jumpstart allows estimators to complete an estimate, including pre- and post-scans with the customer at their car, potentially easing anxiety for customers, Fincher said.
"The value that we see in that is not only speed to actually write the estimate but also being able to engage the consumer there at the car and help provide that consumer with more education and information about what the repair process is going to look like, what it's going to entail, [and] how their vehicle is going to be repaired to ease their anxiety going into that repair process. Most of us don't have an accident very often, hopefully; consumers are coming in [for repairs] every eight to nine years so they're very anxious throughout that process."
Mobile Jumpstart pre-populates estimate lines including R&I operations and provides recommendations to repair, replace, or remove and install parts. The AI has been developed using millions of historical data points within CCC's system, according to CCC. 
Repair Cost Predictor is available within CCC Engage when the online estimate feature is turned on. Mobile Jumpstart is a feature of CCC ONE Estimating IQ. Fincher said both still require in-person estimator and repair center expertise to determine the true amount of damage and the proper OEM repair procedures to follow.
"A thorough estimate would need to be completed to get a more accurate estimate of what it would cost to repair that vehicle," Fincher said. "The AI is using photos taken by the consumer of the four corners of their vehicle and three pictures of the damage.
"It really works very similar with the on-the-spot use case [Jumpstart] as well when the consumer's there physically at the shop. The estimator's going out to capture those photos — we use a similar method of capturing those four corners and three close-ups of the damage to identify the damage on the panels and make a recommendation if that panel should be replaced or repaired. The shop estimator has the ability to confirm that recommendation or change that recommendation based on their expertise and what they see fit."
Both tools have been rolled out to hundreds of repair centers with phased rollouts continuing. Flagstaff Collision Center in Arizona has been using Jumpstart and the owner, Michael Whittemore, told CCC he sees it as an advantage for his business.
"Our estimators are putting in long hours struggling to keep up with the daily demands placed on our shop," said Whittemore. "Our estimators have wanted the ability to start writing estimates from their phone while at the car and Mobile Jumpstart lets them do just that. AI gets the estimate started and then we can document additional damage right at the car with the customer using CCC ONE Mobile."
CCC noted that it introduced its first AI solution for vehicle damage assessment in 2013 and has since developed more than 300 AI models, many of which are applied and widely adopted across a range of solutions.
Images
Featured image: The CCC SEMA 2018 booth is shown. (Credit: John Huetter)
Repair Cost Predictor is shown in use. (Provided by CCC)
Share This: