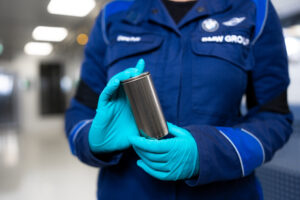 BMW ramping up reliance on regional supply chains, EV charging network
By on
Market Trends
The BMW Group has begun accelerating its e-mobility efforts and reliance on regional supply chains in line with its "local for local" principle.
The OEM said it aims to source components like battery cells close to vehicle production plants and gradually localize the supply chain for primary materials.
Most recently, BMW recruited Umicore, a Belgian company, to help establish a local supply chain in North America.
Umicore will supply BMW's battery cell supplier AESC with cathode active battery materials from a new plant located in Ontario, Canada.
In accordance with "local for local," AESC is currently building a battery cell factory in Florence, South Carolina. With an initial capacity of 30 gigawatt-hour (GWh), the facility will produce cylindrical lithium-ion battery cells specifically developed for sixth-generation BMW eDrive technology. Electricity for the production of the battery cells and cathode raw material will come exclusively from renewable sources, BMW said.
"The BMW Group pursues a globally balanced procurement strategy in the three main geographical regions of the world," said Joachim Post, BMW AG Board of Management member, responsible for purchasing and supplier network. "Our battery cell supplier in the U.S. will source key primary materials from Canada going forward. We are pleased that Canada is playing a strong role in establishing a robust and efficient battery cell supply chain for the BMW Group in North America."
BMW invested $1.7 billion in expanding the U.S. production site in October 2022, including $700 million dollars to build a new 1 million-square-foot assembly center in Woodruff, South Carolina near Plant Spartanburg. The center will provide high-voltage batteries for the fully-electric BMW X models. Construction began earlier this month and is slated for completion in 2026. Initially, sixth-generation battery modules will be produced there.
The sixth-generation battery format will increase energy density by more than 20% and improve charging speed and range by up to 30%, BMW said. Carbon emissions from cell production will be reduced by up to 60% by cell suppliers relying on energy from renewable resources using a percentage of secondary material for the raw materials lithium, cobalt, and nickel.
BMW, MINI, and Rolls-Royce battery electric vehicle (BEV) drivers will also have more charging options in the U.S. and Canada.
BMW of North America and Rolls-Royce Motor Cars North America have announced they'll be joining the Tesla charging network in both countries in early 2025. As part of the arrangement, the BMW Group will also adopt the North American Charging Standard (NACS) for its BEVs in the U.S. and Canada, starting in 2025.
"With six fully electric BMW, MINI, and Rolls-Royce models now available in the U.S. market, and more to come, it is our top priority to ensure that our drivers have easy access to reliable, fast charging," said Sebastian Mackensen, BMW of North America president and CEO. "This agreement is the latest in our longstanding and continued effort to expand charging options for our customers as we continue on the road to electrification."
The companies say they'll work together in the coming months to create a "seamless customer experience" to find available Superchargers on their vehicles' displays and make payments via app.
The NACS agreement is independent of BMW North America's recently announced commitment with six other automakers to create a joint venture company that will build a new, high-powered EV charging network in North America.
The joint venture will build at least 30,000 new chargers in metropolitan areas and along major highways, which will be accessible to drivers of all BEVs from any automaker using CCS or NACS charging standards. The venture is expected to be established this year, subject to customary closing conditions and regulatory approvals, BMW said.
Images
Featured image: A BMW worker holds a sixth-generation battery cell created by the OEM. (Credit: BMW)
Share This: