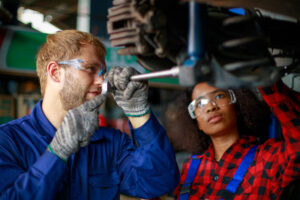 Trades career stigma continues to dissuade talent from entering field, study shows
By on
Announcements
A "significant stigma" continues to surround vocational schools as most parents discourage their children from entering the trades, according to a new study of 1,000 U.S. young adults.
Jobber's recently released Blue Collar Report found that among those surveyed, who were between the ages of 18 and 20, 74% believe there are negative connotations associated with attending a trades school rather than a four-year university.
The survey also found that 79% of respondents said their parents wanted them to attend college after high school, while just 5% of moms and dads encouraged their children to pursue the trades.
"[The results reveal] that there is a powerful stigma surrounding vocational school among Gen Z," Jobber said in its report. "To redefine perceptions of trade vocations, parents need to inspire their children to explore hands-on vocational paths, and our education systems should showcase the practicality of these career routes within their curricula. 
"Without this support, children will not only miss out on valuable opportunities for fulfilling, well-paying, and satisfying careers but the skilled-labor shortage will be further exacerbated putting the future of our economy in jeopardy."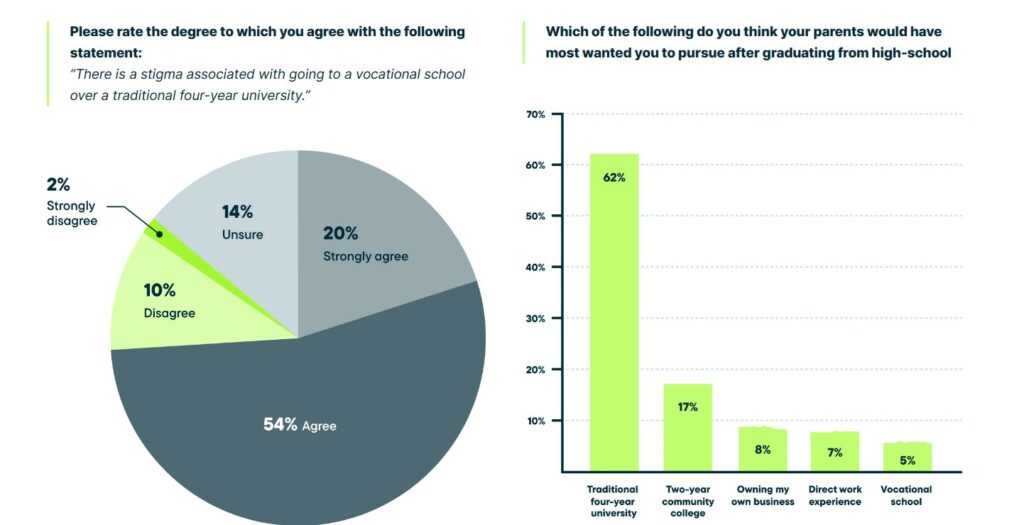 The report noted that the aspirations of young adults don't necessarily align with the desires of their parents. It found that among respondents:
75% are interested in exploring vocational schools that offer paid training;

Job security was the most important factor when deciding on a career path;

As it relates to artificial intelligence (AI), 56% believe trades jobs have more job security than "white collar" office jobs.
Jobber also said young people who are interested in entering the trades could be incentivized to do so to avoid crippling student debt and because they recognize AI could eventually automate "white-collar jobs," making some professions obsolete.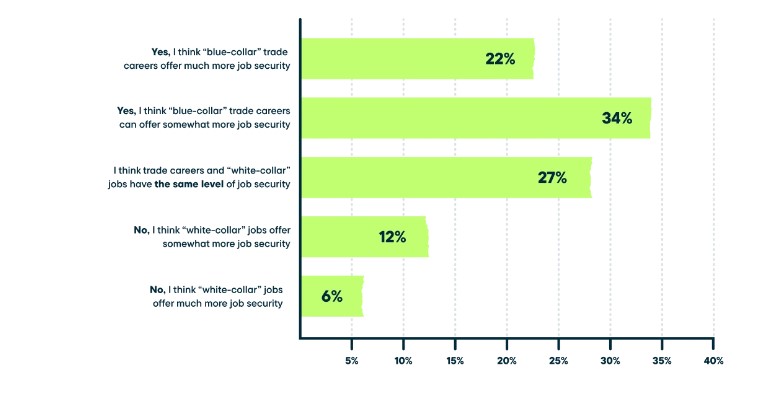 Although the report doesn't specifically call out the perks of the collision repair sector, there are plenty including job stability, competitive pay, and opportunities for professional development.
The misconception that the industry is a dirty, "blue collar" space is long outdated; it today encompasses countless facilities equipped with modern equipment, the latest technologies, and highly skilled professionals.
I-CAR is among the organizations working to right the industry's perception through its new Collision Careers marketing campaign.
Dara Goroff, I-CAR's vice president of planning and industry talent programming, previously told Repairer Driven News that there are a number of objectives for the campaign, including ones targeting high school students, such as:
Providing information specifically targeted to job seekers and students that illustrate the benefits and growth opportunities within the industry;

Sharing information on where to find support resources, such as scholarship opportunities, education, and advice;

Distributing print and digital brochures for school advisors or guidance counselors so they can guide students to appropriate educational sources for collision repair; and  

Shared advertising that all industry segments can use to amplify the message to the future technician audiences they are closest to.
Jobber's report said that because the skilled trades have been "devalued as a career option" by the parents of young adults, more work must be done to educate society on the value of such opportunities.
"This career path has traditionally been presented as a Plan B to a four-year degree and underpinned with the perception that earning potential and entrepreneurial opportunities are far more limited than what they are," Jobber said. "The thinking around pursuing a career built around a trade needs to be shifted at an institutional and parental level.  
"To counteract the stigma around trade careers, families should encourage young people to pursue hands-on career paths, our educational systems need to demonstrate the viability of these career paths, and the general public needs to celebrate the contribution of tradespeople and home service companies."
Jobber isn't the only organization to conduct a study that yielded similar findings.
Earlier this year, a separate Thumbtack study found that while 83% of U.S. adults aged 18 to 30 believe learning a skilled trade can be more valuable than a college education, 59% of respondents "felt pressure" to attend college or university.
Thumbtack's study also found that 48% of respondents weren't given a chance to participate in a trade during high school.
It said its findings indicated that career choices are not hampered by a perception problem, but instead by a "pathway problem as societal pressure, parental pressure and a lack of access to trade education continues to push young adults to higher education."
The first, from the CIC Talent Pool & Education Committee, will feature a panel discussion as an update on the Collision Engineering program. The conversation will entail perspectives from a program administrator, instructor, graduate and entry level technicians, and an employer. The conversation will specifically look at how to engage with this program in the local markets where they have schools.
The second, featuring Goroff, Society of Collison Repair Specialists (SCRS) Executive Director Aaron Schulenburg, and guest presenter Meredith Collins, a Ducker Carlisle director who helped lead an I-CAR and SCRS study on repair technicians' perceptions of working in the space.
Goroff previously said that the intent of the CIC presentation is to share data that can help the industry elate the perception of collision repair careers.
"Our goal is to share data that can help the industry elevate the perception of a career in collision repair to future talent," Goroff told RDN. "The presentation will validate some things we already know as an industry while bringing new insights to light," she said. "We'll identify areas where they are immediate and meaningful rewards for becoming an entry-level technician and areas that, as an industry, we need to do better to attract and retain new talent."
Images
Featured image courtesy of Nalinee Supapornpasupad/iStock
Secondary images courtesy of Jobber
Share This: