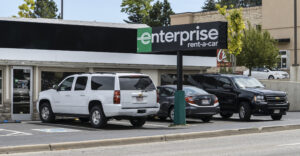 Long repair center backlogs and lingering parts shortages have caused the average auto insurance repair cycle time to reach 23.1 days in 2023, up 6.2 days from 2022 and more than double the average repair time in 2021, according to J.D. Power's 2023 U.S. Auto Claims Satisfaction Study, released on Thursday. The pre-pandemic average cycle time was 12 days.
However, J.D. Power says the long delay hasn't adversely affected customer satisfaction, noting that satisfaction with the auto insurance claims process has "surprisingly" improved this year "thanks to concerted efforts by insurers to carefully manage customer expectations."
"It's really a testament to strong client management processes and improved digital communications," said Mark Garrett, director of global insurance intelligence at J.D. Power. "Insurers have been able to earn significantly higher auto claim satisfaction scores at a time when costs and rates are rising — even though it's never taken longer to get a vehicle repaired. Notable, too, is that insurers that have improved the most in overall satisfaction have done so in two key customer areas: showing concern for their situation at the beginning of the process and keeping them informed. Being empathetic toward the customer situation goes a long way in building trust with them."
An increasing percentage of customers have told J.D. Power their rental period isn't long enough or that they are incurring out-of-pocket expenses to keep their rental for the full length of time that their vehicle is being repaired. That's having an adverse effect on rental car satisfaction for repairable claims, which fell 32 points when the car is needed for 15 days or more.
Enterprise reported in July that length of rental (LOR) had reached 17.4 days during Q2 which, for the first time since the onset of the COVID-19 pandemic, was a year-over-year (YoY) decrease, down from 17.7 days last year.
LOR for Q2 2021 was 13.2 days. The one-and-a-half day decrease from Q1 to Q2 of this year was largely due to an uptick in parts delivery times and improvement in facility prioritization of repairs that require readily available parts rather than backlogged parts. The 18.7-day LOR from Q1 was a record high.
Enterprise Holdings — owner of Enterprise Rent-A-Car — also announced this week that its car, truck and luxury rental, fleet management, flexible vehicle hire, carsharing, vanpooling, car sales, vehicle subscription, technology solutions, and more are now better connected under a new corporate brand called Enterprise Mobility. 

"As mobility has evolved, so have we, and we will continue to do so," said Katie Bowring, Enterprise spokesperson. "We are investing significantly in the business to ensure we are exceeding customer and employee expectations and shaping the business for the future. We will continue to evolve our mobility lines and services based on customer needs and expectations.
"Rental is a key part of mobility. We are proud of the rental business and will continue to grow this core business. We are best known today as the world's largest car rental provider. Yet, the business has evolved immensely in terms of geography, offerings, and customer segments we serve. The motivation behind this announcement is to more fully represent the whole of who we are and what we have to offer. Enterprise Mobility connects the power of the full portfolio."
All Enterprise Mobility brands, including Enterprise Rent-A-Car, National Car Rental, Alamo, Enterprise CarShare and Car Club, Enterprise Fleet Management, Enterprise Car Sales, Enterprise Truck Rental, Enterprise Flex-E-Rent, Exotic Car Collection by Enterprise, Commute with Enterprise, Subscribe with Enterprise, and Entegral will remain unchanged as key offerings in its portfolio, Enterprise said.
The motivation behind the rebrand is "to reflect the business' evolution from a fleet of seven cars more than six decades ago to a global network of mobility solutions serving consumers, businesses, and governments."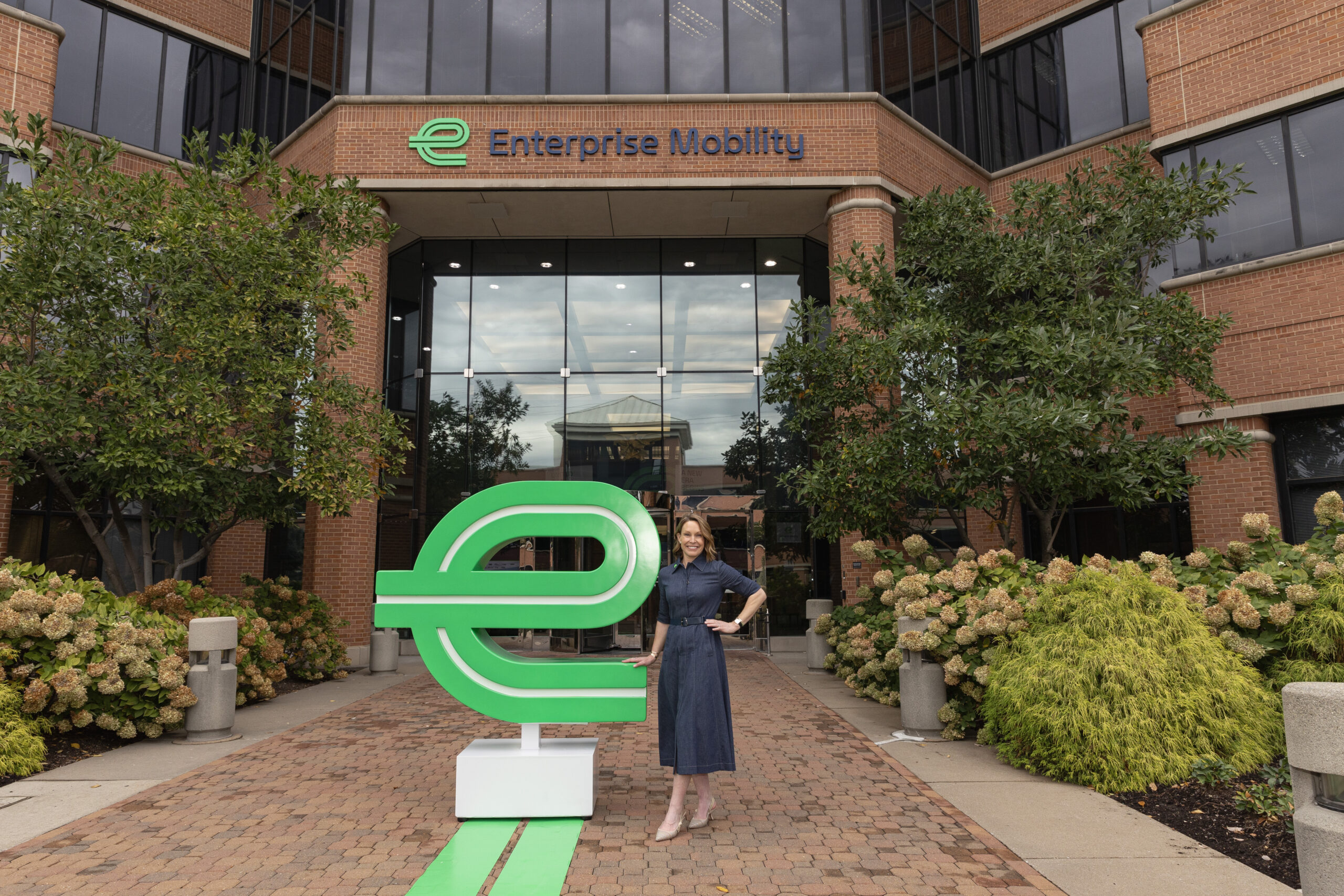 "This marks the beginning of our next chapter, reinforcing our 90,000-strong global team's commitment to deliver exceptional service for partners, customers, and neighbors — innovating with intention to meet their ever-changing needs," said Chrissy Taylor, Enterprise Mobility president and CEO. "More than just an 'e,' Enterprise Mobility embodies the incredible journey of our business, both where we come from and where we are going."
Along with the launch of Enterprise Mobility comes a new visual identity and corporate purpose: "Advance the world, one journey at a time." The visual identity pays homage to the dual parallel lines in the Executive Leasing logo from 1965, Enterprise said.
Established in 2009, the organization's previous corporate brand identity, Enterprise Holdings, was created following Enterprise Rent-A-Car's 2007 acquisition of Vanguard Car Rental Group, parent to the National Car Rental and Alamo brands.
Enterprise has also shown its support of the Society of Collision Repair Specialists (SCRS) through its sponsorship of the 2023 Repairer Driven Education (RDE) series and OEM Collision Repair Technology Summit at the SEMA Show. The show begins Oct. 31 and runs through Nov. 3 in Las Vegas.
"As a longtime partner of SCRS, it is truly an honor to continue our support of the organization's Repairer Driven Education series," said Mary Mahoney, Enterprise vice president. "Like SCRS, Enterprise is committed to advancing the future of collision repair and shepherding the next generation of collision repair professionals. Through partnerships with like-minded industry organizations like SCRS, as well as investments in the Collision Engineering Program and technology solutions like Entegral, we are dedicated to increasing collaboration and optimizing the post-collision experience for our customers."
The Collision Engineering Program (CEP), which is supported through the Enterprise Holdings Foundation, will be featured in the RDE lineup on Nov. 1 from 12:30 -1:30 p.m. during "Talent Shortage – Ensuring We Have Collision Technicians in 5 Years."
Laura Lozano, collision repair technology professor and Automotive Department co-chair at California's Contra Costa College, will join a panel alongside Collision Repair Education Foundation (CREF) Executive Director Brandon Eckenrode, TechForce Foundation Executive Director Jennifer Maher, ASE Industry & Media Relations Vice President Donne Wagner, and BASF Automotive Refinish's Jeff Wildman.
The group will discuss the ramifications of the need for 1 million auto, diesel, and collision technicians by 2024 and practical steps that can be taken to define shop culture, develop career paths, and leverage available resources. There is a shortage of more than 113,000 in the collision industry alone.
"We're beyond grateful for the longevity of support Enterprise has offered to the association," said SCRS Chair Amber Alley. "It's always a bit humbling to look at the roster of industry organizations that share in the belief that access to information makes for a more vibrant industry. To see companies like Enterprise commit to being a part of the education program and return year after year, and express their shared interest through direct support is meaningful to our organization and our members."
To register for RDE at the SEMA Show, click here, or visit Map Your Show to plan your SEMA Week.
Images
Featured image credit: RiverNorthPhotography/iStock
Enterprise Mobility logo provided by Enterprise
Enterprise Mobility President and CEO Chrissy Taylor (Credit: Enterprise Mobility)
Share This: